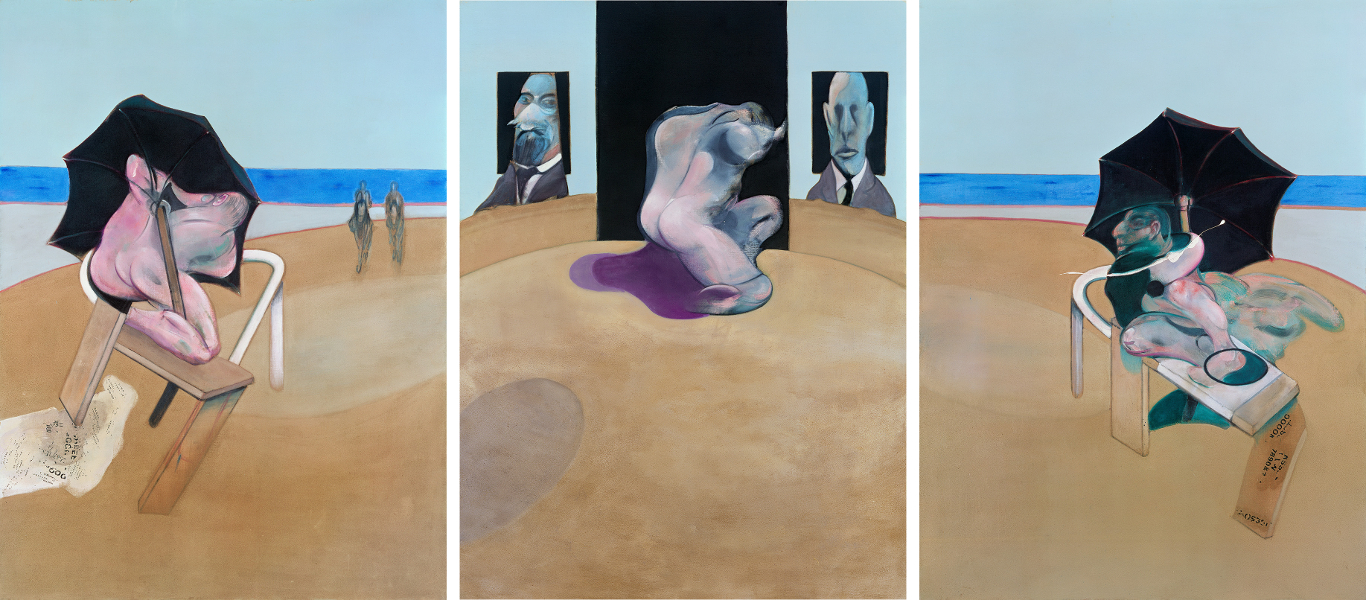 2018 proved to be another exciting year for us at The Estate of Francis Bacon. It saw Francis Bacon's work travel around the globe, including New York, Amsterdam, Budapest, Stockholm, Iowa, New South Wales, and Mexico City.
February – August, London's Tate Britain hosted the major exhibition All Too Human: Bacon, Freud and a Century of Painting Life. There were a number of rarely seen Bacon works on display including Study for Portrait of Lucian Freud, 1964, shown in public for the first time in over fifty years. And also Portrait, 1962, and Triptych 1974-77 – both of which hadn't been displayed in a UK public gallery in over 30 years.
Visitors to Ordovas London were given the exciting opportunity to view Francis Bacon's Three Studies of George Dyer, 1966 beside Lucian Freud's Man in a Blue Shirt, 1965. The works formed part of the Ordovas exhibition London Painters which debuted in New York in 2017 before travelling to London in 2018. The touring exhibition was the first time that these portraits, both depicting Bacon's lover George Dyer, had been hung side-by-side.
April – September saw a selection of Bacon paintings showcased in another major exhibition, Bacon - Giacometti at Fondation Beyeler, Switzerland. This exciting show put two of the most influential 20th century artists together and explored the surprising similarities between them, and their representation of the human figure.
2018 also saw more of Francis Bacon's work accessible online. The British Film Institute is currently showing David Thompson's 1963 film Francis Bacon: Paintings 1944-1962 free of charge in the UK on their website. Featuring images of Bacon's paintings, edited together by film historian Kevin Brownlow and accompanied by a forceful orchestral score by Elisabeth Lutyens, this fascinating film contains colour images of Bacon's destroyed painting Head of Woman, 1961 and Pope III, 1951.
London's Hayward Gallery released a host of archive material from their 1998 exhibition Francis Bacon: The Human Body, on their Google Arts and Culture page. Installation shots, a poster, catalogue cover, press release, handwritten notes from curator David Sylvester, press cuttings, and informative facts about the show and its execution are all available to browse online here.
We also unveiled several exciting new additions to our own website francis-bacon.com. Our Scholarship and Education page was expanded with a second learning resource, and a whole new section dedicated to the Influence and Inspiration behind Bacon's work. Browse information on Rembrandt, Picasso and Eisenstein, as well as contemporaries - photographer John Deakin, artist Lucian Freud and the Independent Group. We also added a page dedicated to Bacon's astounding legacy.
And so, to 2019. There's still time to view five of Bacon's paintings on display as part of Bacon's Women at Ordovas New York. This exhibition runs until 11 January and looks at the role the opposite sex played in the artist's work. Seated Woman, 1961, Portrait of Henrietta Moraes, 1969, Three Studies of Henrietta Moraes, 1969, Study for Head of Isabel Rawsthorne, 1967, and Triptych – Studies of the Human Body, 1970, are on show alongside photographs taken by John Deakin. This fascinating exhibition explores the long-lasting friendships Bacon had with the three women featured, Muriel Belcher, Henrietta Moraes and Isabel Rawsthorne.
There's also a final chance to see Bacon, Freud and the Painting of the School of London exhibition at the Hungarian National Gallery, Budapest. The show features ten Bacon works, having been loaned from both museums and private collectors, showcasing Bacon's work over a thirty-year period. The exhibition draws to a close on 13 January 2019.
We look forward to sharing more Francis Bacon news with you in the coming year. We will continue to run our Catalogue Raisonné Focus series with highlights from the pages of the Francis Bacon: Catalogue Raisonné. Following the catalogue raisonné, The Estate of Francis Bacon's next publications will be a series of 'Francis Bacon Studies', focusing on aspects of Bacon's work in greater detail than is possible within a catalogue raisonné. The founding title in this series, edited by Martin Harrison, will be a book entitled Bacon and the Mind, which will be published in 2019. It will examine the artist's work from the perspectives of neuroscience, psychology and art history.
Keep an eye on our social media channels: Facebook, Twitter, and Instagram for information on upcoming exhibitions and insights into Bacon's work. You can also receive updates direct to your email inbox by signing up for our newsletter here.
*Please note all details including names, dates and featured works, opening days/hours are subject to change. Ahead of a visit, we recommend contacting the exhibition/display/event hosts directly for all confirmation regarding displays.