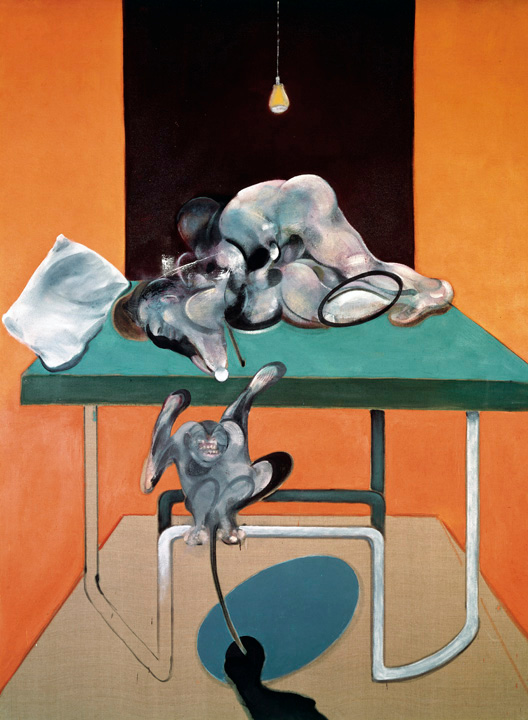 Francis Bacon's Two Figures with a Monkey, 1973, is on display until 27 May 2018 at Palacio De Bella Artes (The Palace of Fine Arts), Mexico City. The painting forms part of the new exhibition 'Hybrids'. Created in collaboration with the Musée de l'Elysée of Switzerland, the show is a study of the human body, with the title referring to how far the realm of one human extends and where another being (something or someone) begins.
This painting marked a change from Bacon's earlier work in the 1970's, a decade which tragically began with the death of his lover George Dyer. Dyer's passing propelled Bacon into his 'Black Triptych' phase, an infamously grief-stricken period in which the artist used dark colours to paint Dyer's final moments. 1973's Two Figures with a Monkey however, sees a bold injection of colour coupled with imagery reminiscent of Bacon's earlier works on Muybridge's images of wrestlers.
Aptly related to the theme of the exhibition, Martin Harrison FSA notes in 'The Francis Bacon: Catalogué Raisonné'2016:
There are three figures in Two Figures with a Monkey, although the coupling figures count as one (or rather, they are performing one act). But the monkey is detached from them, and its indifference or derision is directed at the observer, or'the act', rather than towards the two other protagonists.
On loan from Museo Tamayo, the piece and was last on display in 2014 as part of the 'Treasures of the Tamayo, MexicoCity' exhibition at The Museum of Contemporary Art in San Diego. In 'Hybrids', Two Figures and a Monkey is one of ninety-six pieces on display beside works from artists including Pablo Picasso and Diego Rivera.
'Hybrids'
9 March - 27 May 2018
Palacio De Bella Artes (The Palace of Fine Arts), Mexico City 
Mexico
*Please note all exhibition details including names, dates and featured works, opening days/hours are subject to change. Ahead of a visiting, we recommend contacting the Palacio De Bella Artes for all confirmation regarding the display.
Word Reference: Mexico Es Cultura website
Excerpts: Martin Harrison, FSA. 73-09, Volume IV, pages 1050-1051.