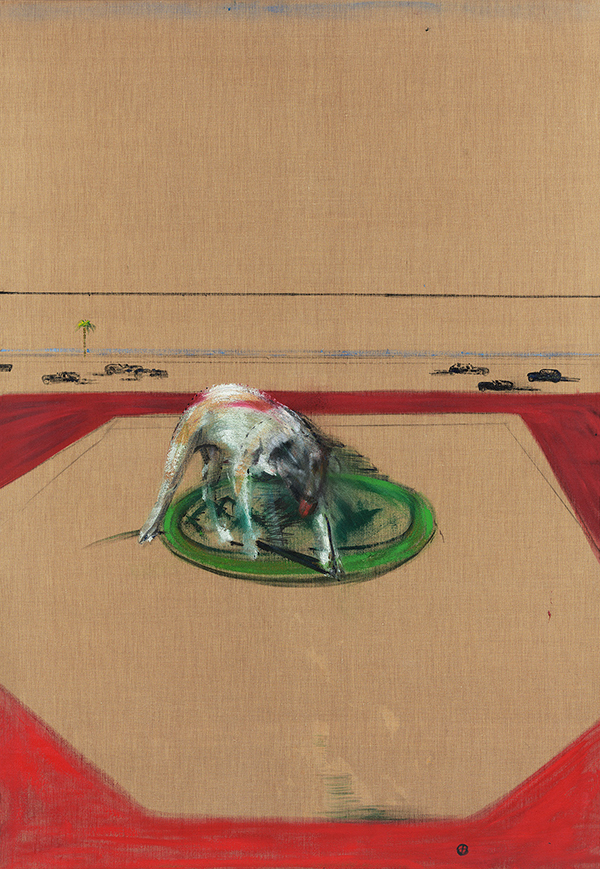 Last month saw a new exhibition, 'Bacon, Freud and the Painting of the School of London' opening at the Hungarian National Gallery, Budapest. We are delighted that ten Francis Bacon works are on display, having been loaned from both museums and private collectors, showcasing Bacon's work over a thirty-year period.
The earliest work on display, Figure in a Landscape, 1945, marked Bacon's return to canvas after a shortage during the war and was first exhibited in a group exhibition at the Lefevre Gallery in 1945. There are four paintings from the 1950s; Study after Velazquez, 1950, Dog, 1952, Study for Portrait II (after the Life Mask of William Blake), 1955, Study for Figure VI, 1956-57. Bacon famously used to paint from photographs and for Dog, 1952 and other paintings of animals, the artist looked to the sequential photographs in Eadweard Muybridge's Animals in Motion, 1899 as a visual template.
The 1960's saw Bacon excelling as an artist, achieving a new level of virtuosity in paint. It was also the time that he moved to 7 Reece Mews, a converted coach house in South Kensington that became his studio for the next four decades. The paintings on display from this period are Reclining Woman, 1961, Portrait of Isabel Rawsthorne, 1966, Portrait of George Dyer in a Mirror, 1968.
The show rounds off with two pieces from the 1970s, Triptych August 1972, a sombre piece created during Bacon's 'black triptych' phase after the death of his lover George Dyer, and Three Figures and Portrait, 1975.
The exhibition runs until 13 January 2019 and seeks to explore the depiction of the human figure and reality, with the main focus on Bacon and his friend and rival Lucian Freud. The phrase 'School of London' was coined by R.B. Kitaj to describe a group of London-based artists who pursued figurative painting in the face of avant-garde approaches in the 1970s. Other artists on show include Michael Andrews, Frank Auerbach, R. B. Kitaj, Leon Kossoff, Paula Rego, F. N. Souza and Euan Uglow. In addition, this exhibition places the School of London in a broader time frame, revisiting oeuvres of previous generations which served as inspiration to the painters. Works by Walter Richard Sickert, David Bomberg, Alberto Giacometti, Chaïm Soutine, Stanley Spencer and William Coldstream will be displayed alongside Jenny Saville and Cecily Brown, members of the young generation working to continue this tradition.
'Bacon, Freud and the Painting of the School of London'
9 October 2018 - 13 January 2019 
Hungarian National Gallery, Budapest
*Please note all details including names, dates and featured works, opening days/hours are subject to change. Ahead of a visit, we recommend contacting Hungarian National Gallery Budapest for all confirmation regarding displays.
Word ref: The Estate of Francis Bacon website, Hungarian National Gallery Budapest website.