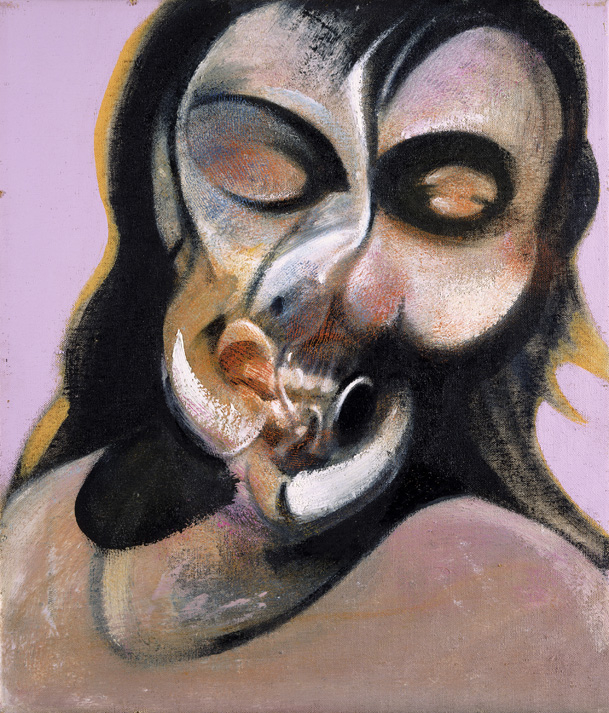 "I think if you want to convey fact... this can only ever be done through a form of distortion. You must distort to transform what is appearance into image." - Francis Bacon
Study of Henrietta Moraes, 1969, is on display at Christie's New York from 4 November until its auction on 15 November. This painting in diminutive in size compared to some of Bacon's other works, measuring 14 x 12 in. (35.5 x 30.5 cm). It was first exhibited at the artist's famed retrospective at the Grand Palais, Paris in 1971.
In Study of Henrietta Moraes, 1969, Bacon fused Moraes's features, the shoulder length hair and arched eyebrows, with an image of actress Emmanuelle Riva taken from a still frame in the film Hiroshime Mon Amour, 1959. In the scene Riva is seen in the shower, wet hair trailing across her face. Bacon used the image and distorted the nose and mouth, which forms a smile or grimace. The film, written by Marguerite Duras with whom Bacon was friendly in the 1970s, is about love, memory and loss, themes which echo many of the artists own work.
Henrietta Moraes was the subject of many of Bacon's paintings between 1959 and 1969. She was first named as a sitter in 1963 with the triptych Three Studies For Henrietta Moraes, 1963 and Portrait of Henrietta Moraes, 1963, a large nude piece. Moraes was a key figure in the bohemian life in Soho in the 1960s. She was determined to meet Bacon and Lucian Freud and succeeded in her mission. After a conversation with Bacon in the French House, she was photographed by John Deakin and the resulting pictures were the basis of a number of paintings. Lucian Freud painted Moraes in a number of works including Girl in a Blanket, 1953.
Study of Henrietta Moraes, 1969 is the last painting by Bacon where Moraes is named as a sitter. In later life, she was a muse and lover for painter and sculptor Maggi Hambling.
Study of Henrietta Moraes, 1969
Post-War and Contemporary Art Evening Sale
04 November - 15 November 2018
Christie's New York
*Please note all details including names, dates and featured works, opening days/hours are subject to change. Ahead of a visit, we recommend contacting Christie's New York for all confirmation regarding their display.
Word ref: Christie's website, The Estate of Francis Bacon website.