'Michel Archimbaud: You do accept though, that a young painter today might model himself on you?
Francis Bacon: Yes, I do, but that's normal. It's always been like that. The young are influenced by their elders or by their predecessors.'[1]
The humble statement to Archimbaud does not do justice to the impact Bacon's art has had to date. From the early stages of his career until the present day, his original approach to figurative painting and his bold visual vocabulary, which, on his own account, aimed to 'unlock the valves of feeling and therefore return the onlooker to life more violently', have inspired numerous fellow artists.[2]
Friends and acquaintances, such as Peter Rose Pulham and Graham Sutherland, were among the first to react to Bacon's art.[3]The latter had been an important early mentor for Bacon, but the roles were soon reversed, and Sutherland's drawing of a Lying Figure, 1946, is effectively a copy of the creature in the left panel of Three Studies for Figures at the Base of a Crucifixion, 1944.[4]Around 1950, Bacon's art and imaginative use of photography became more widely known in the London art scene.[5]It encouraged young painting students, including Frank Auerbach and Victor Willing, to employ lens-based imagery in an equally uninhibited and transformative manner.[6]The early work of David Hockney channels Bacon's example too, and, during the 1960s, Hockney adopted his signature distinction between a malerisch figure and a minimalist background.[7]
In 1948, the Museum of Modern Art, New York, acquired Painting 1946, 1946, but for many years afterwards Bacon's work continued to receive few positive responses from critics and peers across the Atlantic. A notable exception was Willem de Kooning, whose Women series of the 1950s was, as David Sylvester suggested, influenced by the 'free' handling of paint in combination with a 'frontal figuration of dominating presence' found in Painting 1946.[8]
While figurative painters today, such as Neo Rauch, Martin Eder and Eric Fischl, rate Bacon highly, his influence reaches far beyond his own medium.[9]It reverberates distinctively in the sculptures of Bruce Nauman and the videos and installations of Matthew Barney.[10]Bacon's last unfinished painting inspired Peter Welz and William Forsythe to create a video installation in response to the piece, Retranslation / Final Unfinished Portrait (Francis Bacon) | figure inscribing a figure in 2005, which shows Forsythe translating the painting into movement shot from three different perspectives. Damien Hirst's The Tranquility of Solitude (for George Dyer), 2006, three glass containers housing sheep preserved in formaldehyde, references Bacon's 'Black Triptychs'. Simon Starling took a modernist desk by Bacon as a starting point for Three White Desks, 2008-2009, a conceptual version of Chinese whispers.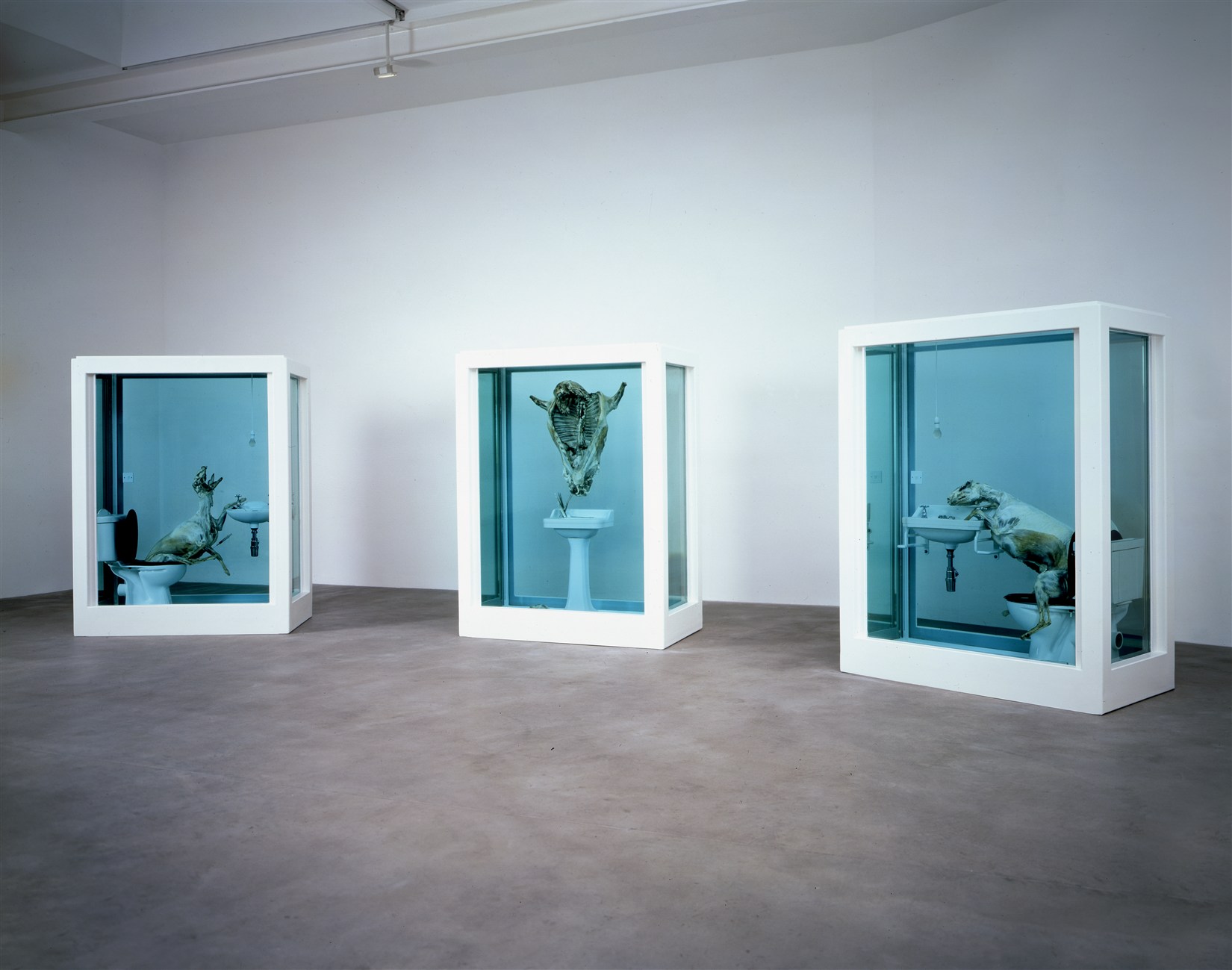 Outside fine art, Bacon's love for movies and filmmaking has always been a mutual affair, and directors from Pier Paolo Pasolini to David Lynch admire and reference him.[11]Marlon Brando's acting and the colour schemes in Bernardo Bertolucci's Last Tango in Paris, 1972, were both informed by Bacon's painting, and H.R. Giger's design of the infant extraterrestrial creature in Ridley Scott's 1979 Alien movie was modelled on the figures in Three Studies for Figures at the Base of a Crucifixion,1944.[12]Baconic devices including the arena, shuttering and 'space frames' appear throughout R.E.M.'s video for Lotus, 1998, directed by Stéphane Sednaoui (watch video here). Reproductions of Bacon's paintings feature in many films, famously so in Tim Burton's Batman from 1989, and Christopher Nolan's Inception, 2010. In 2008, Nolan had asked for the make-up of Heath Ledger's 'Joker' in Batman - The Dark Knight to resemble Bacon's thick impasto.[13]
Bacon's impact has always manifested itself in multifarious ways and continues to do so, providing material for a theatre play, feature film, ballet and an opera.[14]Bacon's extraordinary life and art continue to excite and inspire.
_________________________________
EXPLORE: