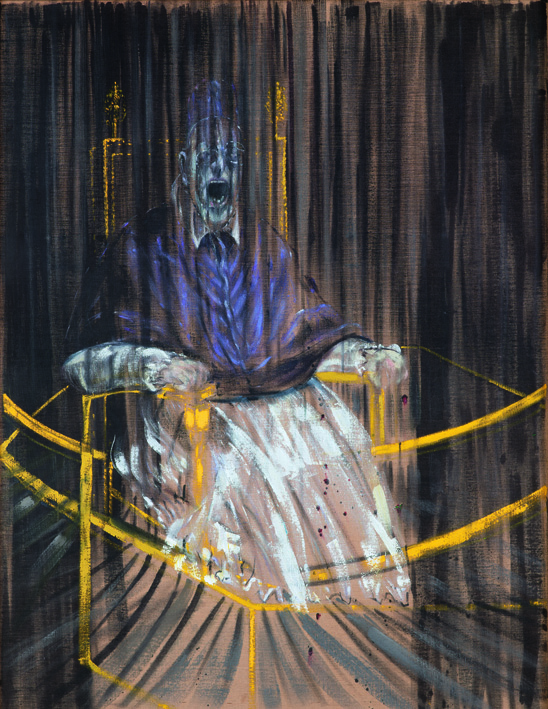 'This is one of Bacon's most dynamic and explosive popes.'
Study After Velázquez's Portrait of Pope Innocent X, 1953, one of Francis Bacon's most well-known paintings, is available to view at Des Moines Art Center, Iowa. Created with oil on canvas, the painting shows a distorted version of Portrait of Pope Innocent X by Spanish artist Diego Velázquez, created around 1650.
The 1950s were a time of extreme creativity for the artist, with Bacon feverishly experimenting with new subjects and styles. His experience of the Velázquez was by way of reproductions and, when he famously exhibited with Ben Nicholson and Lucian Freud in the British Pavilion at the Venice Biennale in 1954, he deliberately avoided seeing Velázquez's Pope Innocent X in the flesh. This distant appreciation of Velázquez allowed the artist to take extravagant license rather than limiting his view.
Bacon continued the pope theme with obsessive intensity throughout the following decade and intermittently in the 1960s. The open-mouthed motif seen is this piece is one of the painter's most iconic images and attributed to a group known as the 'screaming popes'.Though the images are well-known, there were actually only six Popes which fit the description, with other similar paintings using businessmen as the subject. As well as Velázquez, Bacon also drew inspiration from a still of the Screaming Nurse fromEisenstein's film, Battleship Potemkin, 1925 with Bacon fusing the scream and Pope to memorable effect in many of his works.
Just a year before he created Study After Velázquez's Portrait of Pope Innocent X, 1953, Bacon was yet to create any large-scale popes, but with upcoming exhibitions in New York and London, he was obligated to fulfil commitments and produce a wide body of work. The painting can now be experienced as part of the Des Moines Art Center's 'Collection Highlights', a wide range of pieces by modern and contemporary artists including Constantin Brancusi, Georgia O'Keeffe, Edward Hopper and Eva Hesse.
Des Moines Art Center, Iowa
Collection Highlights 
1330 Grand Avenue Des Moines, Iowa 50309
*Please note all details including names, dates and featured works, opening days/hours are subject to change. Ahead of a visiting, we recommend contacting Des Moines Art Center for all confirmation regarding displays.
Quote: Martin Harrison, FSA. 53-02, Study After Velázquez's Portrait of Pope Innocent X, Catalogue Raisonné , Volume II pages 308-311.
Word Ref: The Estate of Francis Bacon website.