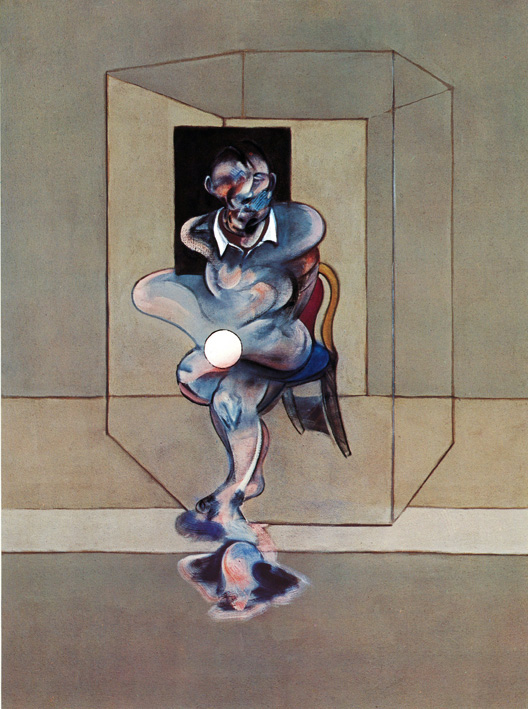 'I'm always surprised when people speak of violence in my work, I don't find it at all violent myself. [...] There is an element of realism in my pictures which might perhaps give the impression, but life is so violent; so much more violent than anything I can do!'
Francis Bacon's Study for Self-Portrait, 1976 is on permanent display as part of a thirty- eight piece collection of 19th and 20th century European art at the Art Gallery of New South Wales.
The painting marks a time in the artist's career when he was confronted with mortality, following the tragic death of his lover George Dyer in 1971. During the mid-70's he obsessively created self-portraits, because 'people have been dying around me like flies and I've had nobody else to paint.'
Study for Self-Portrait, 1976 depicts a nude Bacon juxtaposed with a white-collar. His upper body is contorted, and his left leg elongated and distorted, with an organ protruding from the ground in front. Apart from Sleeping Figure, 1974, in which Bacon is not identified in the title, it is the only nude self-portrait of the artist. Painted with oil and pastel on canvas, the piece evokes the muted palette of Self-Portrait, 1972.
First exhibited as part of a solo exhibition at Galerie Claude Bernard from 19 January to 26 March 1977, the piece was acquired by the Art Gallery of New South Wales in 1978. In addition to Bacon's Study for Self-Portrait, 1976, visitors to the gallery can also view paintings from Vincent van Gogh, Pablo Picasso and Claude Monet.
Art Gallery of New South Wales 
19th & 20th C European Art 
Ground Level
*Please note all details including names, dates and featured works, opening days/hours are subject to change. Ahead of a visiting, we recommend contacting Art Gallery of New South Wales for all confirmation regarding displays.
Quote: Michel Archimbaud, Francis Bacon In Conversation with Michel Archimbaud, (London/New York: Phaidon Press, 2010), p. 151.
Word ref: Martin Harrison, FSA. 76-06 Study for Self-Portrait, Catalogue Raisonné Volume IV pages 1100-1101.