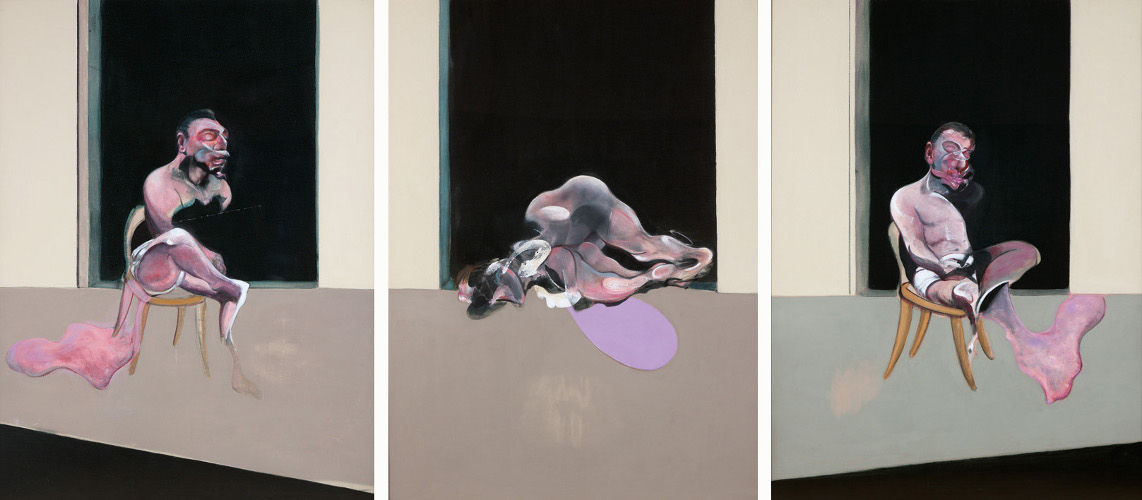 In celebration of a new exhibition 'Bacon, Freud and the Painting of the School of London' at the Hungarian National Gallery Budapest, we will be taking a closer look at one of the pieces on display, Triptych August 1972. This sombre piece was created during Bacon's 'black triptych' phase, a deeply emotive time where the artist's grief at the loss of his lover inspired a series of works. This triptych sits between In Memory of George Dyer, 1971 and Triptych May-June, 1973, in the series.
Each panel was completed in quick succession, the first on 8 July, the second 18 July and the third 29 July 1972. The images of George Dyer on the right and left panels were based on John Deakin's photographs of Dyer crossing his legs, taken in Bacon's Reece Mews studio around 1964. The centre panel shows coupling figures almost cancelled out in broad gestures of black and white paint. In the background of each piece, the large rectangular panels recede slightly from the wall and evoke the image of tomb entrances rather than windows.
In the 'Francis Bacon: Catalogue Raisonne', 2016, volume IV, Martin Harrison FSA describes Bacon's technique and possible inspiration behind the painting:
'Bacon was particularly inventive at this time in erasing parts of figures by extending areas of black background across the face or body, dissolving the figure into the ground: interrogating the boundaries. The form of the black pigment that seeps upwards across Dyer's chest in the left panel may, therefore, have been a Baconian 'accident', but fortuitously of not it bears an uncanny resemblance to the décolleté in John Singer Sargent's Madame X (1884).'
As well as Triptych August 1972, we are delighted that there are nine other Francis Bacon works on display at the Hungarian National Gallery exhibition - Figure in a Landscape, 1945, 'Study after Velazquez', 1950, Dog, 1952, Study for Portrait II (after the Life Mask of William Blake),1955, Study for Figure VI, 1956-57, Reclining Woman, 1961, Portrait of Isabel Rawsthorne, 1966, Portrait of George Dyer in a Mirror, 1968 and Three Figures and Portrait, 1975.
Other artists on show include Lucian Freud, Michael Andrews, Frank Auerbach, R. B. Kitaj, Leon Kossoff, Paula Rego, F. N. Souza and Euan Uglow. This exhibition looks at the work of the School of London and places it in a broader time frame, revisiting oeuvres of previous generations which served as inspiration to the painters. Works by Walter Richard Sickert, David Bomberg, Alberto Giacometti, Chaïm Soutine, Stanley Spencer and William Coldstream will be displayed alongside Jenny Saville and Cecily Brown, members of the young generation working to continue this tradition.
'Bacon, Freud and the Painting of the School of London'
09 October 2018 - 13 January 2019 
Hungarian National Gallery, Budapest
If you'd like to order a copy of the 'Francis Bacon: Catalogue Raisonné' please visit Heni Publishing's website.
Excerpts: Martin Harrison, FSA. 72-07 Triptych August 1972, 1972, Catalogue Raisonné Volume IV pages p1008-1013.
Word ref: The Estate of Francis Bacon website.