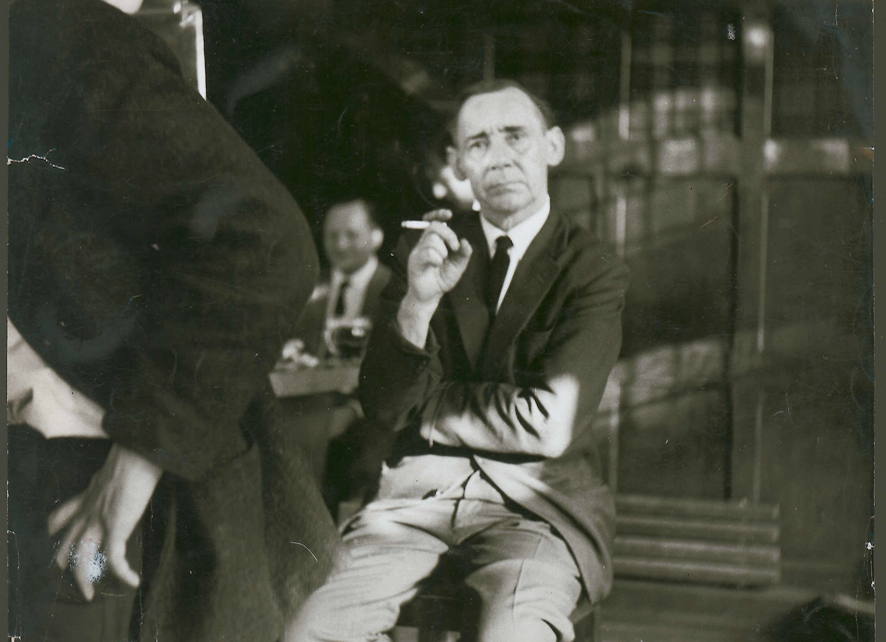 'By some alchemy this photographer squeezes his heart through his lens, his pity or impudence egging him on. These pictures take you by the scruff of the neck and insist that you see.'[1]
Elizabeth Smart on John Deakin
John Deakin (12 May 1912- 25 May 1972) was an accomplished portrait, fashion and street photographer. His style, especially in portraiture, is characterized by a blunt immediacy which is often amplified by tight cropping and extreme tonal contrasts. Since Deakin revealed little information on his upbringing and background, not much is known about his early years. Around 1930, he briefly worked as a window dresser in Dublin and spent the late 1930s travelling Italy, Mexico, the USA and Tahiti with his partner, the art collector and patron, Arthur Jeffress. In 1938, Deakin exhibited some paintings to critical acclaim at the Mayor Gallery, London, only taking up the camera a year later on a trip to Paris. He learned how to master it quickly and covered the war in Malta and East and North Africa from 1940 until the end of WWII, for the British Army Film and Photographic Unit.[2]
Deakin and Bacon met in London shortly after the end of the war, where they both socialized in the same bohemian Soho circles.[3] Deakin's gritty portraits of fellow artists and intellectuals, such as Oliver Bernard, J.P. Donleavy and Frank Auerbach, epitomize the maverick spirit of the time and are today among his most acclaimed photographs.
Deakin worked for a variety of magazines including Liliput and Picture Post, and between 1947 and 1954, was famously hired and fired twice by Vogue for his erratic professional behavior and repeated loss of equipment.[4] His portrait of a bare-chested Bacon between two carcasses of meat from 1952, which was published in Vogue in 1962, not only became one of the most iconic images of the artist, but moreover, was used by the artist as a pictorial springboard for his painting Figure with Meat, in 1954.[5]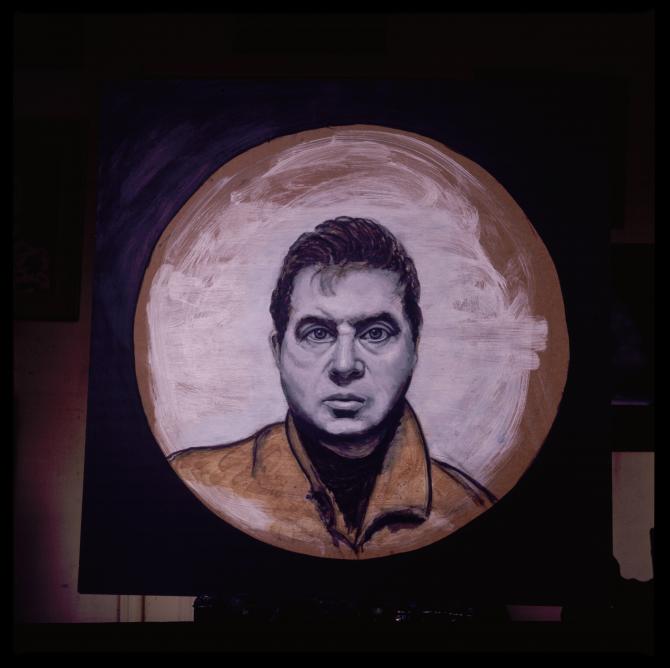 Deakin commented 'I like my portrait of Francis Bacon enormously, perhaps because I like him so much and admire his strange, tormented painting.'[6] In return, Bacon praised Deakin's portraits as 'the best since Nadar and Julia Margaret Cameron'.[7]
During the early 1950s, Deakin photographed the street life of Rome and Paris, which resulted in two well-received exhibitions in 1956.[8] However, despite being acknowledged for his photography, Deakin felt that his true vocation was to be a painter.[9] During the 1960s he increasingly focused on the medium again while also experimenting with collage and papier-mâché.[10] In his typically naïve style, Deakin painted several portraits of Bacon, such as Francis Bacon, 1965. Yet, exhibitions of his efforts outside photography made little impact.[11]
Drawn to gambling and drinking, and suffering from ill-health, Deakin struggled to generate a regular income, so that it may partly have been for philanthropic reasons that Bacon commissioned photographs from him to use as working material.[12] From around 1960 until the end of the decade, Deakin produced several series of Bacon's friends and lovers, such as Peter Lacy, George Dyer, Isabel Rawsthorne, Henrietta Moraes and Lucian Freud.
Fed into the relentless maelstrom of Bacon's studio, these photographs developed into one of his most important, consistent and fruitful sources of inspiration. They facilitated in Bacon's oeuvre a stronger orientation towards portraiture, and many likenesses, such as Study for Head of George Dyer, 1967, and some of his reclining female nudes and seated male figures, such as Henrietta Moraes, 1966 and Study for Portrait, 1977, are directly based on Deakin's photographs.[13] The discovery of over 300 paint-spattered, crumpled and fragmented gelatin silver prints, found in Reece Mews after Bacon's death, bears testimony to his intense engagement with Deakin's work.
Despite the notorious ambiguity of their friendship, Bacon supported Deakin to the last. In 1972, he funded a trip for Deakin to Brighton, where he was hoped to recover from cancer surgery. Sadly the photographer passed away within days of his arrival.[14] Deakin had named Bacon as his next-of-kin.[15] Deakin was posthumously honoured with exhibitions at the Victoria and Albert Museum in 1984, the National Portrait Gallery in 1996 and The Photographers Gallery in 2014.
---
Salvage of a Soho Photographer: The Life and Unsteady Times of John Deakin