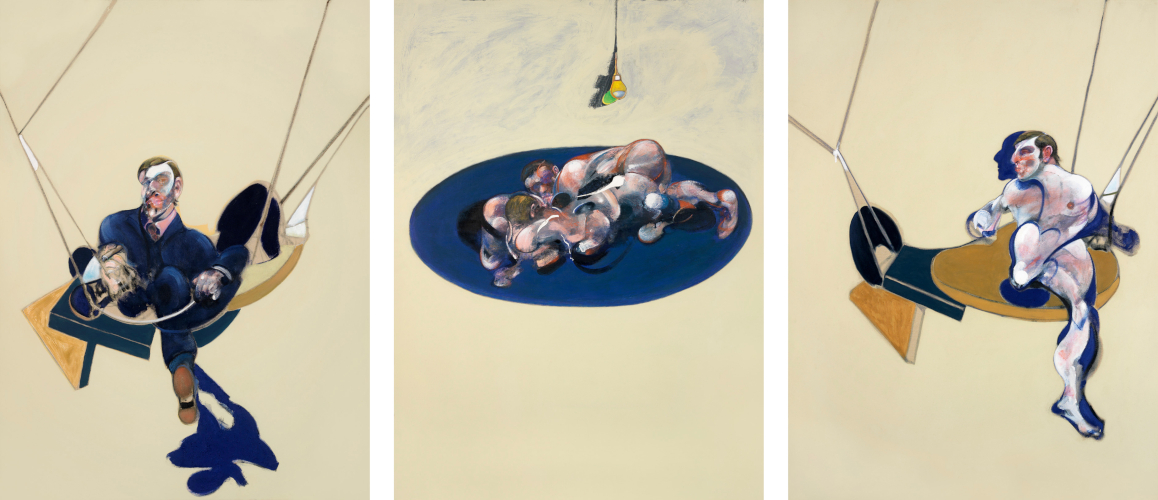 Following our initial coverage earlier this year, Centre Pompidou have now shared further details about their forthcoming major exhibition Francis Bacon: Books and Painting.
Opening 11 September 2019, the exhibition explores the intensity of Bacon's relationship with literature. The paintings on display range from around 1971 — the year of Bacon's retrospective at the Grand Palais, to Bacon's final works in 1992.* Accompanying Bacon's art will be audio readings of excerpts of text taken from Francis Bacon's library. An anthology of texts will be published to complement of the exhibition catalogue.
Centre Pompidou has now revealed a number of the paintings that are to be displayed: Female Nude Standing in a Doorway, 1972 (72-14), Oedipus and the Sphinx after Ingres, 1983 (83-03), Portrait of George Dyer in a Mirror, 1968 (68-05), Sand Dune, 1983 (83-05), Self-Portrait, 1971 (71-11), 'Street Scene (with Car in Distance)', 1984 (84-03), Study of a Bull, 1991 (91-04).
The exhibition will also showcase 12 Triptychs including: In Memory of George Dyer, 1971 (71-09), Triptych, 1986–7 (87-01), Three Portraits — Posthumous of George Dyer; Self-Portrait; Portrait of Lucian Freud, 1973 (73-01), Triptych, 1970 (70-10), Triptych, 1976 (76-05), and Triptych Inspired by the Oresteia of Aeschylus, 1981 (81-03).
Centre Pompidou have outlined related events, these include: guided tours with options for lip reading and French sign language, workshops for 2–5 and 6–10 year olds, a symposium entitled Colloquium Francis Bacon: a French Passion?, and a series of literary evenings organised in the exhibition itself entitled The Bacon Book Club — supported by our friends at the Francis Bacon MB Art Foundation Monaco.
To help accompany your visit or assist you in sampling the experience from afar, the exhibition audio tours are being released as podcasts (available in French and English). They will include the readings from the exhibition introduced with a commentary by curator Didier Ottinger. The podcasts will become available from 11 September via podcast apps, listening platforms and via the Centre Pompidou's website.
Francis Bacon: Books and Painting is curated by Didier Ottinger, deputy director of the Musée national d'art moderne, assisted by Anna Hiddleston, assistant curator, modern collections, Musée national d'art moderne.
From 23 February – 25 May 2020, this exhibition will travel to the Museum of Fine Arts, in Houston.
Please note this ticketed exhibition requires visitors to confirm their attendance via reserved time slots. The reservation approach applies to all visitors except to those who already benefit from free admission. More information can be found here.
Francis Bacon: Books and Painting
11 September 2019 – 20 January 2020 
Centre Pompidou, Paris
Word reference: Centre Pompidou website and press release, The Estate of Francis Bacon website.
*Ticketing and venue terms and conditions may apply. Tickets are subject to availability. All details including dates, names, featured works, opening days/hours are subject to change. If you're planning a visit, we first recommend checking with Centre Pompidou for all confirmations regarding this exhibition.