A Terrible Beauty (2009-10)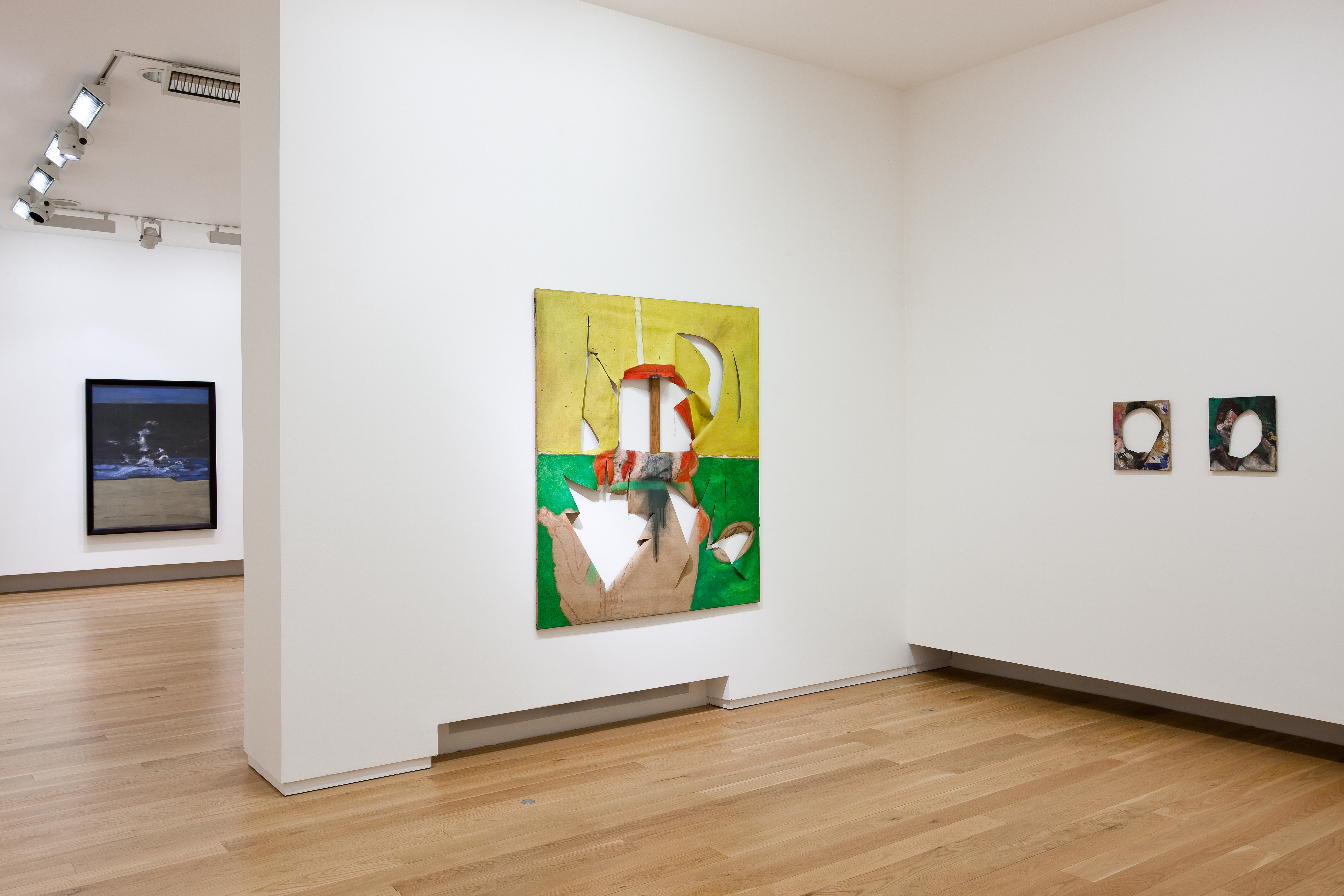 Dublin City Gallery The Hugh Lane, Dublin. 28 October 2009-07 March 2010
Essay by Barbara Dawson
---
FRANCIS BACON: A TERRIBLE BEAUTY
One hundred years ago this year, on 28 October, Francis Bacon was born in Dublin at 63 Lower Baggot Street. And it is now just over ten years since his famous studio, 7 Reece Mews, London, was archaeologically surveyed and the contents and architectural features relocated to Dublin by Dublin City Gallery The Hugh Lane. Francis Bacon's chaotic working methods using photographs and printed images—usually leaves torn from books—first became widely known when Sam Hunter's two photographs of his studio at 7 Cromwell Place, where he lived for eight years, were published in 1952. This pattern of image collection was repeated with monumental significance in 7 Reece Mews, to which Bacon moved in 1961 and where he remained until his death in 1992. There, photographs, magazines, newspapers and books were piled on the shelves and strewn about on the floor in the midst of abandoned and slashed canvases.

The pioneering project of preserving the Studio came about through a synthesis of visions and spirit of collaboration between The Hugh Lane in Dublin and John Edwards and Brian Clarke in London. The collective desire to relocate Francis Bacon's Studio and preserve it in the public domain (it was not possible to preserve it in its original location due to poor access by narrow steep steps) was born out of the belief of its ongoing significance: that this heap of detritus would metamorphose into a significant archive, a locus classicus illuminating the processes, methods and concerns of Francis Bacon. The studio is also beautiful, enhanced by vivid paint splattered walls and doors. It continues to be both a visual and phenomenological experience. Both John Edwards, who was Bacon's heir, and Brian Clarke, now executor of the Estate of Francis Bacon, were only too aware of the significance of the studio and their responsibility for its preservation.

It is hard to believe now, that preserving Francis Bacon's studio was not a given ten years ago. For Edwards and Clarke it was a disappointment not to find a shared vision for its public display in London where Bacon had felt most at home, especially in the environs of South Kensington and Soho. The studio is the place where the private process of art making is investigated in advance of the public work—the silent champion of the artistic process.

Separating the studio from its original location was as challenging as finding a suitable context in which to exhibit it. Upon my appointment as Director of The Hugh Lane in 1991, I had expressed great interest in Francis Bacon and subsequently met Brian Clarke and John Edwards. After London turned down the offer of preserving the Studio, the focus turned to Dublin, where Bacon was born, and in particular to The Hugh Lane. When invited to the studio, I was intrigued by the space. It was like looking inside the artist's head. Intense and cluttered, it exudes its own personality now that the protagonist is dead. On the easel was an unfinished portrait and beneath it a newspaper article on George Michael discussing how he preferred to be photographed from the left. Bacon's portrait too is looking left.

The studio was both fascinating and potentially one of the most significant contributions to the Bacon canon. As The Hugh Lane was approaching its first centenary (it was established in 1908), how would this unique donation weigh with the Gallery's singular collection of modern and contemporary art? Such a donation was not the usual one museums and galleries sought. But all things that rise must converge and it was an unprecedented challenge to realise a mutual ambition for this small space measuring only 4 metres by 6 metres. Its voiceless state was changing. Since Francis Bacon's death, the studio contained the only factual information on the artist, his thinking and his concerns, apart from the paintings themselves; it is priceless in its ability to yield up the secrets of artistic process. Its donation to The Hugh Lane in 1998 is well documented, as too is the pioneering process by which it was removed and relocated to Dublin.

Three years after its removal from London, the studio opened to the public in Dublin in 2001. The entire archive had been digitally documented and, for the first time, Francis Bacon's Studio items could be researched in depth, which has led to new scholarship on the artist and his work.

It is true that the margin cannot take centre stage but the studio wasn't marginal for Bacon. He speaks about it constantly and what was considered by many to be worthless is now central to an understanding of him and his work. The studio's relevance is indisputable, as we continue to discover the significance of the decaying debris. Acknowledging this consequence is not an attempt to turn the marginal into the central, but as it is the only authentic material that has recently become available, it cannot be ignored.