Francis Bacon: Shadows
Francis Bacon Studies IV
Published 24th June 2021 in the UK (28th September 2021 in the US)
Edited by Martin Harrison. Essays by Christopher Bucklow, Amanda J Harrison, Stefan Haus, Sophie Pretorius, Hugh Marlais Davies and Martin Harrison.
"I just put that shadow in as an aesthetic thing" – Francis Bacon, 1985.
From the 'grand nothing' looming large beneath the apparent life of his models to the apparitions of his influence that continue to haunt the public imagination, in many ways, the art of Francis Bacon is as much about what you can't see, as what you can.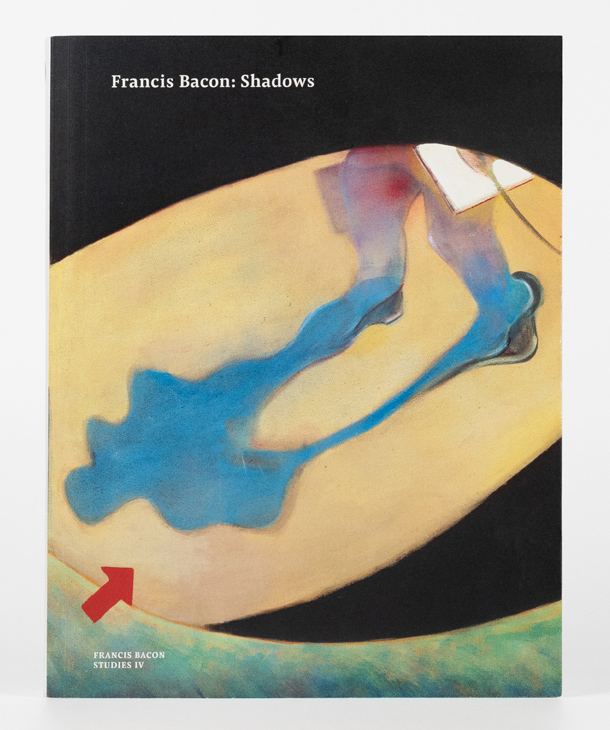 For almost a century, Bacon has cast an undeniably long shadow on the art world. Shadows are an often-returned-to device in Bacon's art – and have unwittingly become a major theme in the wider conversation surrounding the artist.
The fourth in the Francis Bacon Studies series from The Estate of Francis Bacon Publishing, Francis Bacon: Shadows shines a light into hitherto unexplored corners of Bacon's art, life and afterlife.
Edited by Martin Harrison, the pre-eminent art historian on Bacon's life and works and author of Francis Bacon: Catalogue Raisonné (2016), Francis Bacon: Shadows explores Bacon's art from widely varying perspectives. Continuing in the revelatory mode established by Inside Francis Bacon (2020), the book comprises six essays on diverse topics, interpretative as well as factual, which cumulatively present an abundance of fresh ideas on Bacon. The fundamental aim of the series – to rethink Bacon's art from new perspectives – is energetically and impressively fulfilled by its authors.
In addition to introducing the authors of this volume and the wider context around their illuminating research, the editor shows some exciting and unseen photographs and includes a tribute to a major, if under-acknowledged, Bacon scholar, David Boxer (1946–2017).
Marking the completion of his trilogy of essays, the first two parts of which were published in Francis Bacon Studies I and III, Christopher Bucklow's essay 'Bacon's Afterlife' studies the contrast between Bacon's art and the art of our own times. He also examines Bacon in the context of Romantic Modernism's confidence in the unconscious as a source of inspiration.
Bacon was not an occultist, but his proximity to the works of Yeats and Eliot, as well as the art of Duchamp and Brancusi, not to mention the writing on ritual magic by his second cousin Dion Fortune, meant he was well aware of paranormal studies. Amanda Harrison's essay 'Bacon's Occult Traces' investigates the effect of these influences through evidence that has so far remained hidden, or unrecognised, in the shadows of his paintings.
In 'Between Francis Bacon and the Intellect', Croatian writer and artist Stefan Haus conducts a stimulating extended study into the impact of Bacon's paintings. Drawing on the ideas of philosophers from Plato and Aristotle to Kant and Hegel, Haus's essay is simultaneously philosophical and visceral, itself forming an analogue to the intensity of Bacon's art. In Hugh Davies's many meetings with the artist in 1973 he was often invited to socialise with Bacon's closest friends. Some of his notes were published in Francis Bacon: New Studies – Centenary Essays in 2009, but for the first time we shall be publishing in their entirety Davies's unexpurgated on-the-spot diary entries. Passages previously considered inappropriate for publication now reveal a more rounded view of Bacon as both man and artist.
In her enlightening essay, 'Work on the Barry Joule Archive', Sophie Pretorius expertly untangles the controversy and confusion that has surrounded Bacon's supposed source material in the Barry Joule Archive.
Finally, Harrison himself contributes his new essay, 'Lost Bacon Paintings'. Except for those which had been published while he was still living, paintings that Bacon destroyed were excluded from Francis Bacon: Catalogue Raisonné (2016). Bacon had destroyed them because he considered them 'failures', and to circulate images of them, it was reasoned, carried the risk of misrepresenting him. Ultimately, the larger responsibility to make his oeuvre available publicly has outweighed this decision: now these 13 as yet unknown paintings – fascinating, if unresolved – can be seen for the first time.
With previously unseen photographs and some 120 colour illustrations, this beautifully-presented book boldly treads compelling new territory, bringing to light explosive new insights on the works of one of the twentieth-century's most highly-regarded artists.
Contributors
Martin Harrison was the editor of Francis Bacon: Catalogue Raisonné (2016). He is editor of the Francis Bacon Studies series and Head of Publishing for the Estate of Francis Bacon Publishing.
Christopher Bucklow is an artist. His work can be found in the collections of the Museum of Modern Art, The Metropolitan Museum of Art and the Guggenheim Museum, New York.
Amanda J. Harrison is a poet and occasional art historian. Her essay, 'A sudden blow', was published in Francis Bacon: Monaco et la culture française (2016).
Stefan Haus is an artist and art historian, based in Zagreb. His recent publications include A Really Good Dictionary of Modern and Contemporary Art (2018).
Sophie Pretorius is archivist of The Estate of Francis Bacon collection. She contributed 'A Pathological Painter: Francis Bacon and the control of suffering', to Francis Bacon Studies III (2020), and her most recent essay, on Bacon and Peter Beard, was published in Wild Life, by Ordovas Books, in February 2021.
Hugh Marlais Davies was David C. Copley director of the Museum of Contemporary Art, San Diego, from 1983 to 2016. He has published widely on Bacon and was curator and author of the acclaimed Francis Bacon: The Papal Portraits of 1953 (2001).
The Estate of Francis Bacon Publishing,
supported by the Francis Bacon MB Art Foundation Monaco,
in association with Thames & Hudson
Flexibound (softback);
248 pages;
UK RRP £28.00;
ISBN: 978-0-500-97115-4
Available from bookshops and online: