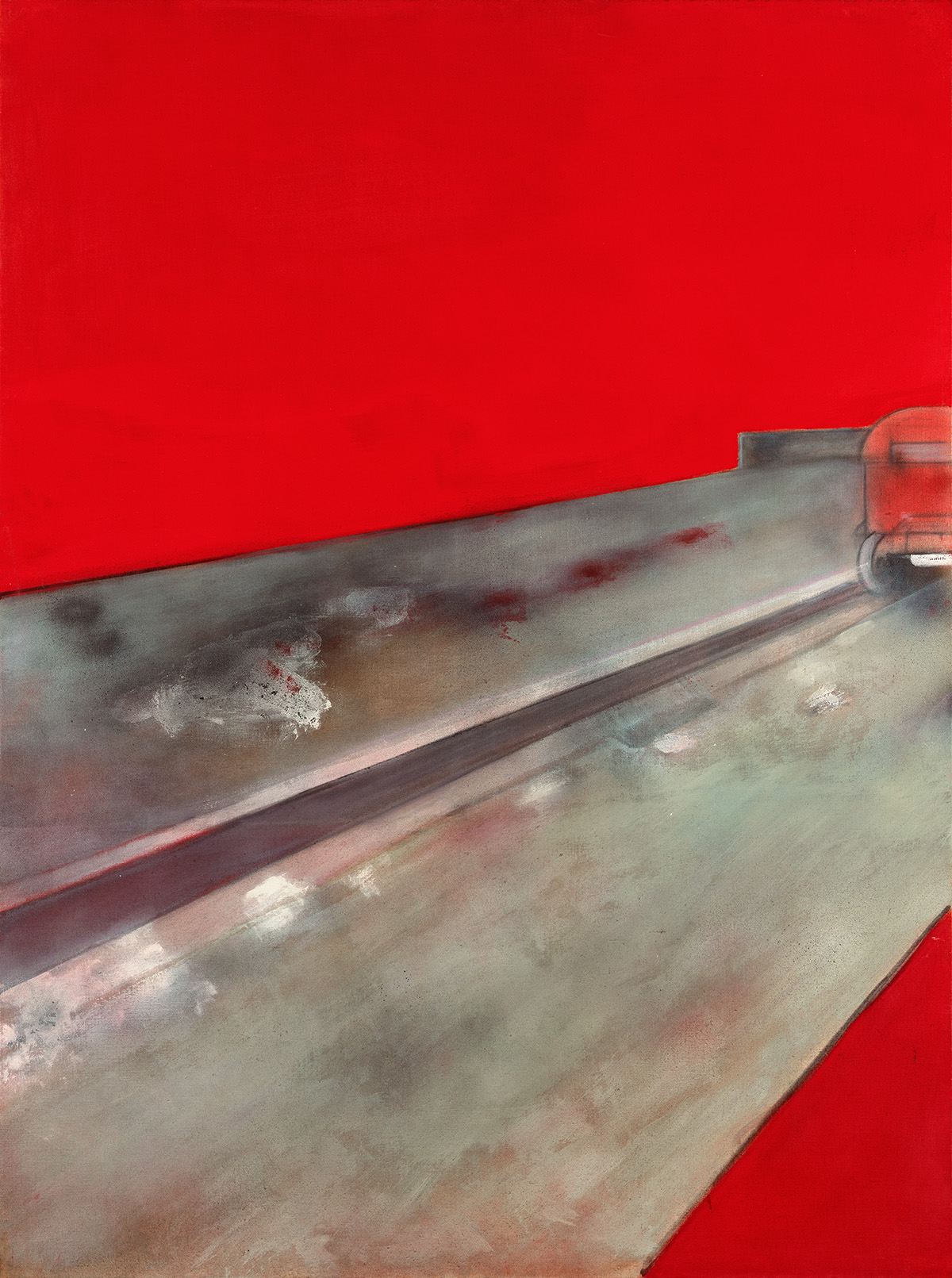 In celebration of a current exhibition, Bruce Bernard: Portraits of Friends, we will be taking a closer look at an unusual Bacon painting, in progress when Bruce Bernard photographed Bacon in his Reece Mews studio in May 1984.
The picture editor, author, and photographer Bruce Bernard (1928–2000) was close friends with Bacon, as well as with members of Bacon's circle of artist friends, including Lucian Freud and Frank Auerbach. Bernard's photographs of the artists offer an intimate insight into these relationships and their studios.
At the time of Bernard's photograph, only the pavement of this painting had been completed. As Martin Harrison writes in in the Catalogue Raisonné, this urban scene is a rare subject for Bacon, despite a "long-term desire" to paint this kind of environment:
"Together with Study of a Dog, c. 1954 (54‑13), this is in many respects the nearest he came, and the streetscape is as mysterious as could be anticipated from Bacon."
Excerpt: Martin Harrison, Francis Bacon: Catalogue Raisonné (London: The Estate of Francis Bacon Publishing, 2016 p. 1286).
Harrison goes on to explain that Bacon's interest in photographic material had a role to play in the painting too:
"The compositional matrix – the raised viewpoint and spatial recession – was entirely untypical of Bacon, and indeed it was based on a photograph. The photograph, which included a red vehicle cropped at the right edge of the frame, was identified by Katharina Günther on the basis of a fragment found in Bacon's studio (now in Dublin City Gallery The Hugh Lane)."
Excerpt: Martin Harrison, Francis Bacon: Catalogue Raisonné (London: The Estate of Francis Bacon Publishing, 2016 p. 1286).
The red background is a striking feature of this photograph. As Katharina Günther explains in her 2022 monograph, Francis Bacon – In the Mirror of Photography, a single element from a photograph can "sometimes dictate the whole colour scheme of a painting." Here, "the red of a van from a photograph in The Illustrated London News leaves the restrictions of the vehicle but determines the entire background."
The painter Virginia Verran, who represents the photographer Bruce Bernard's estate, notes: "The link between painting and photography was a vital one throughout his life." The same could be said of Bacon himself, who painted Bernard in Three Studies for Portraits (including Self-Portrait), 1969. Perhaps this was a key element of their enduring friendship.
Francis Bacon: Catalogue Raisonné can be purchased through our distributor's website.