Katharina Günther - Francis Bacon: In the Mirror of Photography
Francis Bacon's idiosyncratic depiction of the human figure brought him international fame and art historical acclaim, but to date little is known about his working methods and the origin of his iconography. While all of Bacon's life and experiences, his literary, philosophical and art historical preferences fed into his art, new research shows that on a formal level, his imagery derives from the pre-existing, mostly photographic imagery he collected in his studios to a larger extent than previously thought. The study of this process shows that far from being a simple affair, Bacon radically re-formulated and re-interpreted his sources to truly make them his own.
It is a long-known fact that Bacon's imagery draws on photographic sources of inspiration.[1] Although this knowledge has sometimes been touched on in scholarship, during his lifetime it seldom manifested itself in targeted studies. The painter himself discouraged this line of inquiry and kept his methods away from the public and critics alike. Instead he maintained the idea that the distorted portraits and deformed nudes came about by chance[2] – an idea which persists in Bacon literature today.
When the artist died in 1992, he left a multi-coloured, ankle-deep cornucopia of raddled books, crumpled magazines, torn pages, tattered newspaper clippings and paint-spattered photographs in his last studio at 7 Reece Mews, London, covering topics from skin diseases to Ancient Egypt. In 1998, this material was moved to Dublin City Gallery The Hugh Lane in Ireland, where it has been on display and accessible for research since 2001. Since then art historians have discovered important clues about Bacon's work within the 4000 "flat" items and their sometimes pitiful physical condition.[3] Yet, the idea that Bacon deliberately lifted pictorial elements from specific images in his studios did not gain a foothold in Bacon studies and the role of the working material remained undetermined.
Taking the analysis of the contents of Reece Mews as a point of departure, for 369 out of 584 known Bacon paintings included in Francis Bacon: Catalogue Raisonné, and an additional 5 lost and destroyed ones, one or more photographic sources were established in each decade of the artist's œuvre, in all genres, all styles and for all types of subjects. Formal resemblance is here defined by matching outlines of bodies and spaces, similar dimensions and proportions of limbs and perspective lines, as well as a similar positioning on the picture plane.
The studio itself and its inherent dynamics are inextricably linked with the process of creation. Accidental alterations to the book pages, gelatin silver prints and magazine fragments caused by careless handling and their disposal on the floor, which resulted in paint blots, surface abrasion and ultimately disintegration, and deliberate manipulations such as folding and cutting, allowed Bacon to apprehend the figure and practice its metamorphoses. A photographic print by John Deakin featuring Bacon's partner George Dyer has disintegrated to the point that only the eyes, mouth and nose remain.[4] In the centre panel of Three Studies for Portrait of George Dyer (on light ground), 1964,[5] the left part of Dyer's profile – the one which is now missing from the photograph – is executed in darker tones than the right. Bacon also painted Dyer's hair in two tiers coherent with the margin of the photo-fragment. Thus, alterations of the source directly determine its appearance on the canvas, which confirms the material's status as equivalent to 'traditional artist's preliminary drawings or sketches'.[6]
A closer look at the dynamics within the image-image links reveals recurring patterns and methods. Their analysis can help to understand how the source determines a subject and how Bacon constructed his compositions on the canvas, but also where the photographic material loses its significance. Often there is more than one source per painting, which are combined like a collage but which might also be blended and merged. In this light, Bacon's claim that "Muybridge and Michelangelo are mixed up in my mind together",[7] may sometimes be taken literally. The method of assemblage determines the relationship of spatial setting and figure: as in Oedipus, 1979, they usually stem from different sources. The abstract delineation of space in the painting draws on a powerful picture from The Riddle of the Pyramids showing the King's chamber in Khufus pyramid.[8] Bacon references the outlines of the space as offered by the black and white photograph, but also incorporates a dog ear, which resulted in an additional "line" caused by the cracking of the printed surface. For the eponymous Oedipus Bacon mounted a photograph of Dyer on an unidentified, Michelangelo-esque body. Thus, prominent effects on the finished canvases are anticipated in the preparatory process, such as the stylistic, spatial and material separation of the figure within the composition ­– effects which are much discussed in Bacon literature.[9] This indicates that the adaptation process itself may be seen as a deliberately applied stylistic device.
Sometimes these combinations may have had biographical or psychological undertones – even though, as the sources were not meant to be known and analysed alongside a painting, this was for the artist alone and only in the preparatory stages of a painting. In Three Studies for a Portrait of John Edwards, 1984 Bacon used some photographs of Lucian Freud in addition to those of Edwards.[10] Since 1944 Bacon and Freud were close friends.[11] Both striving for success as figurative painters, they were also competitors. This might have been why they fell out bitterly in the mid-1980s.[12] Around this time Bacon stopped using Freud's photographs in his work. May their appearance in Three Studies for a Portrait of John Edwards be a reference to an impending loss, maybe the wish to visually anchor a vanishing relationship to a still stable one?
Similar impetuses may have been at play in Bacon's portraits and self-portraits. While most portraits refer to pictorial springboards showing the sitter of the work, this is not always the case. Bacon used "alien" sources to come closer to his individual perception of a person in accordance to his idea of identity as a fluid, transient concept. An unrelated photographic reference may have added just the ingredient needed to visualise what he felt and aimed to convey, even though the exact interpretation may remain elusive. The disfigured head in the right panel of Three Studies for a Self-Portrait, 1967, for instance, was lifted from a photograph of a heavily wounded soldier from First World War published in Fourteen Eighteen.[13] Bacon's own anatomy is not recognisable but the deformation of the head is most striking, especially in light of Bacon in the past often focussing on the mouth, which is here dramatically erased and reduced to the tongue.
Bacon had a somewhat ambivalent attitude to narrative and his paintings barely ever feature that of a pictorial springboard. Instead, their stories are undermined in the preparatory process for example by tearing out a page or an image from its publication. Before the book Peoples of All Nations was identified as the source of a mounted photogravure plate showing two young children with an open umbrella,[14] its content was an enigma. Today we know that the picture was taken in present-day Vietnam and that the full caption is "Young Cham dandies wear almost the same clothes as their sisters, with armlets and necklets for decoration. The umbrella is sheer vanity".[15] This play with gender attributes may have attracted Bacon, but none of it fed into Triptych 1974–77, 1974–77, for which he adopted the exact shape of the umbrella, but which is not a painting about colonialism, South East Asia or clothing-related gender issues.
Many colours are anticipated in pictures from Bacon's image bank. Those links are especially conclusive when the artist made an effort to match the exact shade of a mixed colour and when fingerprints and paint blots in this hue are found on the respective studio item. Yet, as it is the case with identity and narrative, the colour does not have to be used for the painted equivalent of its original subject. They spread out to different elements and sometimes dictate the whole colour scheme of a painting, as in 'Street Scene (With Car in Distance)', 1984. The red of a van from a photograph in The Illustrated London News[16] leaves the restrictions of the vehicle but determines the entire background.
The emphasis of the adaptation is on the outlines of formal elements. The inside, in sharp contrast, is ruled by the painting material and its handling. Oil paint is usually interpreted as a visceral, organic embodiment of life.[17] The gestural, expressive paint application is the ultimate break with the somewhat flat and dry source image. In the interplay of subject, material and its handling the photographic reference loses its relevance.
The large number of image-image links and their consistent appearance in Bacon's oeuvre is indicative of a targeted, well-rehearsed working practice, which was probably used for all paintings. As an important hub for the artist's creativity, the photographic reference must hereby be seen as a crucial and omnipresent point of departure, which is, however, barely ever adopted literally. Instead the source is subjected to a highly creative, transformative and often fragmentary appropriation process, which often disregards their original identity and narrative. Therefore, as illuminating as their discovery is on a technical level, their value as keys to the meaning of a finished canvas is limited. It also becomes clear that the studio environment is no quirk or mere byproduct of Bacon's work but an active agent in its genesis and more consciously created and used than its chaotic appearance suggests.
You can read more about Bacon's work from photographic source material in Katharina Günther, Francis Bacon – In the Mirror of Photography. Collecting, Preparatory Practice and Painting, which was published in May 2022 by De Gruyter and is available from various stores, such at Foyles and amazon.co.uk.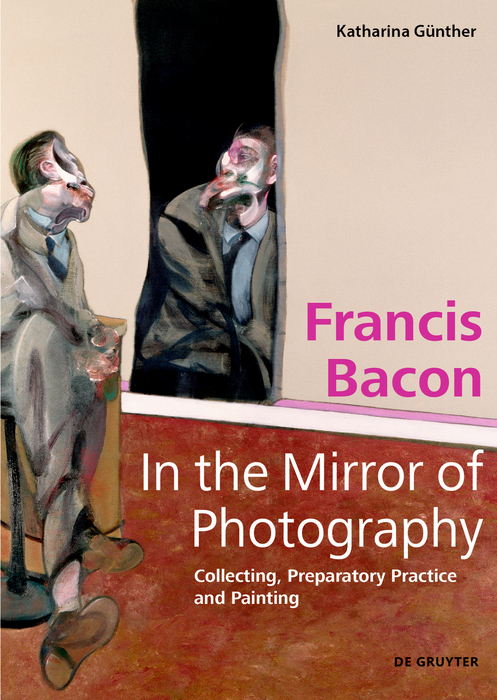 ________________________________
EXPLORE: