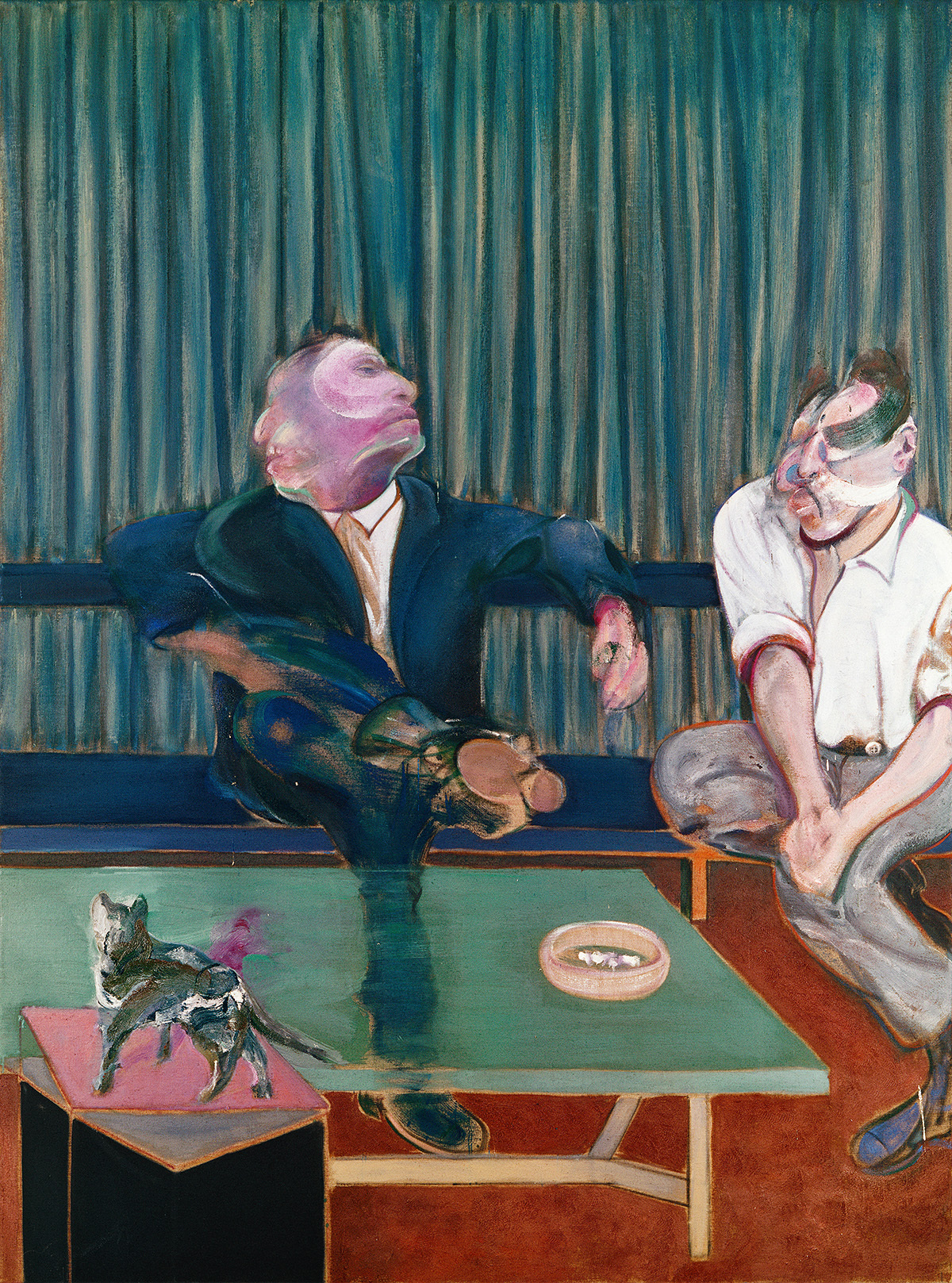 This month we are taking a closer look at one of Francis Bacon's destroyed works,  Portrait of George Dyer and Lucian Freud, 1967 (67-15D), a unique pairing of two of Bacon's most significant subjects, both artistically and biographically: Lucian Freud and George Dyer.
Unusual amongst Bacon's destroyed paintings, Bacon did not destroy this painting himself - in the Catalogue Raisonné, Martin Harrison describes the loss as "accidental" due to a fire in 1979.
The painting is unusual for other reasons. Harrison points out that the coupling of Dyer and Freud is unexpected. Harrison also draws attention to some anachronistic style elements in the work:
The reversion to a prominently 'shuttered' curtain backdrop that was more typical of Bacon's paintings from the 1950s.
The strange objects in the foreground are described by Harrison thus:
The ashtray had become a standard prop by 1967, but the ornamental cat is one of Bacon's most idiosyncratic recontextualisations. It was identified by Jessica O'Donnell as having been painted from a photograph of a London streethawker – a cat's meat seller – in the foreground of which is the animated cat that Bacon appropriated: it was published in Richard Bennett, A Picture of the Twenties (1961). Bacon would have been familiar with cat's meat sellers, and was no doubt fascinated by them.
Excerpts: Martin Harrison, Francis Bacon: Catalogue Raisonné (London: The Estate of Francis Bacon Publishing, 2016 p. 856).
Although much is known of the friendship and rivalry between Freud and Bacon, little is known of the relationship – if any – between Freud and Dyer. This painting provides some clues:
Dyer seems disengaged from Freud, and his head is facing two ways at once. It is not a study in transitional motion, and rather than representing Janus, Bacon was probably saying that Dyer had difficulty in deciding which way to face.
Excerpt: Martin Harrison, Francis Bacon: Catalogue Raisonné (London: The Estate of Francis Bacon Publishing, 2016 p. 856).
Both Lucian Freud and Francis Bacon had painted George Dyer previously. Dyer makes in appearance in Freud's painting Man in a Blue Shirt, 1965, and was the subject of many of Bacon's portraits – although not always named – until Dyer's death in 1971.
Francis Bacon: Catalogue Raisonné can be purchased through our distributor's website