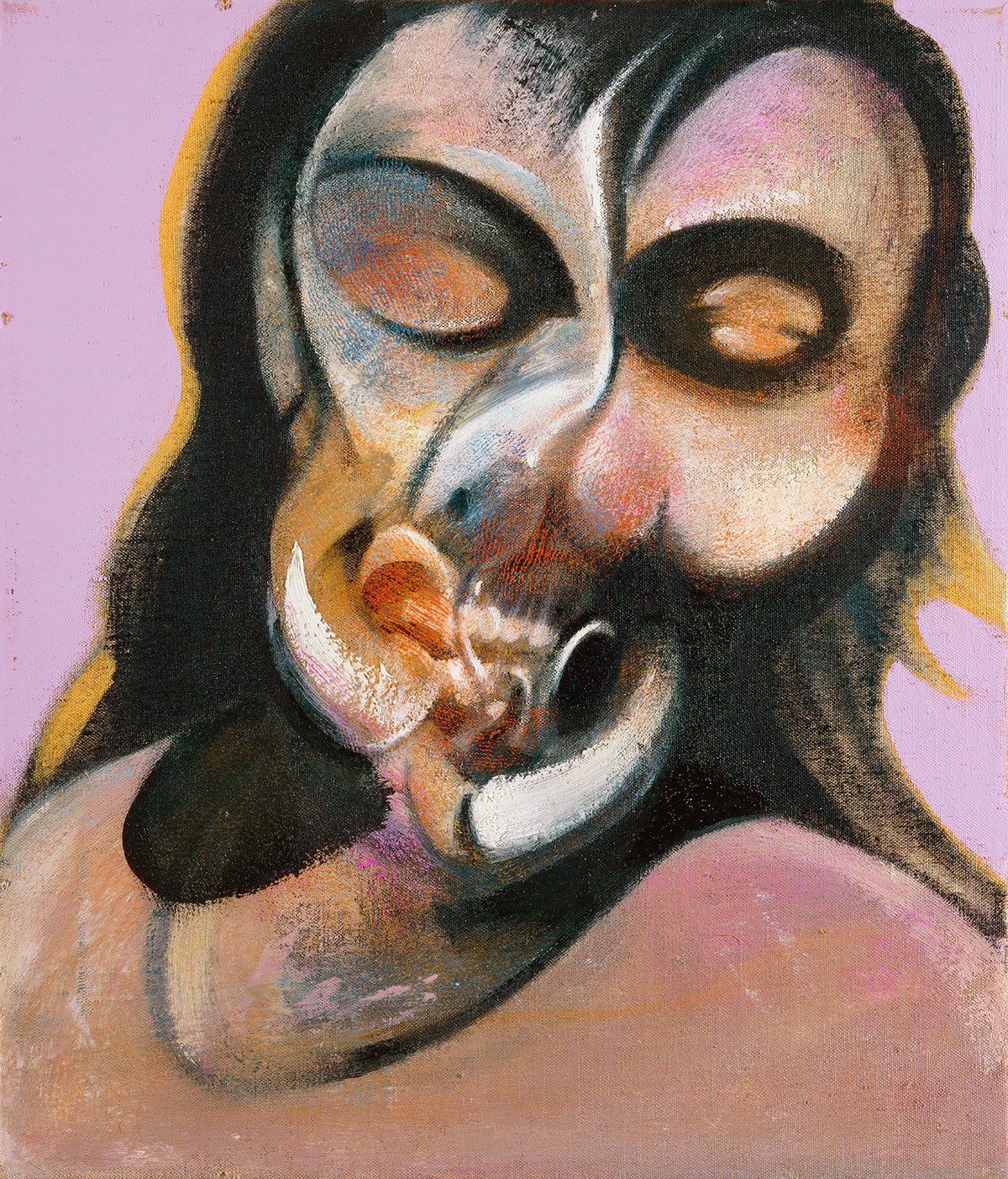 Now open at Skarstedt Gallery in New York, the exhibition Francis Bacon: Faces and Figures features the artist's friends, lovers, and muses – Peter Lacy, George Dyer, Muriel Belcher, and Henrietta Moraes – along with an intimate self-portrait and a portrait of Pope Pius XII.
The gallery describes the exhibition as one that "traces poignant moments of loss and companionship through the perennial influences that have come to define Bacon's oeuvre". 

Peter Lacy, the first of Bacon's lovers to appear in his paintings, is represented here in 'Man at a Washbasin' (c. 1954) and Seated Figure on a Couch (1959). Bacon and Lacy had a tempestuous relationship, and the gloomy palette of Bacon's work during this time calls forth the tension and brutality of the decade they were together. 
The posture of the figure in 'Man at a Washbasin' (c. 1954), which is based on Peter Lacy, is also reminiscent of many of Degas's pastels of naked women washing themselves.
Excerpt: Martin Harrison, Francis Bacon: Catalogue Raisonné (London: The Estate of Francis Bacon Publishing, 2016 p. 380).

Within Bacon's life and work, George Dyer occupies a place of prime importance. Bacon painted portraits of Dyer obsessively, both during Dyer's life and after his death. The exhibition features two paintings that demonstrate their stormy relationship: Three Studies for Portrait of George Dyer (on light ground) (1964) and Figure in Movement (1972). Painted the year after Dyer's suicide on the eve of Bacon's retrospective at the Grand Palais in Paris, the latter painting is a sombre portrait.
Martin Harrison has called it 'a vigorously-painted figure in motion, solitary in a spaceframe, holds aloft a newspaper, the contours of his body emphasised by a dark rim of shadow.' Harrison, Francis Bacon: Catalogue p. 1028).
Women also feature prominently as sitters and muses in Bacon's work.  Henrietta Moraes appears in Study of Henrietta Moraes (1969) and Three Studies for a Portrait (1976). Study of Henrietta Moraes (1969) was instrumental to the development of Three Studies for a Portrait (1976); this will be the first time the two works are shown side-by-side.
In the former, Bacon fused his ciphers of Henrietta Moraes – the shoulder-length hair and arched eyebrows – with attributes taken from a still frame of the actress Emmanuelle Riva in the film Hiroshima Mon Amour, 1959, a film about love, memory and loss.
Excerpt: Martin Harrison, Francis Bacon: Catalogue Raisonné (London: The Estate of Francis Bacon Publishing, 2016 p. 924).
Bacon turned to himself as a subject more emphatically in the latter part of his career. In Study for Self-Portrait (1979), Bacon's expression is tentative, unsettled, as his face rises from a dark background.
Bacon's images of people – whether from photographs or sitters in front of him – distorted the figure, yet still retained the familiarity of the original form. As Bacon told David Sylvester in 1966; "What I want to do is distort the thing far beyond the appearance, but in the distortion bring it back to a recording of the appearance." David Sylvester, Interviews with Francis Bacon (Thames & Hudson, 2008, p.46)
This exhibition demonstrates the distorted depictions of Bacon's human influences in his infamous works spanning the 1950s to 1970s. Find out more here.