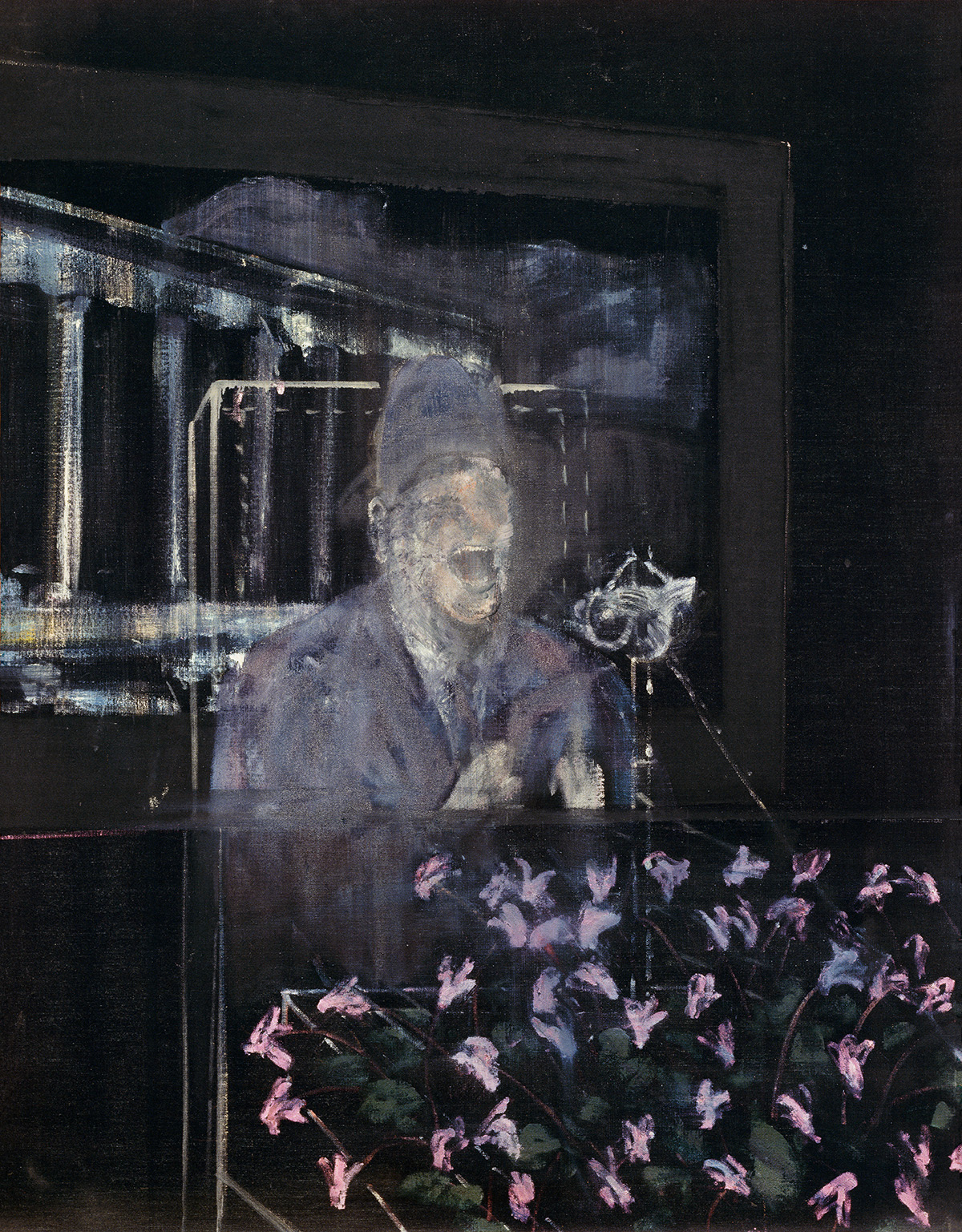 Francis Bacon's early image of a Pope – which has never previously been exhibited publicly – is on show from today at Gagosian gallery in London. 'Landscape with Pope/Dictator' c.1946, will be displayed at Davies Street gallery in Mayfair from 15 March to 23 April.
While comparators are inevitably few, the imagery places the painting about 1946. A classical colonnade features in 'Landscape with Colonnade', c. 1945 (45-04) and Bacon painted cyclamen in the destroyed Figure Study [see Alley, D3] and Landscape with Car, c. 1945-46 (46-04).
The figure combines attributes of a Pope (the throne / sedile and biretta) with secular references (the collar and tie, and microphone); was the Pope's scream informed by the still photograph of the screaming woman from Eisenstein's Battleship Potemkin?
On 19 October 1946 Bacon wrote from Monaco to Graham Sutherland (and similarly to Duncan Macdonald of Lefevre Gallery on the same day): 'I am working on 3 sketches of the Velasquez portrait of Pope Innocent II [sic]. I have practically finished one'. This would seem to be one of the paintings that Bacon was describing.
Excerpts: Martin Harrison, Francis Bacon: Catalogue Raisonné (London: The Estate of Francis Bacon Publishing, 2016 p. 176).
The Art Newspaper reports that Gagosian's director Richard Calvocoressi says in a statement: "It is particularly exciting that this important early Bacon has re-emerged now, while three of the artist's reinterpretations of the Pope theme—from 1949, 1951, and 1965—are on display in London, in the Royal Academy's current exhibition, Francis Bacon: Man and Beast."
Find more of Bacon's paintings on our website here.