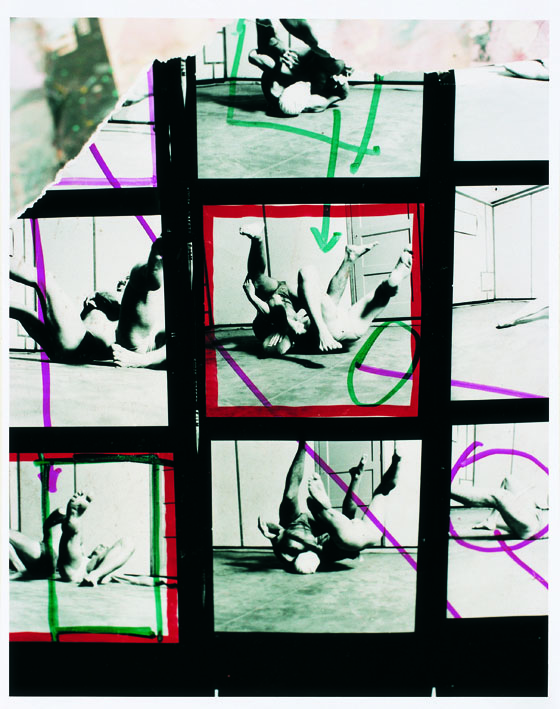 Bacon once said in an interview with David Sylvester that he was "haunted" by photographs and found them "more interesting than either abstract or figurative painting" [Sylvester, 2008, P.37]. To explore Francis Bacon's complex relationship with photography, it is worth first delving into his biography and personal relationships.
John Deakin (12 May 1912- 25 May 1972) was an accomplished portrait, fashion and street photographer. Deakin and Bacon met in London shortly after the end of the war, where they socialised in the same bohemian Soho circles.
Excerpts: Martin Harrison, In Camera Francis Bacon: Photography, Film and the Practice of Painting, London: Thames & Hudson, 2005 Harrison p.17, p.160.
John's portrait of a bare-chested Bacon between two carcasses of meat from 1952 was published in Vogue in 1962. The shot became one of the most iconic images of the artist, but moreover, was used by the artist as a springboard for his painting Figure with Meat, in 1954.
Excerpt: Cf. Harrison, 2005, p.161, Muir, 2014, p.80.
Photography itself became an indispensable means to Bacon's expressive ends. Deakin's photographs of other close friends: Henrietta Moraes, Isabel Rawsthorne, Lucian Freud and Muriel Belcher allowed the artist to capture the vitality of his subjects while keeping a critical distance. He would twist their features and practice his 'injuries' without having to contend with the judgment of the sitter (a problem he had encountered at least once previously).
Then in 1963 a new man entered Bacon's life – George Dyer – a dapper Eastender with a petty criminal past. Mainly through the medium of John Deakin's photographs, Dyer became a recurrent subject of Bacon's paintings in the 1960s.
Through photographs and other reproductions Bacon could continually expand his repertory of attitudes and poses, but then return to the source that inspired him; he didn't simply confine his interest to what an image contained, he was keenly receptive to its physical state. He once said that he used photographs of wild animals as suggestive and textural inspiration for his portraiture, as a rhinoceros skin helped him to "think about the texture of the human skin." [Sylvester, 2008, P.38].
The origins of certain painterly distortions in his canvases can be found in the tears, creases and paint accretions on prints and book pages littered across the studio floor. As Bacon himself remarked, "don't forget I look at everything."
Discover more about Bacon's influences, relationships and chronology on our website.