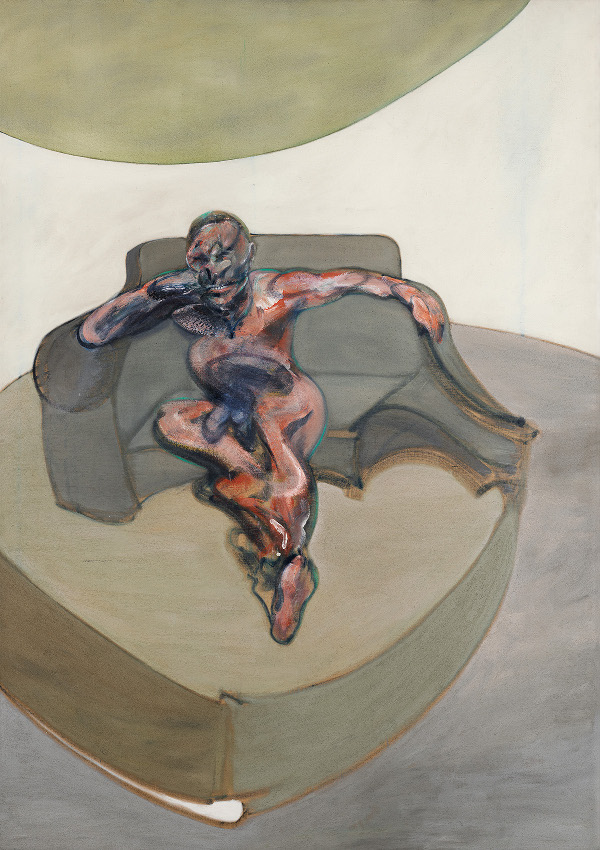 February marks a rare UK public display for Francis Bacon's Portrait, 1962. So fittingly this Catalogue Raisonné Focus looks at that elusive work, in which the sitter is Peter Lacy, a great love of Bacon's. 
This important painting was not originally considered a portrait and was titled Man on Grey Couch when shown at Bacon's Tate Gallery retrospective in 1962. It is also unusual in that the sitter wasn't immediately named. In Volume III of the Catalogue Raisonné, Martin Harrisson, FSA notes:
'It is not immediately clear from the portrayal that the sitter is Peter Lacy, whom Bacon identified in certain paintings made both before and after this date as 'P.L': perhaps Bacon equivocated about disclosing the man's identity. However, on 2 January 1962, in a copy of Muybridge's The Human Figure in Motion, Bacon wrote 'Portrait of Peter as opposite' on a page facing what was in effect a sketch of Portrait, 1962.'
Bacon first met Peter Lacy, a former fighter pilot in the Battle of Britain, around 1952 and they pursued a tempestuous relationship until Lacy's death in 1962. In the mid-1950s, Lacy moved to Tangier and Bacon made long visits there but generally returned to London. Francis Bacon's partners were the subject of many of his paintings, you can read more about them and view paintings and photos here. 
Returning back to the Tate, Portrait, 1962, is to make a rare appearance in Tate Britain's major exhibition 'All Too Human: Bacon, Freud and a Century of Painting Life', from 28 February through to 27 August 2018. Other works on display include Triptych, 1974-77, and the rarely seen Study for Portrait of Lucian Freud, 1964, both of which will be shown in a UK public gallery for the first time in over 30 years.
If you'd like to order a copy of the 'Francis Bacon: Catalogue Raisonné' please visit Heni Publishing's website.
Excerpts: Martin Harrison, FSA. 62-01 Portrait, 1962, Catalogue Raisonné Volume III, pages 676-677.
Please note all exhibition details including names, dates and featured works, opening days/hours are subject to change. Ahead of a visiting, we recommend contacting the Tate Britain for all confirmation regarding the display.