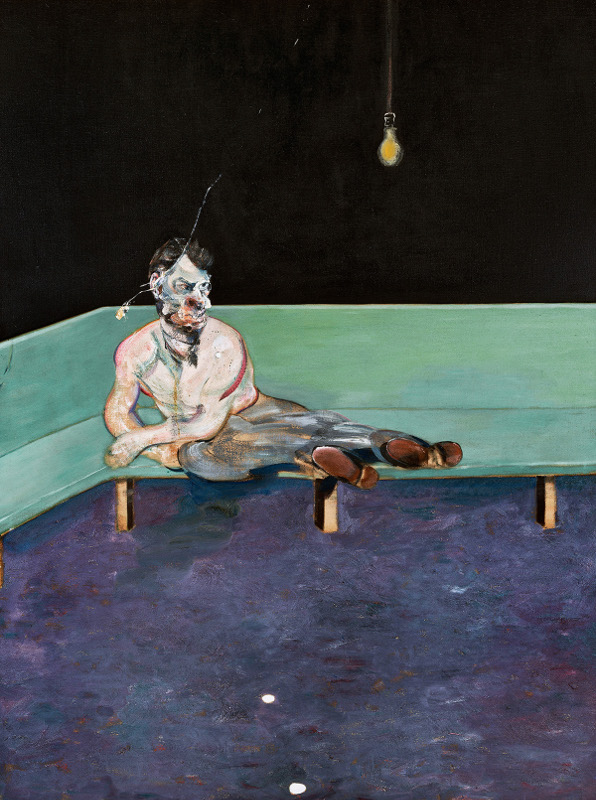 The Estate of Francis Bacon is delighted that Study for Portrait of Lucian Freud, 1964 is to be shown in public for the first time in over fifty years in Tate Britain's forthcoming exhibition 'All Too Human: Bacon, Freud and a Century of Painting Life'.
Shortly after it was finished, the painting was exhibited in London in 1964 at the group exhibition 'Aspects of XX Century Art', held at Bacon's gallery Marlborough Fine Art. In 1965, it was displayed in Hamburg and Stockholm as part of a solo show of Bacon's work. Since then the work has been part of a private collection, unavailable to the public for over half a century.
The striking painting was originally the left panel of a triptych and stands at over six feet high. In the Francis Bacon: Catalogue Raisonné, Martin Harrison says of the piece:
'Freud's pose was probably (freely) based on photographs John Deakin took for Bacon of the sitter on his bed. The manner in which the light cord trails over Freud head is slightly mocking, while the soles of the shoes that face the viewer are typically defiant. It is regrettable that these three fine, angst-ridden paintings are so seldom toured, or seen.'
Bacon and Freud's friendship was complex, with the artists considered both contemporaries and rivals. They met around 1942 and Bacon produced many portraits of Freud in the years that followed. However, their relationship was not to be a lifelong one, ending abruptly with an argument.
The painting is one of a number of notable Bacon pieces on loan to Tate Britain. Other rarely seen works to be exhibited include Portrait, 1962, and Triptych 1974-77 – both of which will be shown in a UK public gallery for the first time in over 30 years. Bacon's partners Peter Lacy and George Dyer respectively, serve as the subjects for these pieces. Triptych 1974-77 was Bacon's final homage to Dyer.
As well as the opportunity to see paintings by Francis Bacon and Lucian Freud, the exhibition offers works from renowned artists including Walter Sickert, Jenny Saville and Frank Auerbach. The major exhibition, curated by Elena Crippa and Laura Castagnini, will celebrate how artists have captured intense moments of life in paint, portraying personal and immediate experiences. Tate Britain are running related events including tours and a curator's talk alongside their exhibition. Later in 2018, the show is set to tour to the Museum of Fine Arts, Budapest.
All Too Human: Bacon, Freud and a Century of Painting Life
28 February - 27 August 2018
Tate Britain, London
*Please note all details including names, dates and featured works, opening days/hours are subject to change. Ahead of a visiting, we recommend contacting Tate Britain for all confirmation regarding the display.
Word ref: Tate press release and Francis Bacon: Catalogue Raisonné, 2016.