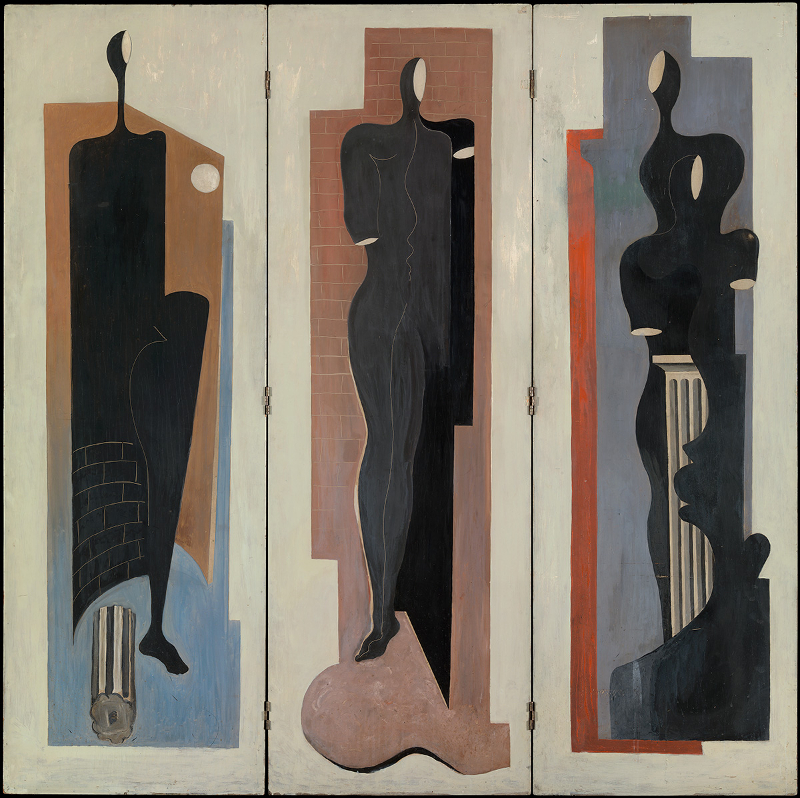 Francis Bacon is of course best known for his paintings, but in the late 20's he embarked upon a career as a furniture designer. It was during this time that he created 'Painted Screen', c.1930, this month's focus.
Although technically considered furniture, 'Painted Screen', c.1930 is Bacon's earliest surviving large-scale work and can be seen as a precursor to his famed triptychs. It was painted in oil on three plywood panels, each measuring 72 x 24in (183 x 61cm). Martin Harrison, FSA, notes in the Francis Bacon: Catalogue Raisonné, 2016, that there is a question as to when 'Printed Screen', c.1930 was actually created:
'A single figure, similar to that in the centre panel of the screen, is visible in a painting of Bacon's studio at 17 Queensberry Mews West, South Kensington, made by Roy de Maistre in 1930. Alley dated the screen to 1929, no doubt because it had to have preceded de Maistre's painting; however he believed that de Maistre and Bacon shared an exhibition in 'the winter of 1929-30'. No evidence for this has been found and it is almost certain there was no such exhibition. De Maistre did not arrive in England from Australia until April 1930, another of the reasons for the slight adjustment in dating here.'
The screen has been on long-term loan to Tate Britain since 2009 but is soon to be part of a collection of early works being auctioned by Christie's. Seven pieces Gouache, 1929, 'Painting', c.1930, 'Painted Screen', c.1930 and three rugs, along with Figure in Movement, 1972 will be displayed at Christie's London from 28 September - 4 October. These pieces are available to view free of charge ahead of their auction.
Christie's London
28 September - 4 October
*Please note all details including names, dates and featured works, opening days/hours are subject to change. Ahead of a visit, we recommend contacting Christie's for all confirmation regarding displays.
Excerpt: Martin Harrison, FSA. 30-01, Francis Bacon: Catalogue Raisonné, 2016, Volume II, pages 112-113.