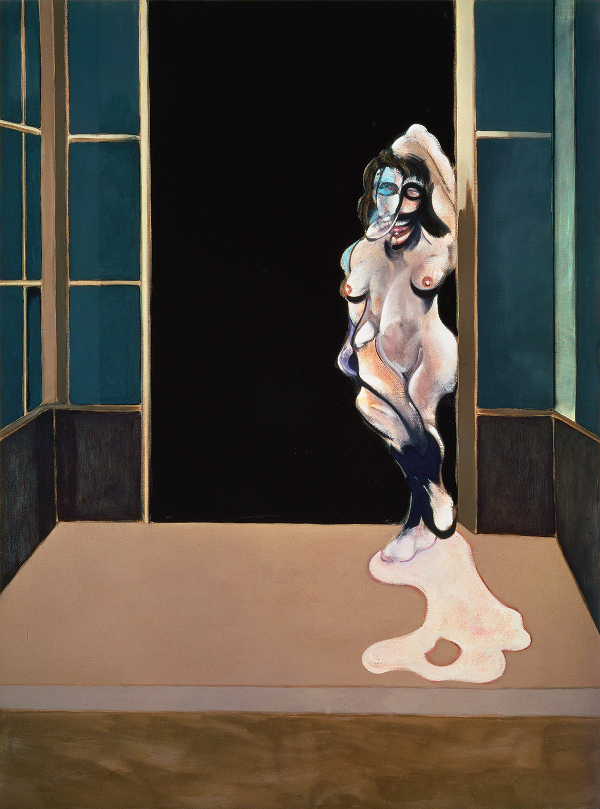 Francis Bacon's painting Female Nude Standing in a Doorway, 1972 is being displayed in France's Centre Pompidou-Metz until 15 April 2019. The exhibition it features in, Painting The Night, explores artists' interpretation and perception of the night in modern and contemporary painting. The title itself has a double meaning, and the pieces on display could be a literal interpretation of painting the night, or paintings created during the night.
Female Nude Standing in a Doorway, 1972 is assumed to have been referred to in Francis Bacon's diary entry from 29 September 1972: 'Finished Nude No.1', or 6 October 1972; 'Nude No. 2', though if Bacon intended to, or did indeed, paint a series, this is the only one that survives. The painting depicts a female nude, standing in a panelled room in front of a darkened doorway. The head is adapted from Bacon's portrait of Henrietta Moraes, specifically the characterisation in Study of Henrietta Moraes, 1969.
Moraes was the subject of a number of Bacon's paintings in the 1960s after purposefully setting out to meet the artist by frequenting bars such as the French House. John Deakin, an accomplished portrait, fashion, and street photographer, took photographs of Moraes which were used for Bacon's series of female nudes from 1963. However, this painting is categorised as a female nude rather than a portrait, as John Deakin's photographs do not show Moraes as standing with her arm raised.
The exhibition runs until 15 April 2019 and groups together around one hundred artists and historical figures including Francis Bacon, Winslow Homer, Anna-Eva Bergman, Paul Klee, Lee Krasner, Henri Michaux, Ann Craven, Peter Doig, Jennifer Douzenel, Rodney Graham, and Martin Kippenberger.
Painting the Night
Present - 15 April 2019
Centre Pompidou-Metz, France
*Please note all details including names, dates and featured works, opening days/hours are subject to change. Ahead of visiting, we recommend contacting Centre Pompidou- Metz for all confirmation regarding their displays.
Word ref: The Estate of Francis Bacon website, the Centre Pompidou-Metz website.