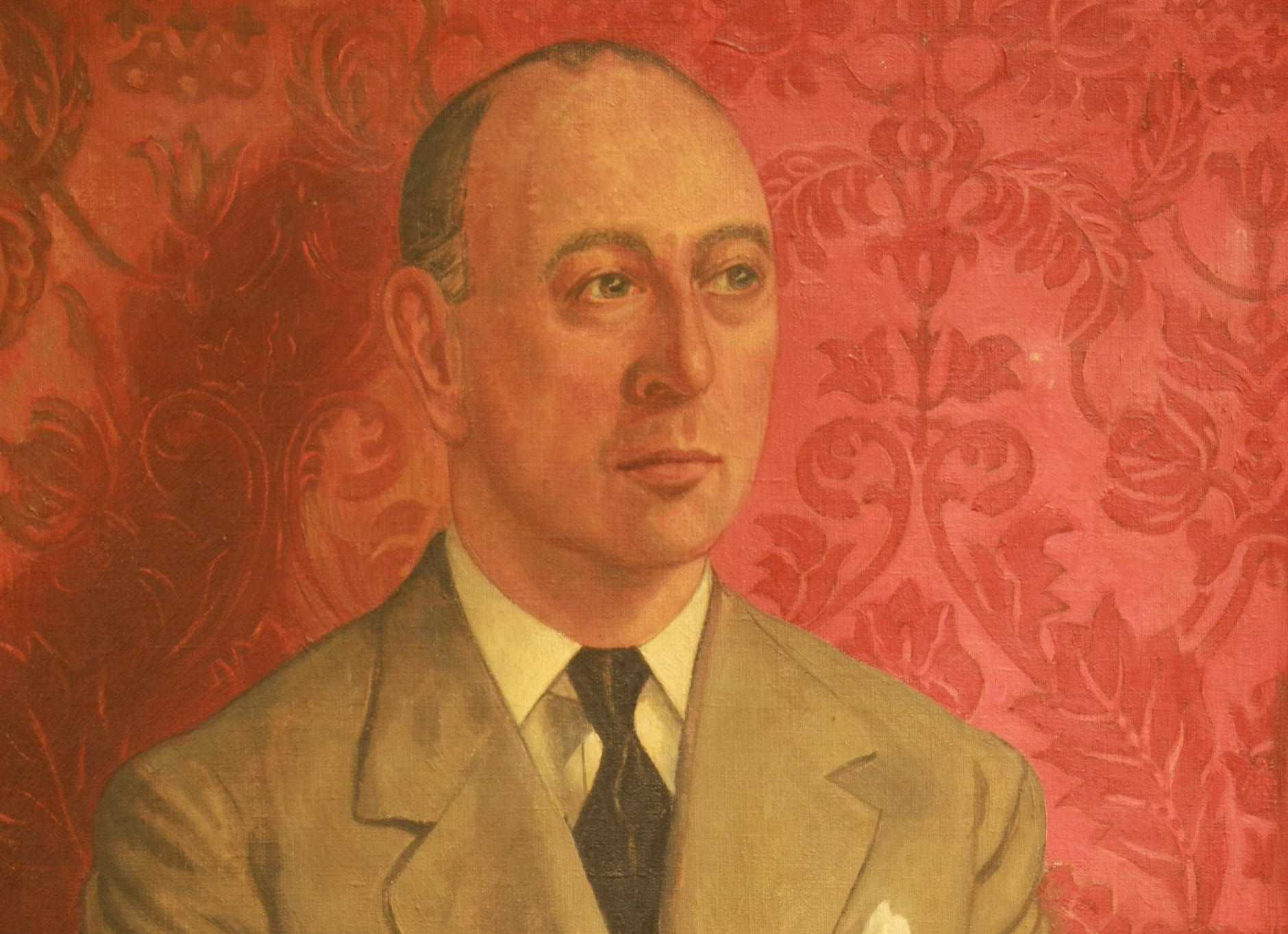 'At the end of the twenties, I got to know a man who lived in Chelsea with his wife and their two children. One day he came to see me. He had become very interested in my painting and, from that moment, he began to help me. He never let me down.'[1] Francis Bacon on Eric Hall
Eric Walter Hall was Bacon's partner from about 1932 to 1949 and an early patron who, according to the artist, had a defining influence on his life.[2] Hall had studied at Malvern College and Oxford University before occupying a number of high positions such as director of the department store Peter Jones, Justice of the Peace and Borough Councillor.[3] During WWII he was a member of the British Red Cross Society and Acting Superintendent of the ARP (Air Raid Precautions) Depot, Chelsea, where Bacon, rendered unfit for active duty due to his asthma, volunteered in the reserve service.[4] The wealthy businessman was an avid patron of the arts and was, for example, Chairman of one of the London symphony orchestras.[5] The group show 'Young British Painters' at Thos. Agnew's and Sons in 1937, in which Bacon participated, was initiated by Hall as part of the efforts to reinvigorate the 'London Artist's association', which aimed to guarantee young artists a modest but reliable income.[6] Bacon described Hall as an 'intelligent' man who 'had a lot of sensibility'.[7]
The first encounter between Bacon and Hall may have taken place at the Bath Club in Mayfair around 1932.[8] Homosexuality remained illegal in England until 1967, and the love affair threatened not only Hall's marriage but his social position, too.[9] And yet, he had fallen for the young man and supported him devotedly. 'Eric adored Francis and worked tremendously hard for him. He laid everything out on the carpet for him', Robert Medley recalled.[10] Hall travelled with Bacon during the late 1930s when the latter, frustrated by negative reviews, lack of sales and his struggle to overcome Picasso, decided to 'enjoy himself' instead of pursuing his career as a painter.[11] Between 1940 and 1943 Hall occasionally rented Bedales Lodge, in Steep, near Petersfield, Hampshire, so that Bacon could escape the fine dust of the London bomb sites, which worsened his asthma.[12] In addition to Hall's generous financial help, his encouragement was of crucial significance for Bacon's development as an artist, especially in relation to him seriously taking up painting again during the last war years.[13] Several works are inscribed 'Petersfield' on the reverse, for example, the right panel of Three Studies for Figures at the Base of a Crucifixion, 1944, and Man in a Cap, c.1945, which suggests that Bacon worked again in that time, even though it is important to note that the inscriptions do not refer to the current state of those paintings.[14] After the sale of Painting 1946 in 1946, Hall moved to Monaco with Bacon and his old nanny Jessie Lightfoot, where the pair indulged in their shared love of gambling.[15] In 1947, Hall is registered with Bacon and Lightfoot at 7 Cromwell Place, South Kensington.[16] The eccentric ménage à trois returned to Monte Carlo several times over the next years but Hall's departure in October 1948, while Bacon and Lightfoot stayed on until November 1949, may be indicative of the end of their love relationship.[17]
Hall's influence on Bacon's art and life and his loyal support outlasted their relationship. In 1952 and 1953 respectively, he donated Study of a Dog, 1952, and Three Studies for Figures at the Base of a Crucifixion, 1944, to the Tate Gallery.[18] Hall had widened Bacon's cultural horizons and under his patronage he probably became more aware of the Greek tragedies and Shakespeare especially, which were to occupy him continuously;[19] in 1981 he painted Triptych Inspired by Oresteia of Aeschylus. From the late 1970s on, Bacon equipped some figures with cricket pads, such as in Triptych, 1983, which may have been a reference to his former partner – Hall was an enthusiastic cricket fan with whom Bacon had attended several matches.[20] Not least, according to Bacon, the epicurean taught him 'the value of things', for example, 'what decent food was' and his own lasting appreciation of good food and wine is well documented.[21]
No portrait of Hall by Bacon survives, but X-ray analysis revealed that Bacon painted, probably at Bedales Lodge, what may be his likeness underneath what is today the right panel of the Three Studies.[22] Figure in a Landscape, 1945, was informed by a now lost photograph of Hall dozing in a chair in Hyde Park, with its headless protagonist in front of what is, by Bacon's own account, a table of microphones; it would have to be considered a very unconventional portrait.[23]
---