Inside Francis Bacon
Francis Bacon Studies III
Published 6th August 2020 in the UK (8th September 2020 in the US)
Edited by Martin Harrison. Essays by Francesca Pipe, Martin Harrison, Christopher Bucklow, Sarah Whitfield, Joyce H Townsend and Sophie Pretorius.
The six essays in Francis Bacon Studies III: Inside Francis Bacon constitute a ground-breaking multi-disciplinary study of Bacon's life and art and disclose fascinating new information about this elusive artist. Where the content of Francis Bacon Studies I and II reflected the application of theory-based methodologies, several of the authors of Inside Francis Bacon consider the artist through more traditional art-historical disciplines, including biography and the technical analysis of his paintings. This is in line with our intention that Francis Bacon Studies should embrace the widest possible range of new thinking about Bacon.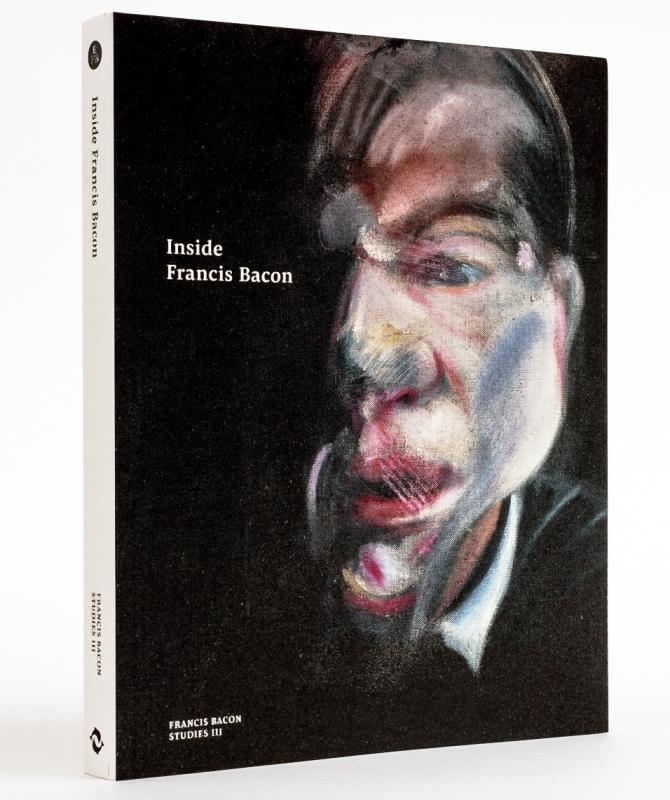 Three of the essays, those by Francesca Pipe, Sophie Pretorius and Martin Harrison, are based on archives that have been added only recently to the collection of the Estate of Francis Bacon. What they reveal will revolutionise our perceptions of Bacon. Very little is known about his early life and career, and the diaries of his two earliest patrons facilitate a much deeper understanding of his formative years than, until now, has been possible. Many of the myths that Bacon and his apologists created in the 1980s are exploded: for example, in a recent broadcast a Tate curator confidently informs the audience of Bacon's brutal upbringing and the 'horse-whippings' he suffered, claims based on gossip and hearsay that evidence published in Inside Francis Bacon seriously challenges. Especially revelatory are the extensive records kept over a long period by Bacon's doctor, Paul Brass, a generous long-term loan by Ruth Brass. Sophie Pretorius's analysis of them will require a fundamental revision of preconceived notions about Bacon's character and psychology, and also explains the uneven production rate of his paintings.
Sarah Whitfield sheds significant new light on both Bonnard and Bacon; she has identified concerns the two artists shared that will surprise as well as inform. Joyce Townsend draws on her scientific and technical investigations into Tate's most important Bacon paintings, as well as comparisons with the techniques of many other artists, to advance engrossingly fresh information about Bacon's aims and techniques. Christopher Bucklow extends his meditations on the metaphor system in Bacon's paintings published in Francis Bacon Studies I. His ideas are always compelling and challenging, and his essay reflects wide, and perhaps unexpected, terms of reference, ranging from William Blake to Japanese ukiyo‑e prints.
The Estate of Francis Bacon Publishing,
supported by Francis Bacon MB Art Foundation Monaco,
in association with Thames & Hudson
Contributors
Francesca Pipe: 'Bacon's first patrons: Part 1 – Eric Allden.'
Francesca Pipe is a freelance researcher with a BA in Media Studies. She has transcribed and annotated all the extant diaries of Eric Allden dating from the period 1920 to 1946.
Martin Harrison: 'Bacon's first patrons: Part 2 – Diana Watson.'
Martin Harrison was the editor of Francis Bacon: Catalogue Raisonné (2016). He is the editor of Francis Bacon Studies, and Head of Publishing for The Estate of Francis Bacon.
Christopher Bucklow: 'Road, River and Rail: Bacon's metaphors.'
Christopher Bucklow is an artist, photographer and art historian. His writing on Philip Guston is widely respected, and he contributed an essay, 'The Lens within the Heart: Bacon's Theatre of Memory' to Bacon and the Mind (2019).
Sarah Whitfield: 'Surprising Reality: Bacon and Bonnard.'
Sarah Whitfield is an independent art historian. She is the author of the catalogue raisonné of William Scott's oil paintings (2013), and has published widely on modern art, including an essay, 'A Private Treasury: Francis Bacon and France', in Francis Bacon: Monaco et la culture francaise (2016). Among her many books are Fauvism (1991) and, with John Elderfield, Bonnard (1998).
Joyce H Townsend: 'Recent investigations into Bacon's materials and processes, c. 1935-1960.'
Dr Townsend is Senior Conservation Scientist at Tate, London. She has published widely on artists' materials, including books on Turner, Blake and the Pre-Raphaelites, and has been closely involved with scientific and technical research into Bacon's paintings.
Sophie Pretorius: 'A Pathological Painter: Francis Bacon and the control of suffering.'
Sophie Pretorius, who has a BA in Art History from the Courtauld Institute, has worked as a researcher for The Estate of Francis Bacon since 2015. She is currently Archivist of the Estate's Bacon collection. She has transcribed all of Bacon's surviving medical records.
Flexibound (softback);
220 pages;
UK RRP £28.00;
ISBN: 978-0-500-97106-2
AVAILABLE FROM BOOKSHOPS AND ONLINE: