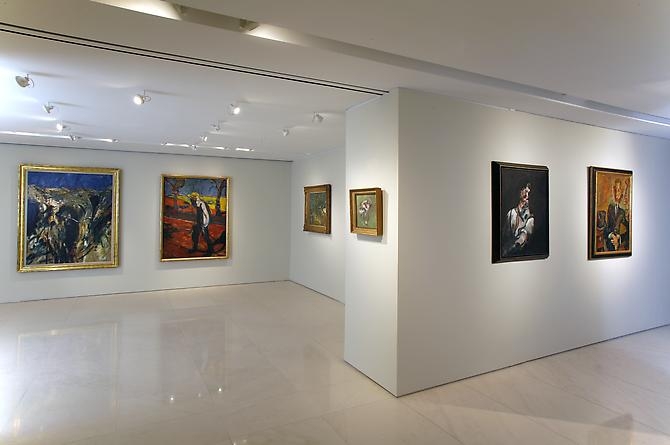 Helly Nahmad Gallery, New York. 02 May 2011-18 June 2011
Essay by Maurice Tuchman and Esti Dunlow
---
FLESH AND PAINT
Once I saw the village butcher slice the neck of a bird and drain the blood out of it. I wanted to cry out, but his joyful expression caught the sound in my throat. This cry, I always feel it there. When, as a child, I drew a crude portrait of my professor, I tried to rid myself of this cry, but in vain. When I painted the beef carcass it was still this cry that I wanted to liberate. I have still not succeeded - Chaïm Soutine

I have been influenced by everything that I've seen… And that is what I think of when I talk of influence, something like the phenomenon of a sponge which soaks everything up – Francis Bacon

I've always been very moved by pictures about slaughterhouses and meat… There've been extraordinary photographs which have been done of animals being taken up before they were slaughtered; and the smell of death – Francis Bacon

Without Soutine, there is no Bacon – Damien Hirst

When Francis Bacon went to Paris in 1927, his future as an artist was not yet clear to him. It is known that he had a fascination with slaughterhouses and beef, dating to his boyhood in Ireland, and that he was exposed to the myths that had gathered around the image of Chaïm Soutine.

Soutine was by then already well known in Paris. The 1923 purchase of almost his entire production by Dr Albert Barnes (whose collection constitutes the Barnes Foundation today) was widely written about and discussed—a rags to riches story that established Soutine's celebrity. His first solo show was presented four years later, in 1927, at Galerie Bing in Paris and likely included carcass paintings. Throughout the years 1927 to 1929, many of his paintings were exhibited in Parisian galleries in group shows or displayed at Hotel Drouot for sale at auction. The first two monographs on the artist appeared in 1928 (by Waldemar George) and 1929 (by Elie Faure); each contained a reproduction of one of the beef carcasses. Talk of these paintings was widespread, verging on the sensational—a rich topic for gossip in art circles.

Soutine had been inspired by a Rembrandt painting in the Louvre museum: Slaughtered Ox (1655). Soutine revered Rembrandt and in fact was overwhelmed by the Dutch master. He installed an immense beef carcass in his studio, which he purchased from the neighbourhood abattoir. To keep the colours and textures of the meat fresh, he poured blood over it at regular intervals. His assistant, Paulette Jourdain, continually waved off the pestering flies. There was a tremendous stench of decaying meat and rancid blood, which dripped to the floor below. The Department of Health was called in and someone called the police thinking a murder had been committed.

Bacon, who, in his own words, 'went everywhere and saw everything,' would not have missed hearing the tales of carcasses or indeed seeing one or more of these paintings in the original or in reproduction. The image of the painting itself would have been sufficient to charge Bacon up, as when he later went on to make over fifty paintings of Popes set off by Velázquez's Pope Innocent X, a painting he had not seen in the original—and one he did not care to see when he was able to see it in Rome.

The present exhibition is based on the hypothesis that Soutine's carcasses were a trigger for Bacon's essential vision, possibly even the reason he was to become a painter. This can be evidenced in the portrait photographs he commissioned John Deakin to take of him, in 1952, holding sides of beef (later made famous in Vogue). He intuited from Soutine's carcasses the basis for his art and art making. 'If I go to the National Gallery and I look at one of the great paintings that excite me there,' Bacon explained, 'it's not so much the painting that excites me as that the painting unlocks all kinds of valves of sensation within me.' It is no great leap to believe that Soutine's were among the works that had a decisive effect on him—that unlocked his valves of sensation.

There are distinct links between the two painters: direct painting and general studio practice, the equation of oil pigment with flesh, and a certain aggressive reinvention of Old Master paintings.

Essential to the practice of both Soutine and Bacon was the physical energy they brought to the painting process, the way they would virtually throw themselves at the canvas—a direct attack that did not call for significant preparatory drawing.

Statements by and about Soutine describe his process in physical terms. 'Expression comes from the touch of the brush,' he declared. Elsewhere, he explained that, 'It all depends on the way you mix colour, catch it, place it.' More vividly, his friend Emile Szittya described Soutine at work as 'flinging the colours onto the canvas like poisonous butterflies.'

As for Bacon, his companion John Edwards describes him as handling 'the brush like a sword and [standing] far back from the canvas, like he was fencing with an unseen opponent.' Though Bacon would gather together images to paint from, once he began to work, he would attack his canvas, the surface deliberately left unprimed, with utter intensity, painting for several hours at a stretch, alla prima. Bacon declared: 'I think that painting today is pure intuition and luck and taking advantage of what happens when you splash the stuff down.'

Of Bacon's approach to painting, critic David Sylvester says that 'he speaks of 'pure accident' and 'instinct,' and that the picture almost paints itself…. He explains that he throws the paint onto the canvas by hand rather than using a brush.' The artist himself went into detail on this painting process:

I can only hope that the throwing of paint onto the already-made image or half-made image will either re-form the image or that I will be able to manipulate this paint further into—anyway for me—a greater intensity… I know the part of the canvas I want to throw at… and, since I've thrown an awful lot, perhaps I know how to aim better… For instance, I would loathe my paintings to look like chancy abstract expressionist paintings, because I really like highly disciplined painting, although I don't use highly disciplined methods of constructing it.

Indeed, Bacon discussed this common aspect of his and Soutine's approach with Daniel Farson in 1958, calling Soutine 'a man with enormous gifts… a man with enormous love of painting, who never drew, who painted his pictures directly and had deliberately never developed his technique.'

Soutine worked directly from life. He had to have what he was painting in front of him, right before his eyes. He concentrated totally on his sensations and on the truth of their transference into paint to the exclusion of all else. It was the sum total of these sensations, the layering of one upon the other, that formed the experience, and hence the image. Soutine's immersion in the sheer physicality of the world, and his feverish commitment to the very act of painting, was complete and all-consuming. His response to his subjects was visceral. His canvases rivet the viewer with their convincing physical presence and their kinetically charged substance, which embody the fervid inner need that compelled the artist to paint them.