'[Colour] brings the conscious realisation of the deepest underlying principles of nature, [and] constitutes the very song of life and is, as it were, the spiritual speech of every living thing.[1]
Roy de Maistre
The artist Roy de Maistre, a pioneer of abstraction in his native country, has been described as Bacon's 'most important artistic contact in the 1930s'.[2] De Maistre was born as LeRoy Leviston de Mestre in Bowral, Australia, on 27 March 1894.[3] He moved to Sydney in 1913 where he studied at the Conservatorium of Music, the Royal Art Society and Julian Ashton's Art School.[4] In 1916, he briefly served in WWI.[5] Discharged as medically unfit, he started exploring the impact of colour on mental health and worked with shell-shocked soldiers.[6] At a time when Australian art was stuck in Impressionism, he focussed on colour theories and their relation to music and created colour wheels, schematic landscapes and abstract pieces such as Rhythmic composition in Yellow Green Minor, 1919.[7]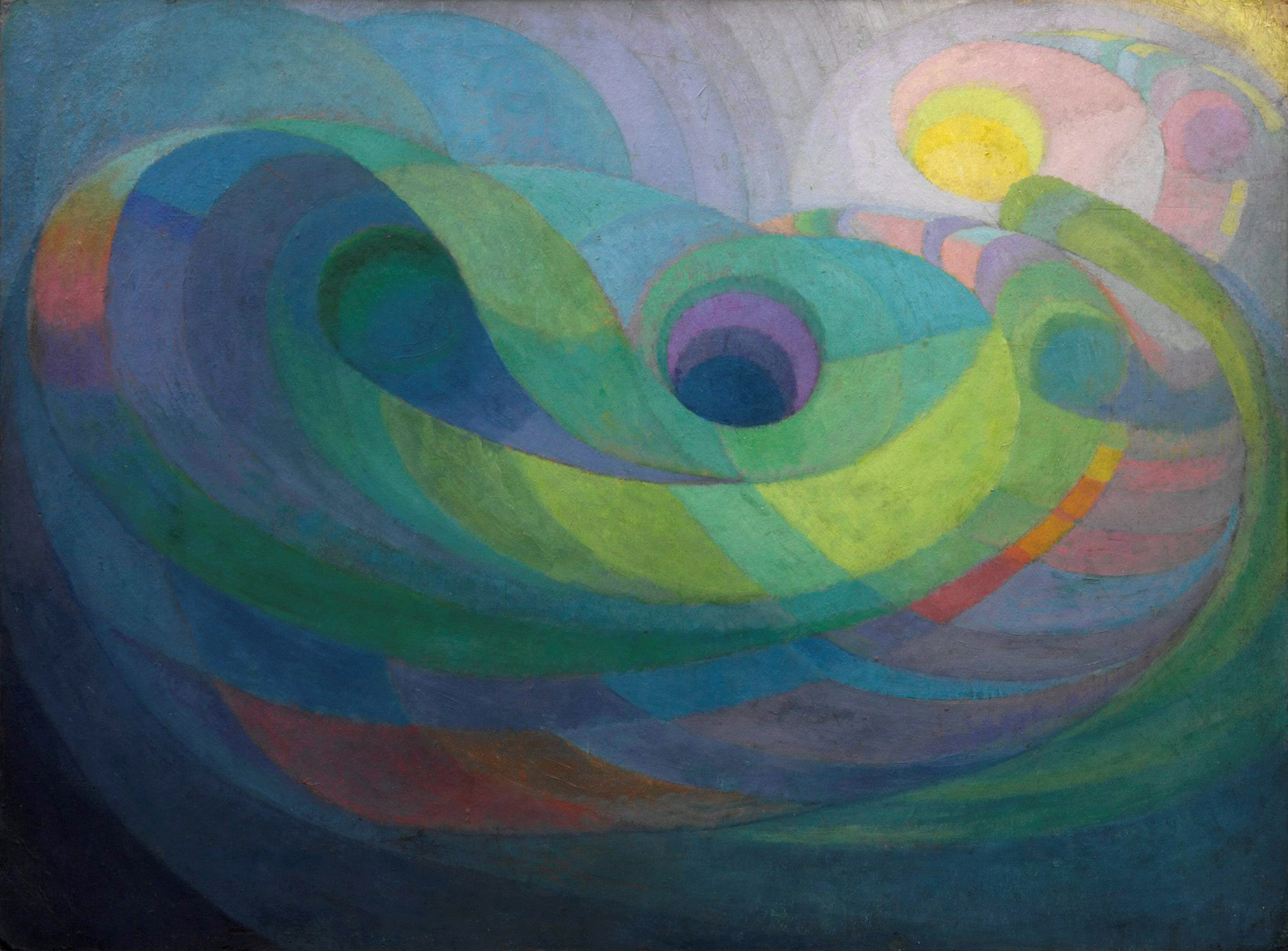 In 1923, a scholarship from the Sydney Society of Artists allowed him to travel to London, Paris and St. Jean de Luz, where he absorbed European Modernism.[8] He divided the following years between Australia and Europe, supporting himself as a teacher and interior designer, until permanently settling in London in April 1930.[9] In England, De Maistre produced still-lifes, portraits and religious scenes, advancing his own take on Cubism and channelling Picasso.[10] Together with Martin Bloch he ran the School of Contemporary Painting and Drawing for a short time in 1934.[11] De Maistre exhibited at prestigious galleries and was given a retrospective at the Whitechapel Gallery in 1960; his works were acquired for important collections such as Tate Britain, and in 1962, he was awarded a C.B.E. Maybe it was the complexity of his art and his reticence in promoting it which prevented a major breakthrough.[12] While he was initially regarded as a spearhead of the bohemian avantgarde, his career soon stagnated, and he slid into obscurity.[13] De Maistre died impoverished in London on 1 March 1968.[14]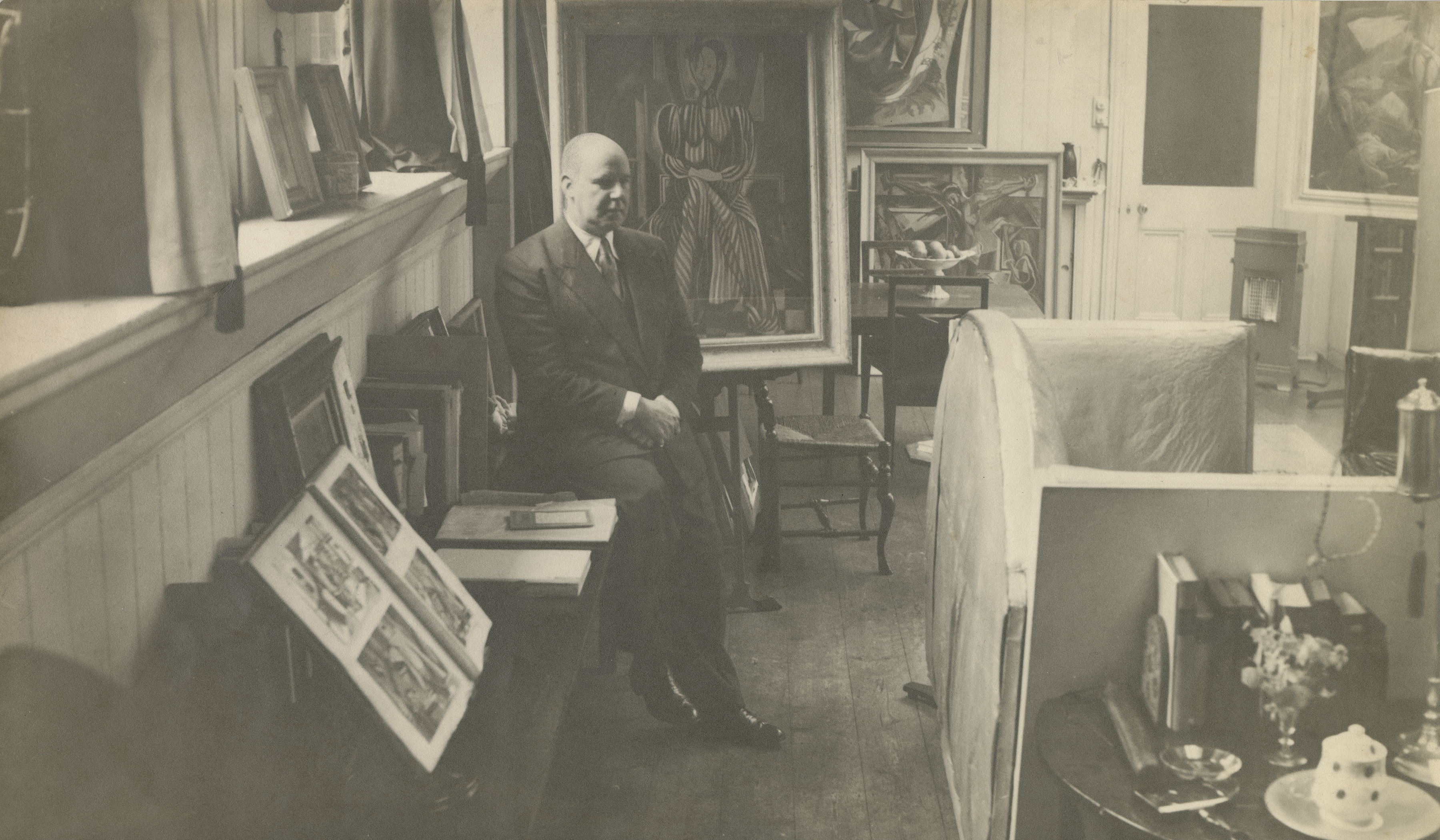 Characterised as 'a snob and an artist of integrity, a Modern who affected Edwardian manners, a homosexual of extreme discretion, and a melancholy man of great charm', a caring streak in his personality expressed itself by 'making young and talented men take themselves seriously' – a trait that the 21-one year old Bacon was to benefit from greatly.[15] Yet, not much is known on the relationship from either side. Bacon and de Maistre most likely met in London in 1930, but may have crossed paths a year earlier in Paris; the shared love for French art and culture remained an important factor in their friendship.[16] They were particularly close and briefly sexually involved in the early 1930s.[17] In 1932, they both occupied ateliers at Carlyle Studios on King's Road, Chelsea, and exhibited together twice, in 'Paintings by Roi de Mestre, Drawings and Pastels by Jean Shepard, Paintings and Rugs by Francis Bacon' at 17 Queensberry Mews West in 1930, and in 'Young British Painters' at Thos. Agnew & Sons in 1937.[18]
De Maistre's technical advice was key for the younger artist's transition from interior design to oil painting – Bacon's first surviving work in this medium, 'Painting', is dated c. 1930, the year they met.[19] He also spurred, if not initiated, Bacon's lifelong passion for collecting and painting after photographic sources, which de Maistre himself often used as the basis for works such as Procession, c.1937.[20] The older colleague broadened Bacon's art historical horizon by introducing him to the French surrealist magazine Minotaure, and the seminal book Piero della Francesca by Roberto Longhi, after which he painted Three Heads (after Piero della Francesca), 1933, and from which Bacon lifted the dog in Figures in a Garden in 1936.[21] It may be speculated that De Maistre's absorption of Picasso predated Bacon's.[22] The well-connected Australian also arranged important furniture commissions for Bacon such as those from his own patron Gladys McDermot.[23]
His influence is felt directly in Bacon's The Crucifixion, 1933, whose colour scheme is thought to reflect De Maistre's early colour experiments, while his Figure by Bath, c.1937, and Composition with a Bath, c.1934, may have been a source of inspiration for the biomorphs in Bacon's Three Studies for Figures at the Base of a Crucifixion, 1944.[24] It has been proposed that, in return, some patterned designs in works of De Maistre were inspired by Bacon's rugs.[25] De Maistre expressed his fondness for the young artist in the tender Portrait of Francis Bacon, 1930-35, and respect for his creative efforts in paintings of his atelier, such as Francis Bacon's Queensberry Mews studio, 1930.[26] While later being less close, they remained friends until the end of De Maistre's life.[27]
___________________________________________________________
________________________________
EXPLORE: