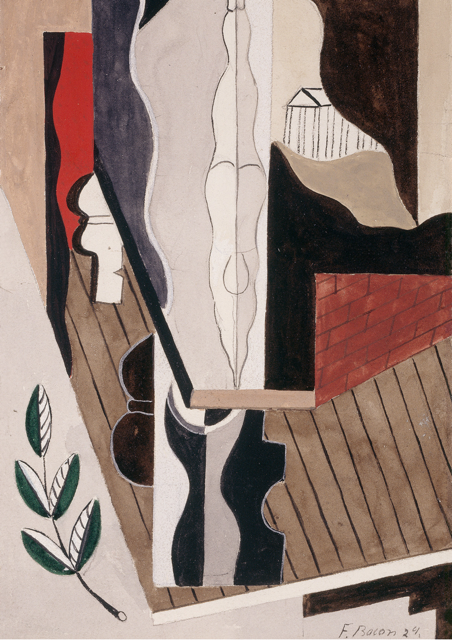 In 1929 Bacon's career as a painter was in its infancy, and 'Watercolour', 1929, is probably the earliest surviving of all Bacon's paintings. 
Just as Bacon entered his 20s he began to experiment with furniture design. He designed - amongst other things - tables, chairs, and screens, along with rugs, which he hung vertically, as one would a tapestry. In  'Watercolour' 1929, the influence of Picasso as well as the Cubist and Surrealist movements on the young Francis Bacon is clear. 
Martin Harrison points out:
"Bacon was aligning himself with European modernism, although the stylised diver is reminiscent of Parisian art déco. At this stage, there is little distinction between Bacon's designs for rugs and screens and his independent artworks." (Martin Harrison, Francis Bacon: Catalogue Raisonné (London: The Estate of Francis Bacon Publishing, 2016) p.108)
Bacon's early paintings are extremely scarce. He was a harsh critic of his work and intentionally destroyed much of his early output. The few surviving works from this period which escaped Bacon's culls remained hidden in private collections for many years, but were published in 2016 in the Francis Bacon: Catalogue Raisonné. One can explore his surviving works from the 1920s and 1930s on our website.