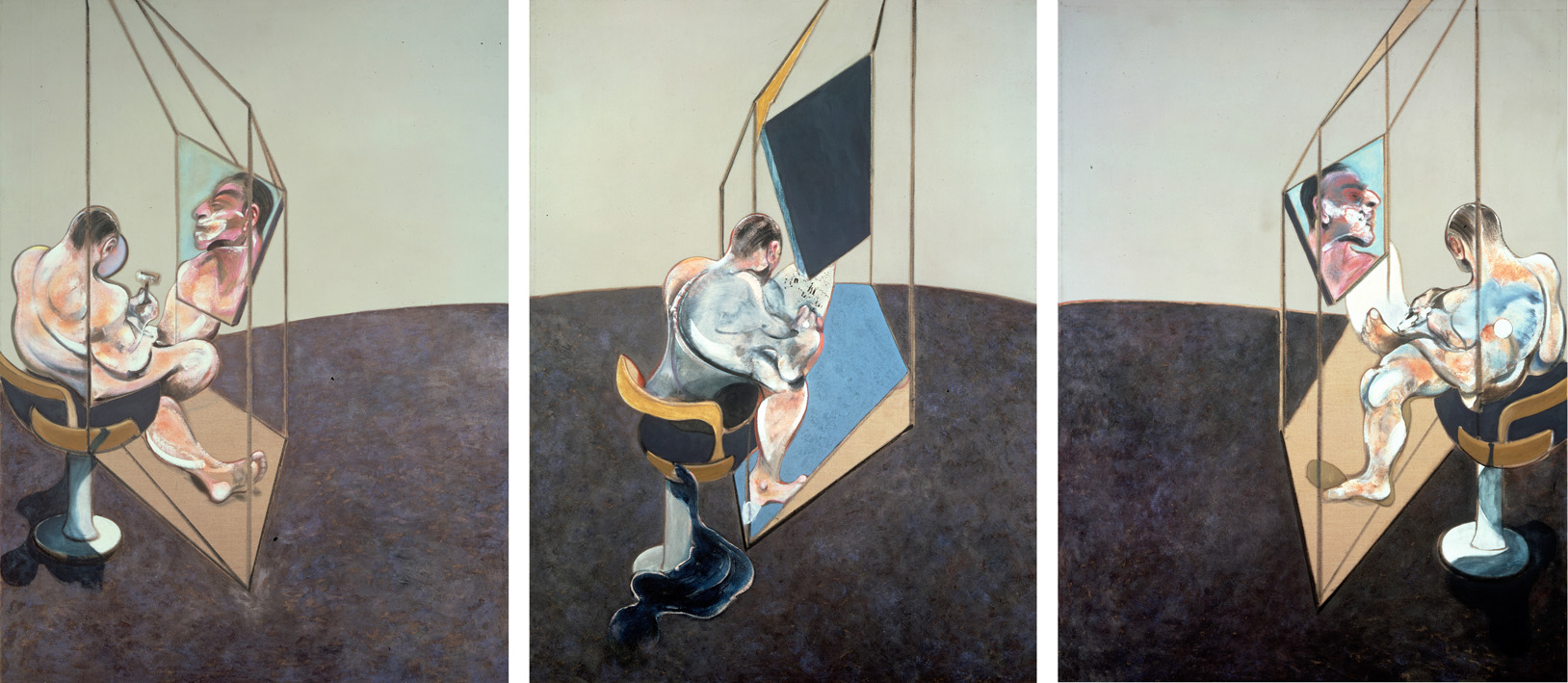 A triptych by Francis Bacon is set to be featured in an exhibition opening March 11, 2023, at The Kallman Museum in Ismaning, Germany, entitled Images of Man – The Klewan Collection. 
The "human being" is the focus of this exhibition, which showcases drawings, paintings, prints and sculptures by around 40 artists. The works come from the collection of gallery owner Helmut Klewan.
The Bacon painting to be exhibited is the triptych Three Studies of the Male Back (1970); one of four large triptychs that Bacon painted specifically for inclusion in his retrospective exhibition at the Grand Palais, Paris, in 1971. The painting is an exemplar of common motifs and influences in Bacon's work; the human back, Muybridge, George Dyer, Degas, Velázquez, the poetry of T.S. Eliot and trapezoid spaceframes. 
Martin Harrison identifies and explains some of these themes in the Catalogue Raisonné:
Bronze casts of Matisse's huge reliefs, Nus de Dos, I – IV, 1909, were acquired by the Tate Gallery in 1955. Bacon would have seen the four alternative casts of these in the Matisse exhibition at the Grand Palais, which he visited while it was being installed in April 1970, shortly before he made this triptych: both their serial presentation and the configurations of the bodies may have resonated with him. The protruding spine in the centre panel refers to Bacon's misreading (see 75‑07) of Degas's After the Bath, Woman Drying Herself (c. 1890–95, National Gallery, London). The shaving of the face and legs in the outer panels recalls T. S. Eliot's lines in 'Sweeney Erect', in which 'Sweeney addressed full length to shave' and 'Tests the razor on his leg'. The mirror reflections may be an oblique nod to Venus's mirror in Velázquez's 'Rokeby Venus', another enduring stimulus for Bacon.
Excerpt: Martin Harrison, Francis Bacon: Catalogue Raisonné (London: The Estate of Francis Bacon Publishing, 2016 p. 946).
The exhibition features a range of mediums, from artists working in classical modernism such as Max Beckmann, to the Swiss figurative sculptor Alberto Giacometti, whom Bacon's work was featured alongside in previous group exhibitions. 
As The Kallmann Museum describes, each artist explores a different aspect of the human condition, such as "the depiction of the painfully distorted bodies and faces in the work of Francis Bacon or the existentialist attitude to life in Bernard Buffet's self-portrait." The exhibition presents a variety of artistic representations of people, as well as the preferences of a prolific art collector – Helmut Klewan. 
Find out more about this and upcoming exhibitions on our News page.