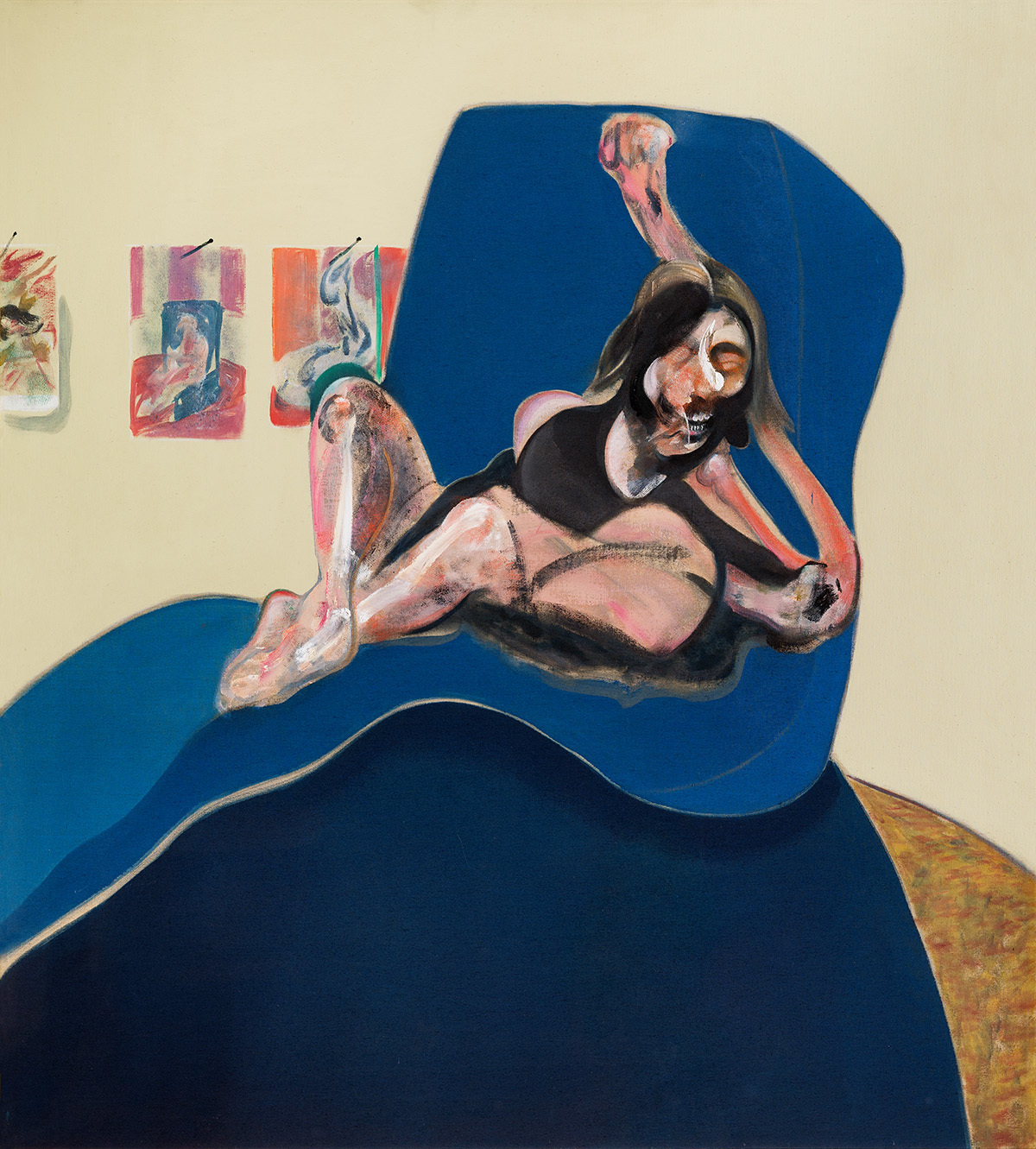 Frisson: The Richard E. Lang and Jane Lang Davis Collection, a new exhibition at Seattle Art Museum, features a Francis Bacon painting, Study for a Portrait, (1967), along with other works in the Lang Collection, including those by Lee Krasner, Clyfford Still, Philip Guston, Joan Mitchell, David Smith, and others.
The museum describes the exhibition as one that "represent[s] one of the most significant holdings of Abstract Expressionist paintings and sculptures."
"Spanning the years 1945 and 1976, the paintings, drawings, and sculptures in Frisson serve as significant examples of mature works and pivotal moments of artistic development from some of the most influential American and European artists of the post-war period."
The Bacon painting in the exhibition is a portrait of Henrietta Moraes, based on photographs taken by John Deakin in about 1963. Here, she is represented with:
An anatomically preposterous up-stretched prehensile arm. She is seated on the kind of bulbous couch Bacon usually reserved for his portraits of men.
The three paintings pinned to the wall, an early example of Bacon's paintings-within-paintings, were probably inspired by Bacon's habit of fixing reproductions of his own paintings to his kitchen wall. He never hung his finished paintings in his homes.
Excerpt: Martin Harrison, Francis Bacon: Catalogue Raisonné (London: The Estate of Francis Bacon Publishing, 2016 p. 848).
This exhibition celebrates the landmark gift of the Friday Foundation in honour of Richard E. Lang and Jane Lang Davis, Seattle art collectors. The exhibition aims to celebrate "their shared legacy and passion for engaging thoughtfully, deeply, and personally with art—and the frisson of excitement that arises with such a connection".
This "frisson" – or sudden sensory thrill – with art, is something Bacon shared as an artist. He once told friend and art critic David Sylvester that "In working you are really following this cloud of sensation in yourself, but you don't know what is really is."
Frisson is on show at Seattle Art Museum until November 27, 2022. Find out more here.