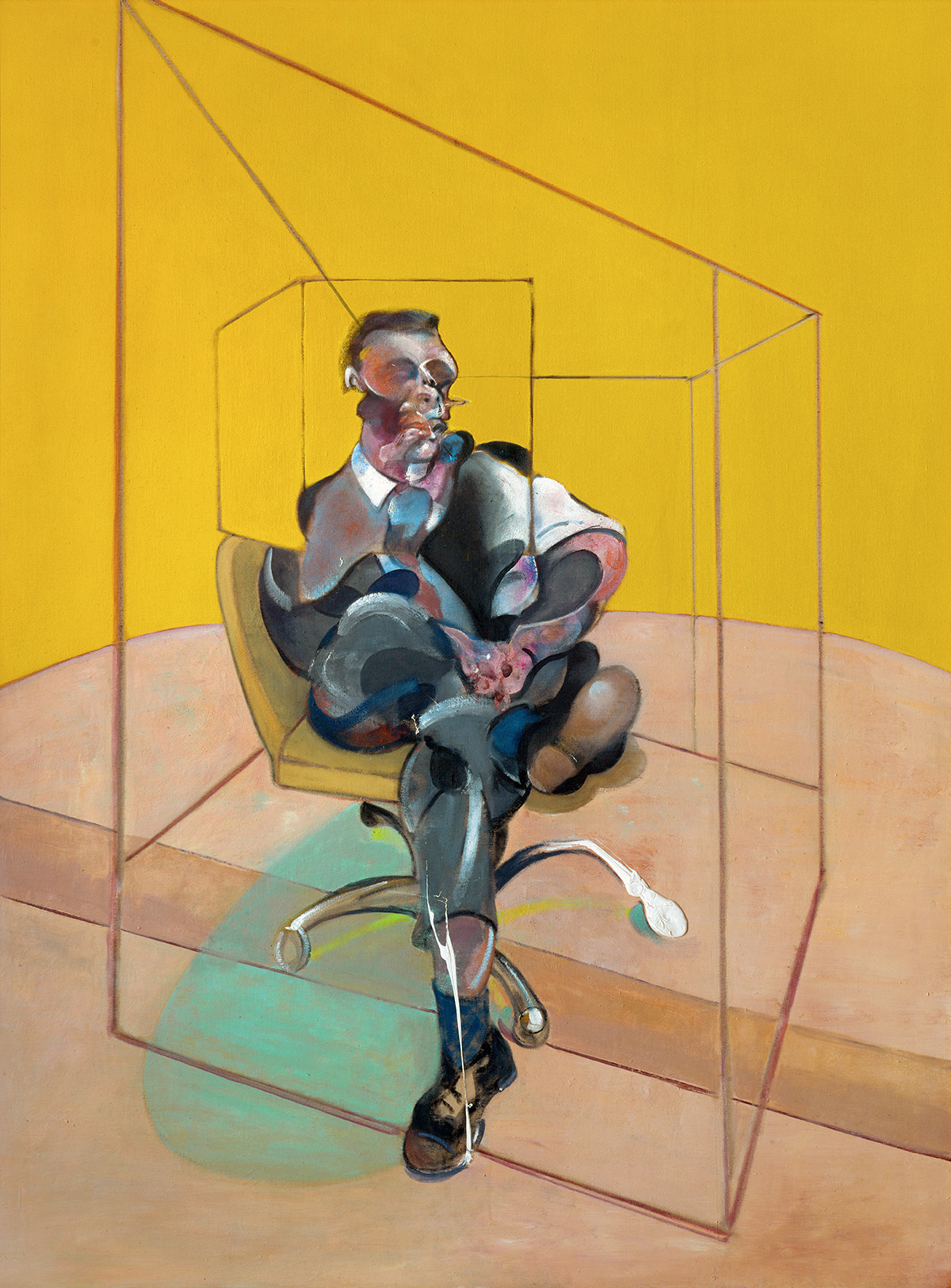 This month we are revisiting the painting Study for Portrait, 1971. If the sitter is George Dyer – which is not certain – it would have been the last painting Bacon made of Dyer while he was alive. Dyer committed suicide in 1971 in a Paris hotel, on the eve of Bacon's retrospective at the Grand Palais.  Bacon's last posthumous portrait of George Dyer, is 'Study for Portrait' (1981), completed in the year of the tenth anniversary of Dyer's death in 1981.
Martin Harrison writes in the Catalogue Raisonné that it is "unlikely" to be Dyer, especially when compared to the personification of Dyer in the painting Study of George Dyer, 1971 (71‑05), and that "the hairstyle – always diagnostic – is not Dyer's."
Formally, it is closest to Three Studies of Lucian Freud, 1969 (69‑07), although in Study for Portrait the geometry of the spaceframe is more complicated. In the residually Aubusson carpet the pink and pistachio palette is further diffused, to make a more abstract foil for the figure in the spare, elegant setting. The painting of the suited figure is a tour de force. Patches of colour (and white) in curved facets erupt from the grey, and the mixing of colours is notably subtle.
Excerpt: Martin Harrison, Francis Bacon: Catalogue Raisonné (London: The Estate of Francis Bacon Publishing, 2016 p. 976).
The painting shares some of the same characteristics that can be observed in Bacon's next painting Study for Portrait of Lucian Freud (sideways), 1971 (71-08).  Although this painting was further simplified, with the removal of the cage-like structure seen in 71-07.
In his "late" paintings of the mid-70s onwards, Bacon honed the "spare" style of Study for Portrait, 1971. He further pared down his work to the essentials, evident from the greatly simplified backgrounds, often consisting of large expanses of a single, radiant colour such as cadmium orange, pink, or blue. He said that "a shorthand of forms, really, is what I'm trying to do."
Francis Bacon: Catalogue Raisonné can be purchased through our distributor's website