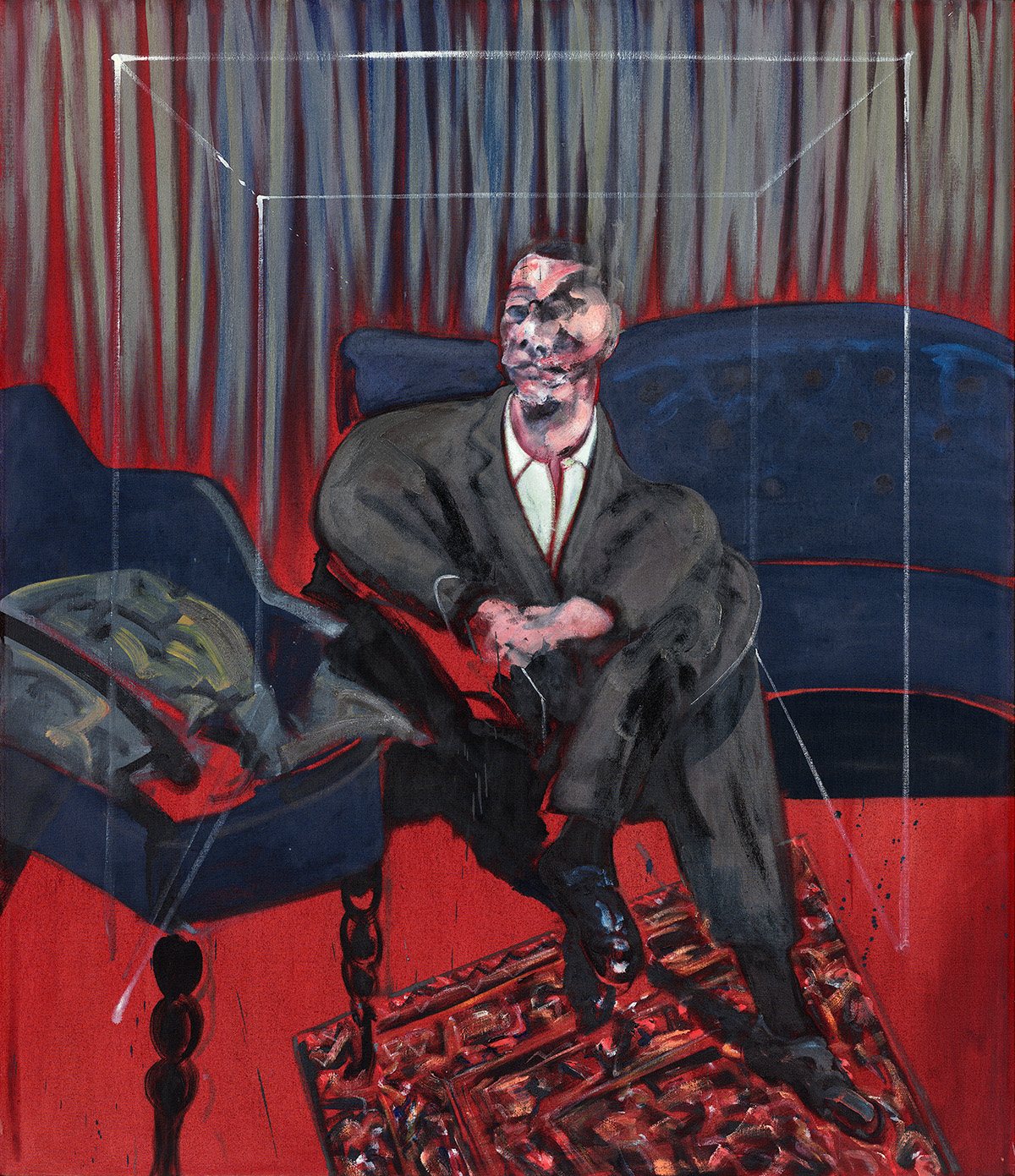 In this month's Catalogue Raisonné Focus, we are concentrating on Seated Figure, 1961;
This was the first painting Bacon completed after relocating to 7 Reece Mews, South Kensington, the London house and studio he retained for the rest of his life. Although he had painted figures on couches before, several characteristics are exclusive to this work.
First, the crimson and blue staining of the background and furniture is exceptionally vivid. Despite Bacon's insistence that he used spaceframes only 'to see the image' or to 'concentrate the image down', the near-symmetrical white framework imposed on Seated Figure does not seem to be essential in this instance. Its function is more logical in a comparable painting, Study for Figure V, 1957-57 (57-03).
The open-necked shirt is one of Bacon's ciphers for Peter Lacy, and is a detail, like Lacy's body shape and crossed leg pose, that supports the argument that Seated Figure is essentially a re-working of Study for Figure V.
Seated Figure, 1961, was intended as one of the major paintings that Bacon made for inclusion in his Tate Gallery retrospective in 1962. In this exhibition it was named as 'Seated Man with Turkey Rug.'
Excerpts: Martin Harrison, Francis Bacon: Catalogue Raisonné (London: The Estate of Francis Bacon Publishing, 2016 p. 656).
The 1962 Tate show established Bacon's pre-eminence among contemporary British painters, but also marked a time of personal loss. On the opening day, amidst telegrams of congratulation, one message informed him of the death of Peter Lacy – his former lover and the subject of Seated Figure, 1961.
Francis Bacon: Catalogue Raisonné can be purchased through our distributor's website