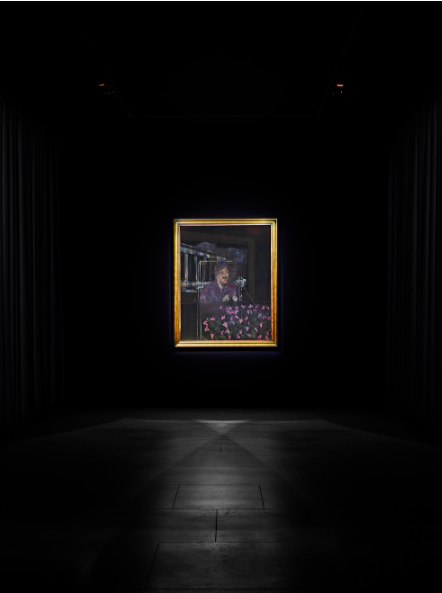 'Landscape with Pope/Dictator', executed circa 1946, has never before been exhibited publicly. The canvas entered a private collection in 1967 and was only rediscovered by Martin Harrison during his compilation of paintings for the Francis Bacon: Catalogue Raisonné, published in 2016. The painting was displayed until last week at Gagosian's Davies Street gallery in Mayfair, under the title 'Francis Bacon: The First Pope'.
In a recent conversation for Gagosian, art historians, curators, and Francis Bacon scholars Dawn Ades, Richard Calvocoressi, and Martin Harrison discuss the painting, shedding light on its conception and influence on Bacon's work.
'Landscape with Pope/Dictator' c. 1946 was painted in Monte Carlo, Monaco, where Bacon lived for much of the time from 1946 until 1950. In Monte Carlo he completed only a handful of paintings, of which this is one.
On October 19, 1946, [Bacon] wrote to Duncan MacDonald, a director of the Lefevre Gallery in London: "I am working on three studies of Velasquez's portrait of Innocent II [sic]. I have almost finished one. I find them exciting to do."
Excerpt: Martin Harrison, Francis Bacon: Catalogue Raisonné (London: The Estate of Francis Bacon Publishing, 2016 p. 176).
A couple of months after writing this, starved of the stimulating company of sympathetic fellow artists, Bacon wrote to his friend Graham Sutherland, hoping to persuade him and his wife Kathy to join him in Monte Carlo for the winter. "I don't know how the copy of the Velasquez will turn out," he added. "I have practically finished one I think. . . it is thrilling to paint from a picture which really excites you." In 1946 Bacon would have known Velázquez's full-length Portrait of Innocent X (Galleria Doria Pamphilj, Rome) only in black-and-white reproduction.
In the conversation held at Gagosian with Ades and Calvocoressi, Martin Harrison describes how the original Velázquez painting is "a fantastically powerful portrait of a not very sweet man…and lots of reasons why that might have resonated with Bacon. If we're going to get biographical, his relationship with his father."
Harrison describes how press and propaganda photos of Fascist dictators and their henchmen, which fascinated Bacon during this time, are another potential source of imagery for this painting. 'Landscape with Pope/Dictator', is one of a very small number of his paintings in which the attributes of a Catholic clergyman—for example, the traditional cap known as a biretta—are combined with the secular garb of the political leader, such as a suit or uniform, shirt, and tie.
Dawn Ades worked with Bacon directly and had several "very happy conversations" with the artist for his 1985 retrospective at The Tate. Ades wrote the catalogue for the show, focusing on Bacon's interest in the open (often described as 'screaming') mouth – a prominent feature in 'Landscape with Pope/Dictator', and a common theme in subsequent paintings, such as Study after Velazquez's Portrait of Pope Innocent X, 1953.
Ades describes a magazine that she was involved with in the late 1970's called 'Documents', which focused on surrealist imagery and featured a photograph by Jacques-André Boiffard of a screaming mouth, saying; "it was one of the images that fascinated Bacon, although it was in black and white and he spoke specifically of being fascinated by the colours of the open, screaming mouth."
The wide-open mouth and prominent teeth in 'Landscape with Pope/Dictator' also imply a fusion of human and animal – a fascination of Bacon's, and a theme explored in another recent London exhibition: Francis Bacon: Man and Beast at the Royal Academy.
This online conversation for Gagosian, with experts elucidating on Bacon's seminal painting along with anecdotes on Bacon's life and influences, offers a valuable audio accompaniment to the 'Francis Bacon: The First Pope' exhibition, which closed last week.
Francis Bacon: Catalogue Raisonné can be purchased through our distributor's website.