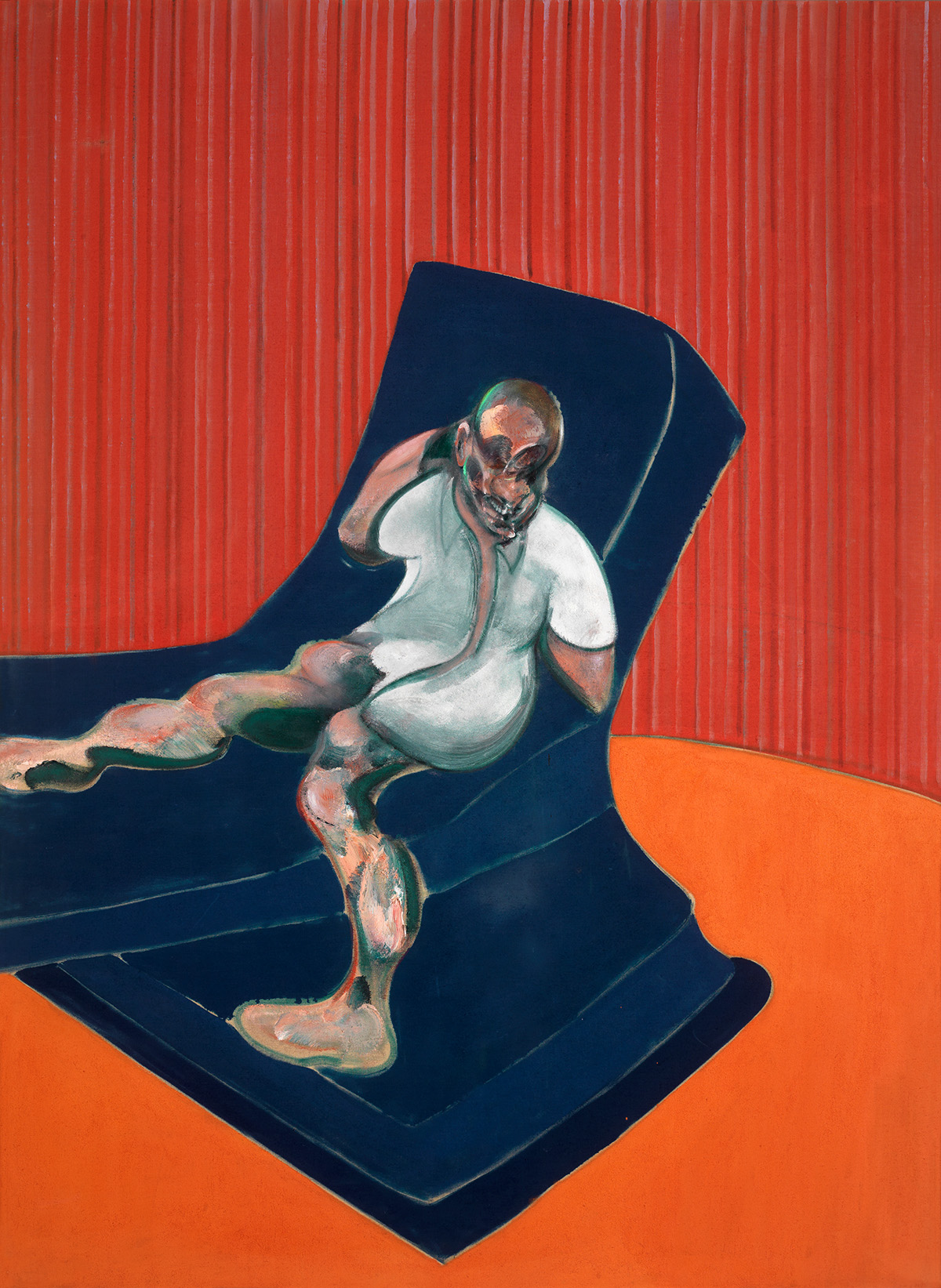 In 1962 Bacon was honoured with a retrospective at Tate Britain, London, which coincided with the alcohol-induced death of partner Peter Lacy, described as the 'great love' of Bacon's life.  
After this he seemed to approach the canvas with increased assurance. This new confidence is evident in the simplified massing of forms in Seated Figure on Couch, which we are taking a closer look at in the first Catalogue Raisonné Focus of 2022.
In this painting, the bold colours of the ground form an ironic counterpoint to the half-naked, grimacing figure. Bacon continued to produce variations of this configuration of the couch, or unorthodox day-bed, until Two Figures on a Couch, 1967 (67‑10). The couch is stained Prussian blue, and the red underlayer of the background is a similarly diluted wash. The apparently bone-less, corkscrew legs are typical of Bacon's anatomies at this time, and the left leg is thickly impastoed. In the flesh areas the shadows are painted an unusual bottle green, while the bright green bordering of the head is a colour found in the vibrant pastels of Odilon Redon around 1900, a more saturated, iridescent version of the green pastel colours of Degas.
Portraits became the main subject of the 1960's. In Seated Figure on Couch, the figure's open shirt is a form of dress associated with Bacon's paintings of Peter Lacy, but the man does not otherwise resemble Lacy, displaying neither the cleft-forehead nor the ape-like shape of his head common to Bacon's later portrayals of him. It is possible that, four months after Lacy's death, he had intended a non-specific male figure.
Excerpt: Martin Harrison, Francis Bacon: Catalogue Raisonné (London: The Estate of Francis Bacon Publishing, 2016 p. 698).
Francis Bacon: Catalogue Raisonné can be purchased through our distributor's website.