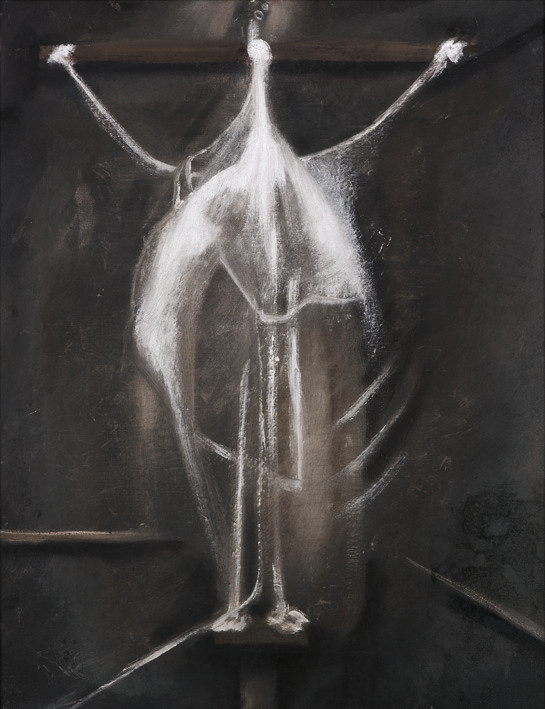 "I went to Paris for a short time. While there I saw at Rosenberg's an exhibition of Picasso, and at that moment I thought, well I will try and paint too."
David Sylvester, Interviews with Francis Bacon, (London: Thames & Hudson, 2012), p. 186.
In 1926, Bacon left Ireland and travelled to London, Berlin and Paris, visiting a Pablo Picasso exhibition at the Chez Paul Rosenberg gallery in 1927. In the early 1930s Bacon began to concentrate on painting, and works of this period channelled Picasso and Surrealism
Furthermore, Bacon's colour schemes and subject matter were closely interdependent with those of his early mentor, the artist Roy de Maistre. A pioneer of abstraction in his native country, de Maistre has been described as Bacon's 'most important artistic contact in the 1930s'.
Excerpt: Martin Harrison and Rebecca Daniels, 'Australian Connections', pp.33-44, in: exh. cat. Francis Bacon: Five Decades, Art Gallery of New South Wales, Sydney, 17 November 2012-24 February 2013, Anthony Bond (ed.), London: Thames & Hudson, 2012. p.33.
Crucifixion, 1933, is the first of Bacon's paintings to demonstrate a debt to Picasso's 'Bathers', painted in Cannes and Dinard between 1927 and 1932; these were the paintings that struck Bacon as 'profoundly unillustrative but profoundly real about figures' [Sylvester, p. 170].
Displayed in an exhibition at the Mayor Gallery that coincided with Herbert Read's book Art Now, it attracted attention in the London art scene. Bought for £20 by Sir Michael Sadler, one of England's leading collectors of modern art, it was the first painting by Bacon to be sold outside his immediate circle. It has remained arguably the mostly highly regarded painting from the earliest part of his career.
Excerpt: Martin Harrison, Francis Bacon: Catalogue Raisonné (London: The Estate of Francis Bacon Publishing, 2016 p. 120.
The initial success was not to last however. An exhibition organised by Bacon himself in a basement in Sunderland House in 1934 received negative reviews and in 1936 his work was rejected from the International Surrealist Exhibition in London on the grounds of not being 'sufficiently surreal.'
After the group show Young British Painters at Thomas Agnew & Sons in 1937, the disappointed artist virtually abandoned painting, and no works produced between 1937 and 1943 survive today.
Find out more about Francis Bacon's influences on our website here.