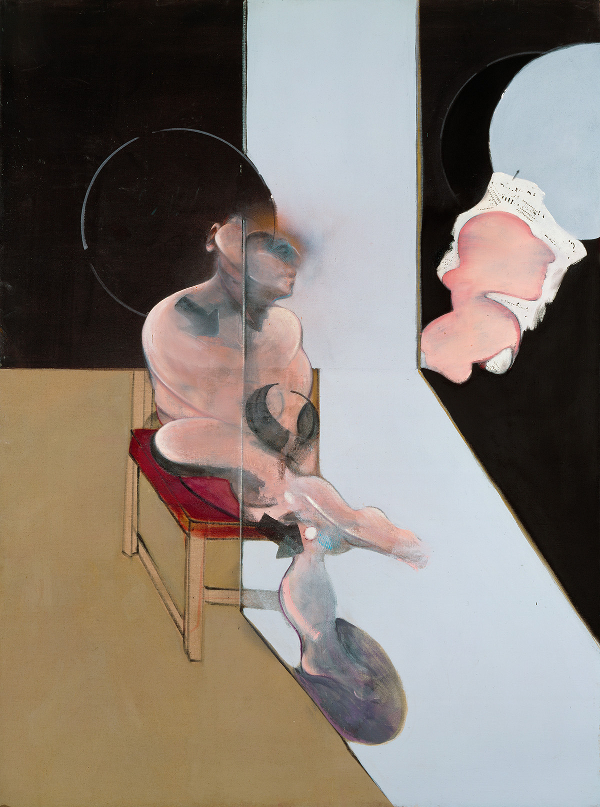 Francis Bacon's Study for Portrait, 1981 will be publicly exhibited in both Hong Kong and New York*. The public viewings organised by Sotheby's precede the painting's inclusion in a Contemporary Art Evening Auction on 16 May 2019.
Sotheby's have recently displayed Study for Portrait in their London showroom. The painting has been shown in New York previously, at Marlborough Gallery Inc in November 1982 and the Hirschl & Adler Galleries from November 1990–January 1991. In 1983, Study for Portrait toured Japan in the exhibition 'Francis Bacon: Paintings 1945–1982', going on view at The National Museum of Modern Art in Tokyo, The National Museum of Modern Art in Nagoya and the Aichi Prefectural Art Gallery in Kyoto.
Francis Bacon was known to be a ruthless self-editor, revisiting works for alterations and destroying those that did not meet his standards. In the Francis Bacon: Catalogue Rasisonné, 2016, Martin Harrison, FSA highlights that Francis Bacon made a host of alterations to the surviving Study for Portrait:
'This was among the most radically revised paintings that Bacon ultimately kept, rather than destroying. Neither of the pale blue passages is present in the first version: instead the black background and raw canvas floor had extended to what is now the right-hand edge of the pale blue floor.'
More information on the upcoming Sotheby's exhibition, including dates, times, and locations, can be found via the respective Hong Kong and New York links below.
Highlights from Contemporary Art Evening Auction
29 March – 2 April 2019 Hong Kong 
3 May – 16 May 2019 New York 
Sotheby's
Word reference: Sotheby's website and press release, The Estate of Francis Bacon website, Francis Bacon: Catalogue Raisonné, 2016.
Excerpt: Martin Harrison, FSA. Study for Portrait, 1981, Francis Bacon: Catalogue Raisonné, 2016, Volume IV, pages1232-1233.
*Please note the exhibition is free to attend for the public. Accessibility and venue terms and conditions may apply. All details including dates, names, featured works, opening days/hours are subject to change. If you're planning a visit, we first recommend checking with Sotheby's for all confirmations regarding this exhibition.