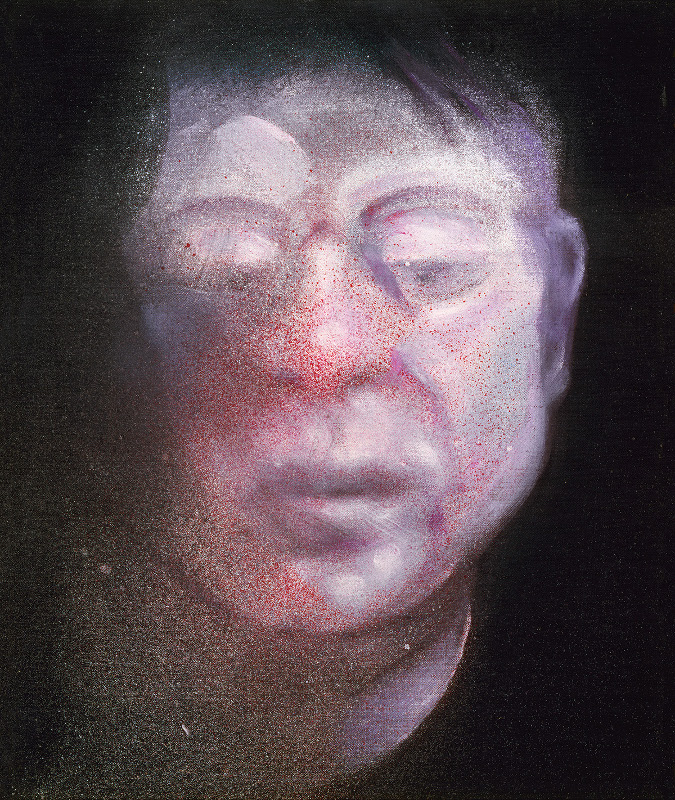 The Estate of Francis Bacon is thrilled that Fondation Beyeler, Switzerland is displaying a variety of Bacon paintings in their Bacon - Giacometti exhibition, running until 2 September 2018. This exciting show puts two of the most influential 20th century artists together and explores the surprising similarities between them and their representation of the human figure.
Bacon met Alberto Giacometti in the early 1960's in a cafe in Paris, with Bacon confessing how much he admired the sculptor's work. Parallels have made between both artists' lives in that neither accumulated many possessions but were generous to friends and liked to frequent good restaurants and leave huge tips. The similarities extended to friendship groups too, Isabel Rawsthorne provided inspiration for three pieces on display in this exhibition - Bacon's Three Studies for Portrait of Isabel Rawsthorne, 1965 and Portrait of Isabel Rawsthorne Standing in a Street in Soho, 1967 and Giacometti's sculpture Femme au chariot, ca. 1945. Other paintings available to view include Head VI, 1949, Triptych Inspired by the Oresteia of Aeschylus, 1981 and the pictured Self-Portrait, 1987.
Comprising of over 100 paintings and sculptures from collections in Europe and the USA, Bacon-Giacometti is curated by Catherine Grenier, Michael Peppiatt and Ulf Küster. In addition to the many pieces on display, the final room of the show recreates both artists cluttered studios from historic photographs. The studios are brought to life in two full-scale projections across the walls and floors by Christian Borstlap, head of the Amsterdam design studio Part of a Bigger Plan. For more details of the pieces on display, click here.
There is also series of lectures running in conjunction with the exhibition including an intimate portrait of Francis Bacon with the co-curator and long-time friend of the artist, Michael Peppiatt on 30 May. Click here for more information about the event.
Bacon-Giacometti
Fondation Beyeler, Switzerland 
29 April - 2 September 2018
Word Ref: Fondation Beyeler website.
*Please note all details including names, dates and featured works, opening days/hours are subject to change. Ahead of a visiting, we recommend contacting Foundation Beyeler for all confirmation regarding displays.