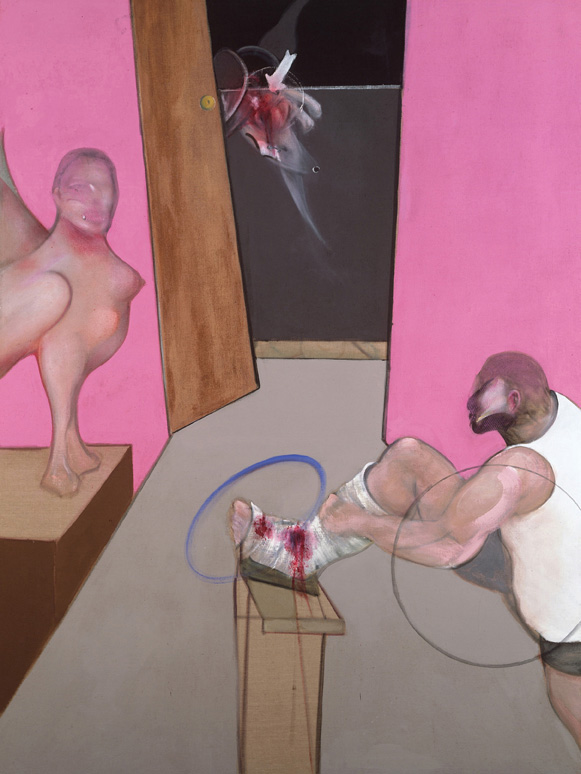 'Being in love in that way, being absolutely physically obsessed with someone, is like an illness. It's like a disease, a disease so ghastly I wouldn't wish it on my worst enemy.'
Oedipus and the Sphinx after Ingres, 1983 is on display at MAC Marseille until 2 September 2018. Part of the Quel Amour!? [What Love!?] exhibition, which seeks to explore the role love has to play in artistic creation.
In this painting, almost a parody of the romantic sublime of Ingres' Oedipus and the Sphinx, the sphinx resembles a sculpture rather than a mythical beast as depicted in the source material. Bacon's interpretation features an injured athlete in the foreground and Eumenides hanging in the dark exterior space. Following a visit to Egypt in the early fifties, sphinxes featured in a number of the artist's subsequent works. 1979 saw a return to the theme with the diptych Oedipus and Sphinx. The panels were then separated with the latter turned into Sphinx - Portrait of Muriel Belcher, 1979.
The eighties saw Bacon's canvases become more minimal. Backgrounds were often reduced to monochromatic colour planes, predominantly in bright oranges and hot pinks, as seen in Oedipus and the Sphinx after Ingres, 1983. He used abstract perspective lines and 'space frames' to give only vague indications of depth and space.
The Quel Amour!? [What Love!?] exhibition, curated by Eric Corne, is an immersive experience which uses photographs, installations, videos, sculptures and paintings to create two interlacing journeys. Visitors can choose their point of entry and eventually separate from the person they may have come with. Other artists on display include Gilbert & George, Marina Abramovic and Ulay, Louise Bourgeois and Pilar Albarracín.
Quel Amour!? [What Love!?]
MAC Marseille
Present - 2 September 2018
*Please note all details including names, dates and featured works, opening days/hours are subject to change. Ahead of a visiting, we recommend contacting MAC Marseille for all confirmation regarding displays.
Quote: Bacon as quoted in, Francis Bacon in the 1950s, (New Haven, Conn/London: Yale University Press, 2006), p. 40.
Word Ref: MAC Marseille website, The Estate of Francis Bacon website.