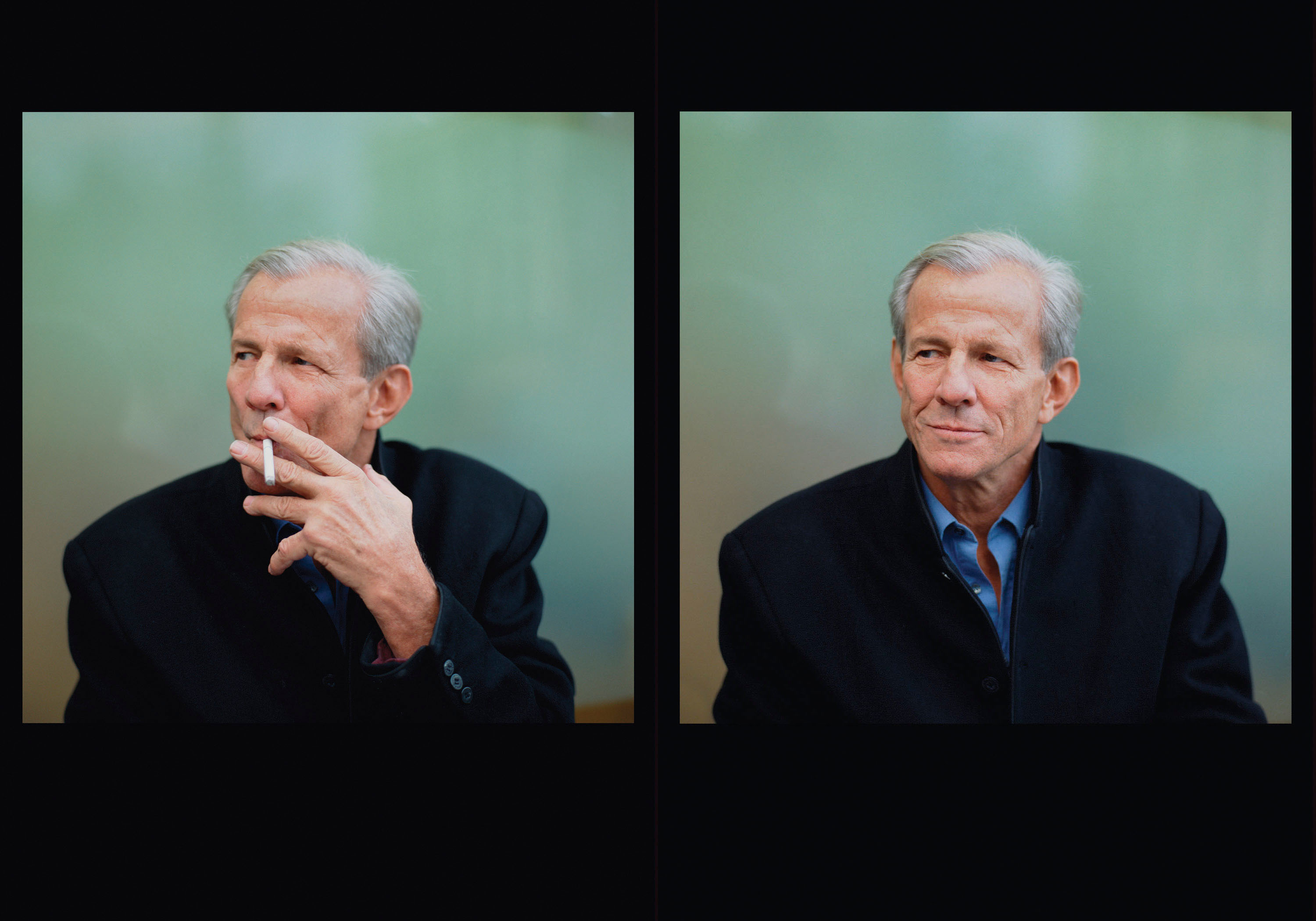 Peter Beard, photographer, artist, conservationist and long-time friend and muse of Francis Bacon passed away earlier this month near his home in Montauk, USA. He was 82 years old.
Beard and Bacon met in the mid-1960s in London. They were already aware of each other's work and instantly bonded over their shared interest in depicting African wild animals, as well as their appreciation for the writings of Karen Blixen and Joseph Conrad. They corresponded and visited each other for decades after this.

Bacon painted nine major portraits of Beard and myriad others inspired by his face. These portraits, such as Three Studies for a Portrait of Peter Beard, 1975 (above), are not often on public display. Most of them were bought very soon after their completion by private collectors and thus are relatively understudied.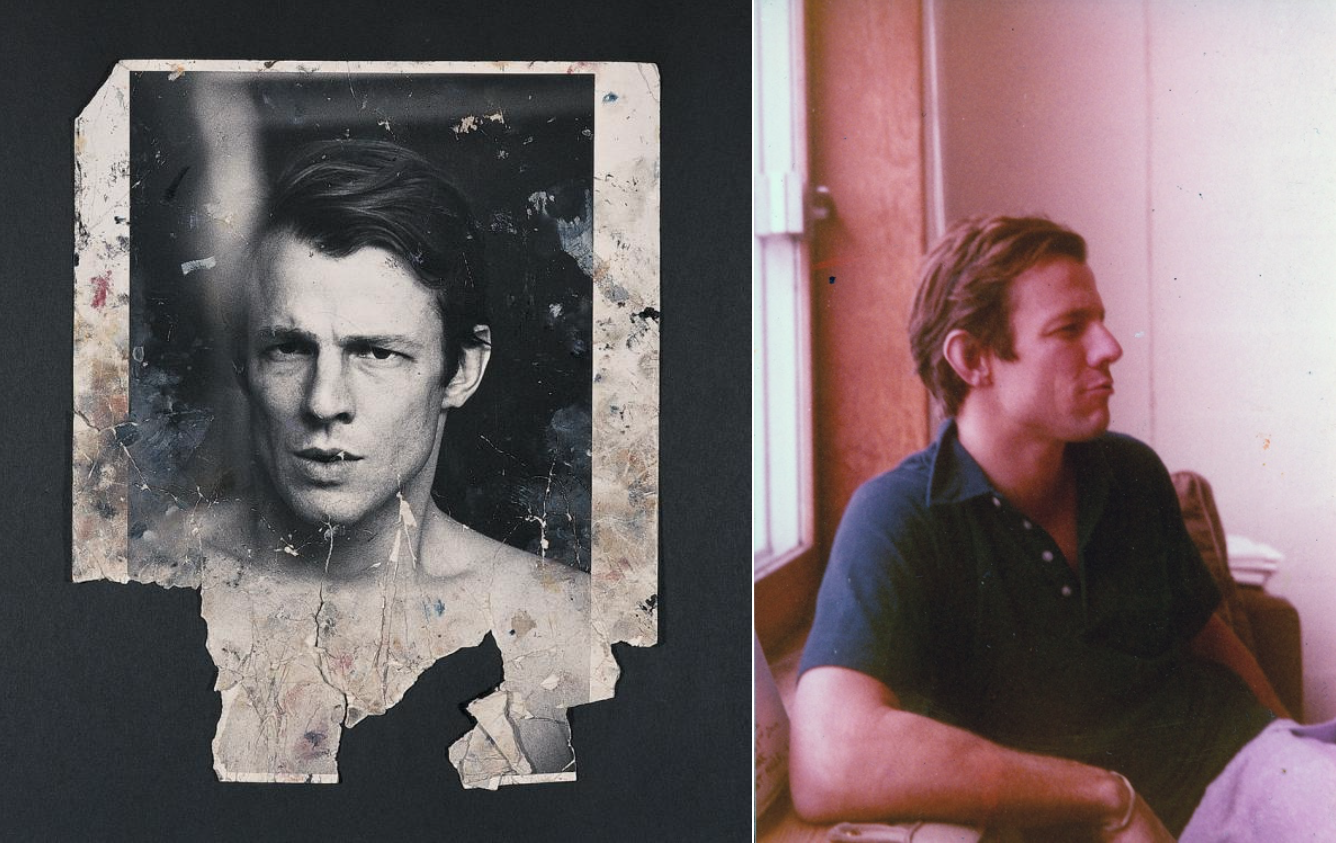 As is well known, Francis Bacon liked to paint portraits from photographs of his sitters. He also liked to paint people with good bone structure. Luckily for him, Peter Beard could provide both. The two men corresponded regularly and with great affection. Beard occasionally sent Bacon photographs of himself to work from (above) and to add to what Beard called Bacon's "floor-pôtage" (the thousands of images piled on Bacon's studio floor). Bacon would also occasionally give Beard bits of this "pôtage" for his diaries and was even photographed signing one of Beard's diaries in the 1980s (see below).
Conversations with Beard, in person and in writing, likely inspired many of the iconographic elements of Bacon's masterful Triptych, 1977. The man with the elliptical head in the right-hand panel bears a resemblance to a photograph of Peter Beard, taken after he was imprisoned for allegedly assaulting a poacher in Kenya. The whole triptych echoes the complex and ambivalent nature of contemporary attitudes to the white man's involvement on the African continent and its 'horror' as it was so iconically explored in Joseph Conrad's Heart of Darkness. Bacon and Beard discussed the visually stimulating language of the latter at length. Beard has suggested that the figure in the left panel may even be holding an elephant foetus in his lap (see detail). This strange puddled form is ambiguously humanoid, as are many of Bacon's figures. It is also reminiscent of the man/animal collages Beard was fond of creating (see image below). Beard and Bacon shared a fascination for what Beard called the "twinned destinies" of particularly wild animals and men. Both men spoke often of their identification of man with beast. Beard pointed out in his afterword to the 1988 edition of his seminal book, The End of the Game, that elephants in particular shared with man a life span, a family structure and a tendency to adapt to damage that they themselves cause with great, and often tragic, tenacity and creativity.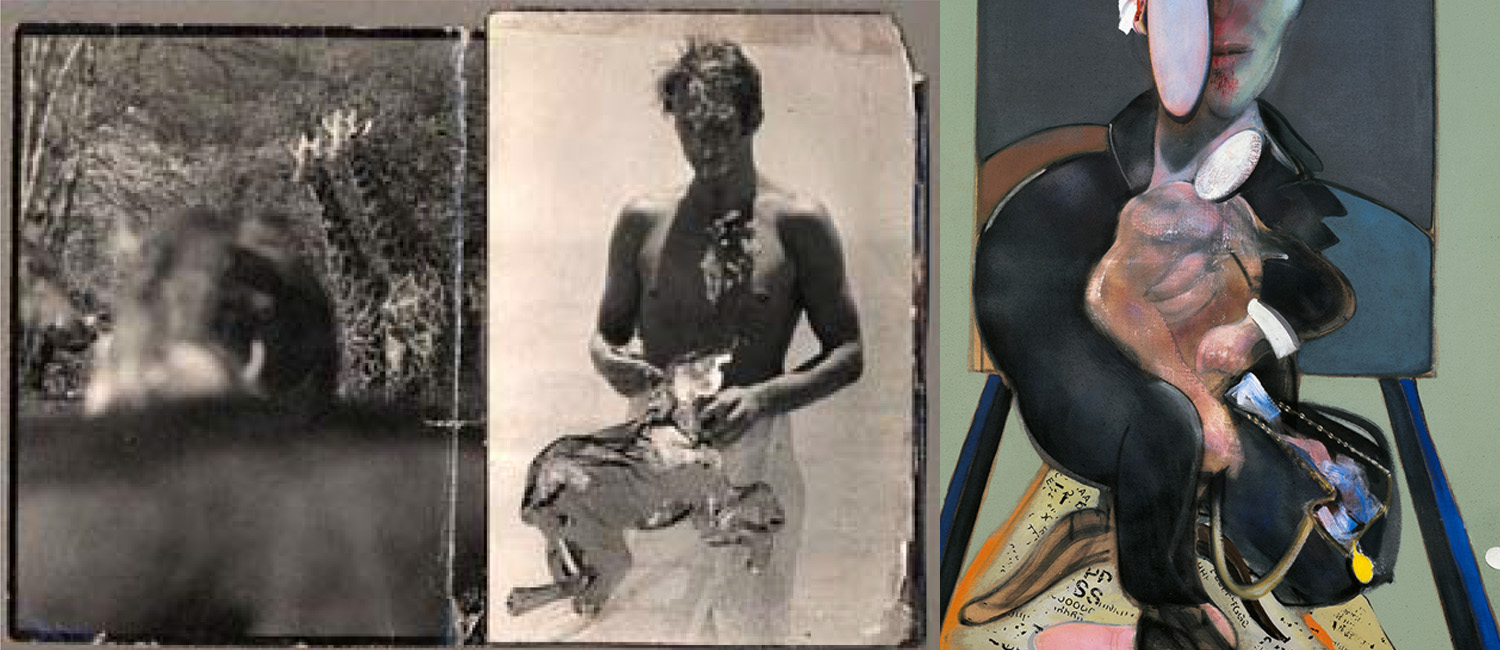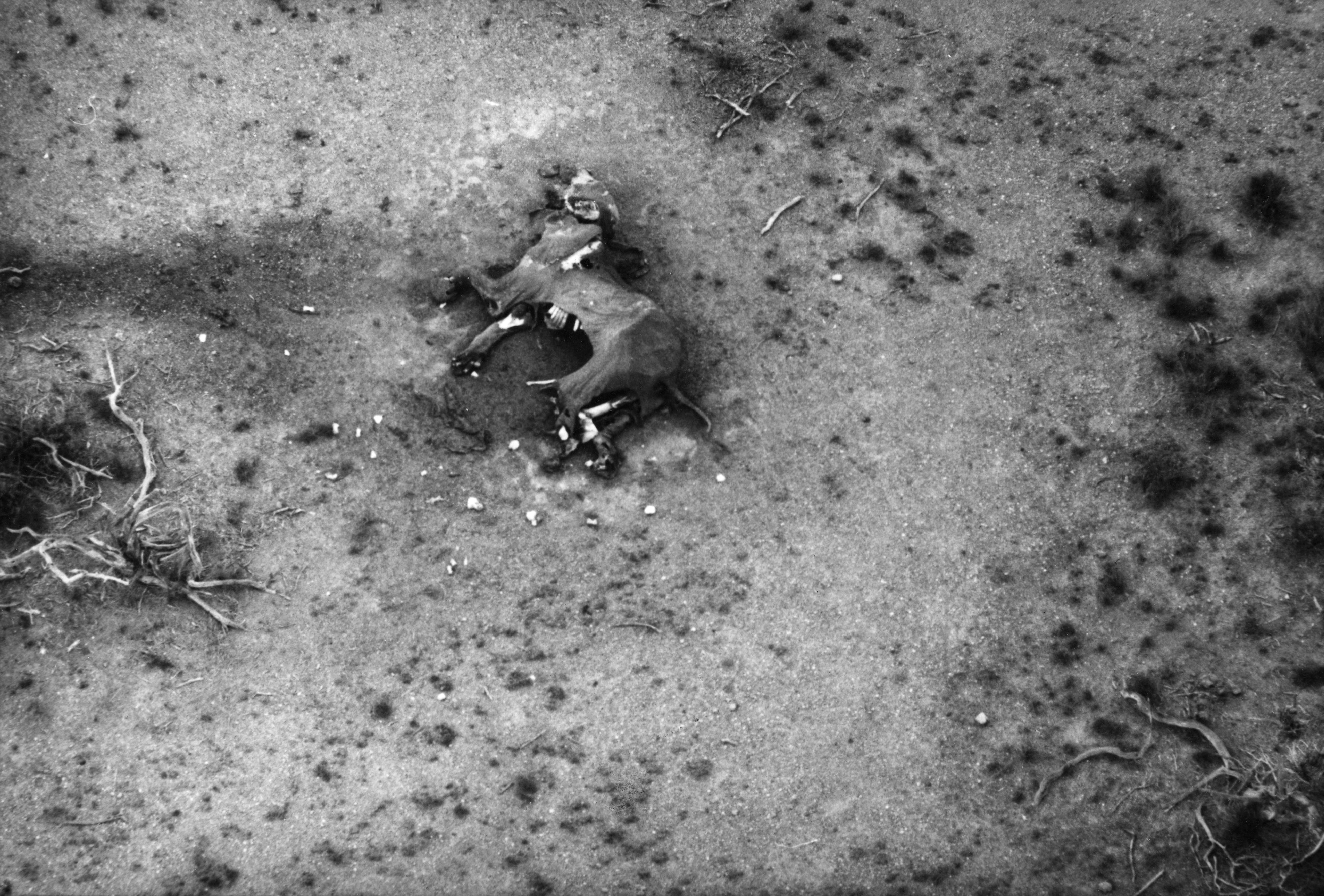 Upon Bacon's death many hundreds of Peter Beard's photographs were found in the former's "floor-pôtage". These included Beard's famous series of aerial photographs of dead elephant carcasses (above) which formed the basis of the last chapter, 'Nor Dread nor Hope Attend', of the 1988 edition of Beard's The End of the Game (originally published in 1965). The photographs were evidence of the deaths caused by the overpopulation of elephants in Kenya due to misdirected conservation efforts. The weight of this stupefying irony only added to the general air of existential dread that, along with aesthetic punch, appears to be what qualified an image for inclusion in Bacon's "pôtage". Bacon's studio also contained photographs of atrocities in San Quentin State Prison that Beard captured with Truman Capote for Life Magazine in 1972. Again, in these images one sees Beard and Bacon's shared obsession with depicting the repercussions of human cruelty and man's essential inhumanity (or, perhaps, animal-ness) to man. The sheer number of Beard's photographs which populated Bacon's studio bears testimony to the importance of Beard's photographic sensibility in creating the atmosphere that Bacon steeped himself in when painting.
Peter Beard interviewed Francis Bacon in 1972 in what came to be called the 'Dead Elephant Interviews'. They were published under this name as part of the catalogue for Bacon's 1975 show at the Metropolitan Museum in New York.
Only Bacon's responses to Beard's questions are printed in the catalogue, but what is remarkable about the text is the tone of Bacon's speech. Bacon's usual confident rhetorical air is replaced by one of a curious and flirtatious exchange of ideas. Bacon poses his assertions as questions to Beard, requesting his input and addition. In Bacon's unusual tone one can hear an echo of the remarkable energy and urgency with which Beard spoke about an incredibly varied range of subjects.
Reproduced below is an excerpt from this interview.
I think the most interesting things that are kept are things like diaries and police records. . . . One always likes to know other people's fantasy lives. I like films also, but they are always over edited and unless you come across an extraordinary one, documentaries are always more interesting.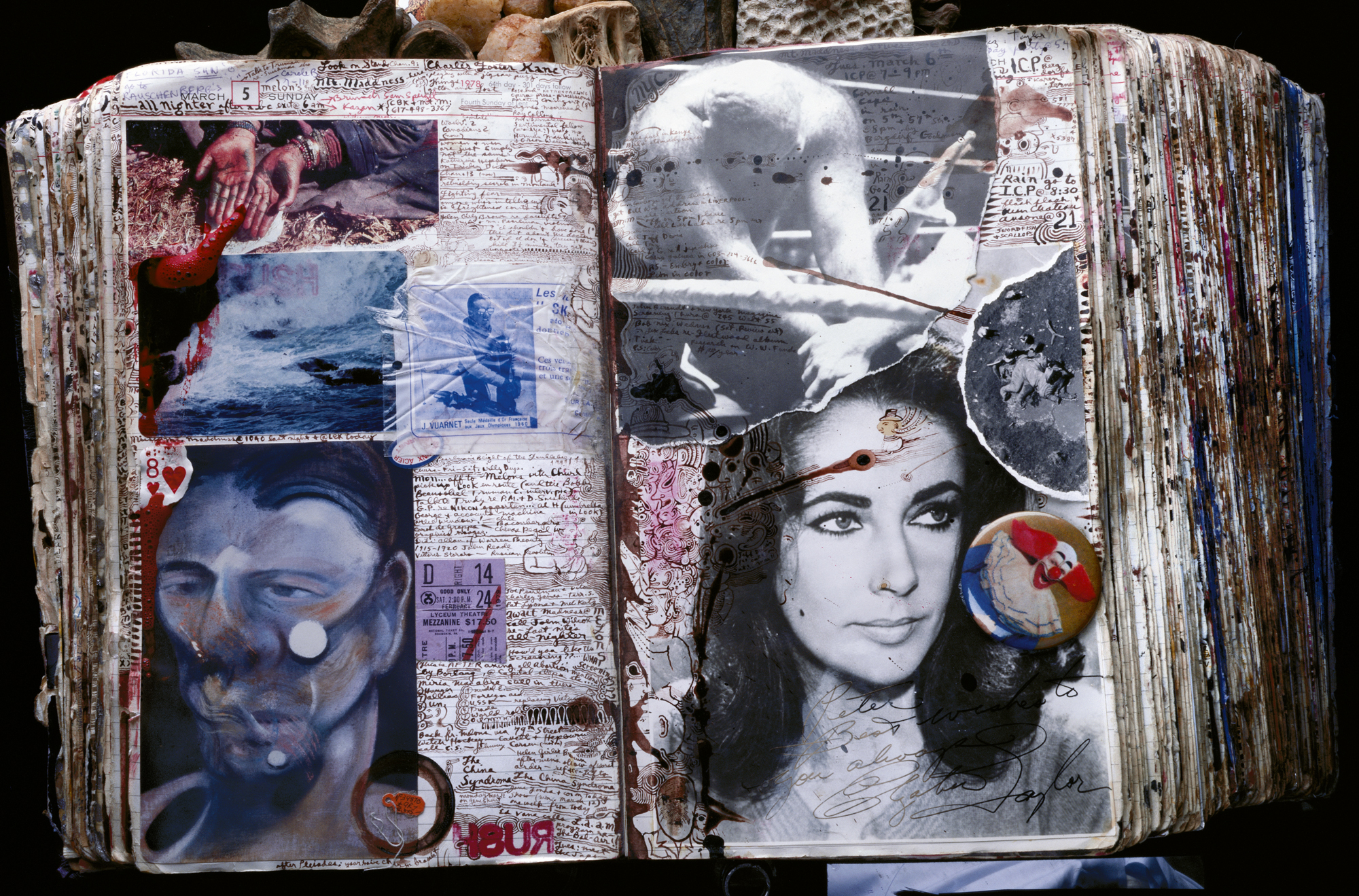 Beard was an obsessive and important diary keeper. His heavily-worked diary pages are small universes in which documentation and aesthetics merge and collide, often uncomfortably. One may see examples above and below of these densely packed records of Beard's days. Below and on the right one may observe a photograph of Bacon signing the very page it is stuck on. Beard's diaries contain the same air of curated chaos that Bacon's studio floor emanated. Bacon felt so strongly about the importance of Beard's diaries that he made formal requests to the Getty Museum Group that they purchase Beard's work for posterity, not least for its potential as "compost from which [artists] could draw".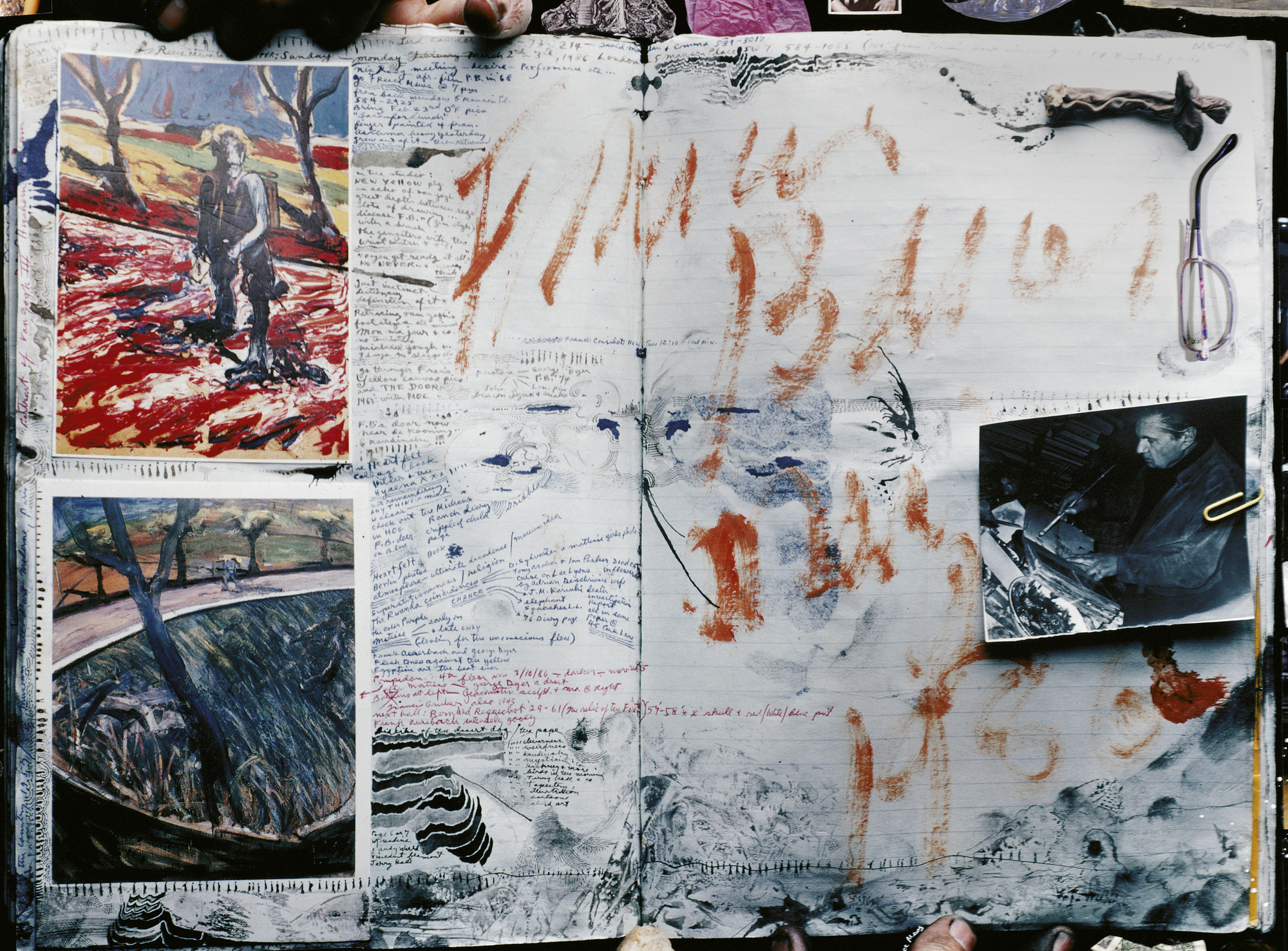 Peter Beard was decades ahead of his time with his conservation efforts in Africa and his nuanced and sensitive understanding of the modern condition in relation to the animal self was one Bacon instinctively recognized. Beard's vision and vitality, legendary during his lifetime, will continue to inspire and stimulate generations to come.