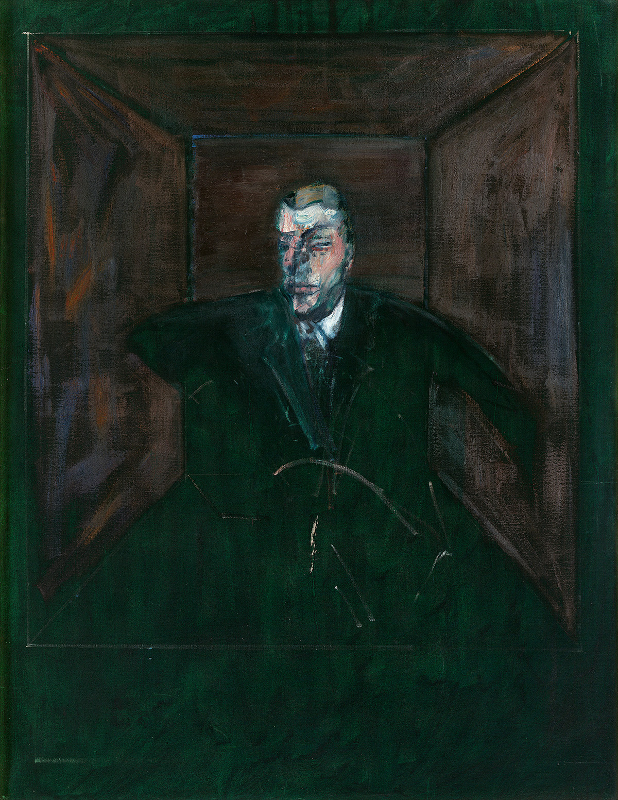 Francis Bacon's painting Study for Figure VI, 1956-57 provides the catalyst for a 2019 exhibition at Hatton Gallery, Newcastle. This free entry exhibition, entitled Francis Bacon | Ellen Gallagher, sees seven Bacon works displayed alongside pieces from Mophia, a series of two-sided works on paper by contemporary artist Ellen Gallagher. The show aims to shed new light on both of the artists' works, opening a dialogue.
"Francis Bacon | Ellen Gallagher sees the Hatton take an exciting curatorial risk. It not only puts Bacon's Study for Figure VI in context but responds to it visually, building aesthetic connections between Bacon and Gallagher's individual practices." - Julie Milne, Chief Curator of Art Galleries
Study for Figure VI differs from others in the series by the rich malerisch treatment of the background. This was a consistent with the technical transformation in Bacon's paintings at the time – a change more radically manifested in the Van Gogh series he was about to commence. In the 1950s Bacon experimented with new subjects and styles after finding inspiration from journeys to South Africa and Vincent Van Gogh's The Painter on the Road to Tarascon, 1888.
The other Francis Bacon works exhibited include, the paintings Head VI, 1949, Portrait of R.J. Sainsbury, 1955 and Study for a Portrait, 1952. These are also joined by three sketches by Bacon.
Francis Bacon | Ellen Gallagher is the Hatton Gallery's first in a new strand of programming which aims to explore the visual synergies between different artists' work. This curatorial strategy seeks to deal creatively with the Hatton's collection, providing an alternative to strictly art-historical approaches.
Francis Bacon | Ellen Gallagher
26 January - 18 May 2019
Hatton Gallery, Newcastle University
*Please note all details including names, dates and featured works, opening days/hours are subject to change. Ahead of a visiting, we recommend contacting Hatton Gallery for all confirmation regarding displays.
Word ref: Hatton Gallery website and press release, The Estate of Francis Bacon website, Martin Harrison, FSA. 57-04 Study for Figure VI, 1956-57, Francis Bacon: Catalogue Raisonné Volume II, p486-487.