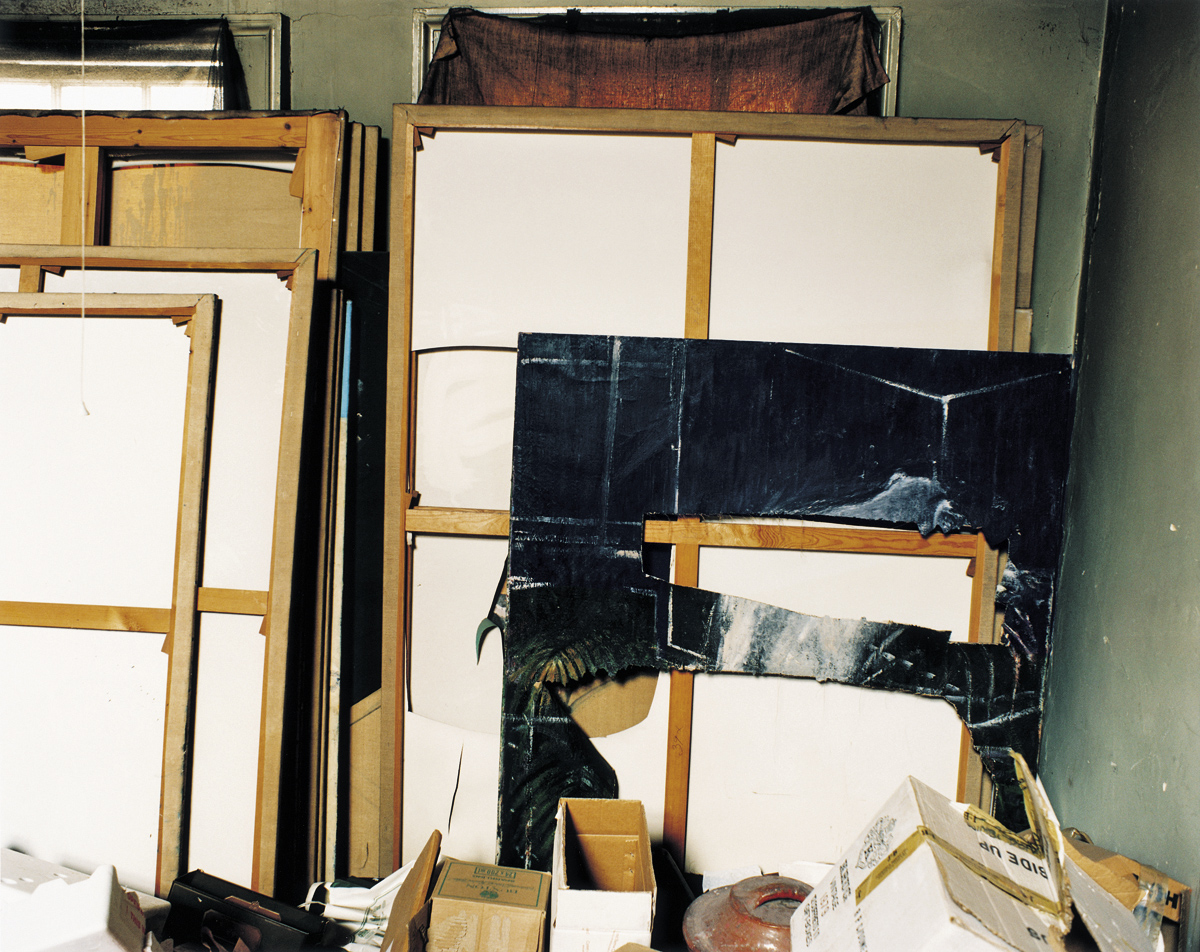 To follow our previous article looking at the painting materials of Francis Bacon, we thought it fitting to continue the theme and explore another series of items uncovered during the cataloguing of his iconic London studio.
Alongside the painting materials and other articles, one hundred slashed canvases were found in the space. Arranged in stacks, although destroyed, the canvases offered a before unseen view into the processes and techniques used by Bacon. The slashed works span a five-decade period of his career, with the earliest dating from around 1946.
Bacon often destroyed the small works himself and at his request John Edwards took care of the larger canvases. This followed Edwards's first visit to the studio in 1976. When sitting at Bacon's dining room table Edwards noticed "an unbelievable mess" through an open door to the studio which he volunteered to help tidy up.
"I'm naturally tidy so was puzzled by the sight of dozens of small canvases, all with holes cut into them, all over the floor and mixed up with hundreds of photographs, books and bits of cloth. 'I've been meaning to tidy up in here for a long time,' Bacon said, 'but never seem to get round to it.' I volunteered to help. 'Well, if you could, that would be wonderful. I'd gladly pay you.'"
The following week Edwards filled up about ten bin bags with newspaper cuttings, magazines, old books and tins of old paint hardened by the years without use. According to Edwards, Bacon "seemed genuinely thrilled" with the newly found space and in order to make more room, he asked to continue the process by destroying about twenty large works, many of which looked finished.
"I slashed them all into tiny bits with a Stanley knife. He insisted on this because in the past people had stolen discarded bits from the dustbin outside. The smaller canvases, 'postage stamps' as he called them, he destroyed himself."
Over half of the canvases found in the Reece Mews Studio are in a small format and measure around 35.5cm x 30m. Some were seemingly used as paint palettes and others to work on portrait studies at varying levels of completion. The practice of destroying canvases is not unusual among artists and in most cases the work is taken to a stage of near finality before the canvas is destroyed.
To learn more about the life and works of Francis Bacon, explore our online chronology on The Estate of Francis Bacon website.
Francis Bacon: Catalogue Raisonné can be purchased through our distributor's website.