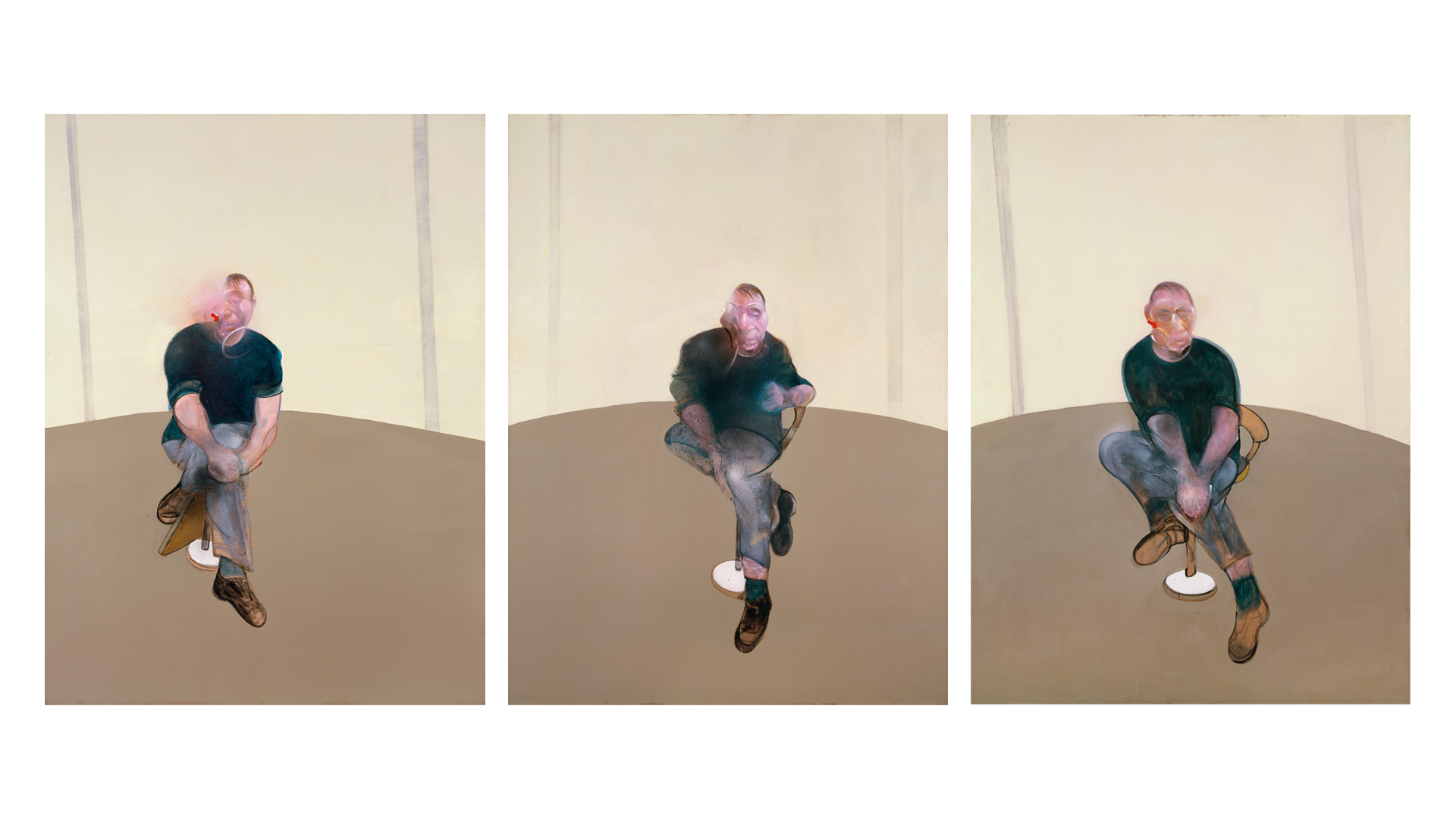 As Francis Bacon entered what would be the last full decade of his life, he simplified his pictorial language, paring it down to its essentials. Bacon's technique became more subtle and refined. He regularly used aerosol spray paints to create granular, gauze-like surfaces which convey the suggestion of bruising or medical trauma. His palette was divided between paintings with harsh red and orange backgrounds and those with a cooler tone of greys, creams and pale blues.
Nestled among the more impressive products of his last decade, Bacon produced two portrait triptychs, Three Studies for a Portrait of John Edwards, 1984 and Study for Self-Portrait, Triptych, 1985-6. The pair of works display an attribute not often associated with the artist: a remarkable sense of calm.
Despite this dramatic shift in style, Bacon had not given up on desire. In his final years, while his health was rapidly declining, he enjoyed a passionate and tumultuous relationship with a cultivated young Spaniard, who he met at a dinner party in 1987.
In April 1992 he made a trip to Madrid, against his doctor's advice, to woo his young lover. Within days of arriving, he fell critically ill and was taken to a medical clinic. On 28th of April he suffered a heart attack and died in the presence of two nuns from the Servants of Mary. Although Bacon was firm in his atheism, there is no evidence that he resisted the religious care. Indeed, several times previously he had been treated by sisters at the same clinic.
Back in London, in his Reece Mews studio, a final portrait remained incomplete on a tall easel. It had been there since the previous November, where it was observed by his sister Ianthe. The identity of its subject: a bold profile caught half-way between a self-portrait and a portrait of George Dyer, remains ambiguous. This would mark the end of Bacon's c.590 painting-strong oeuvre and the beginning of a global infatuation with the iconic artist's life's work.
Learn more about the life and work of Francis Bacon through our online chronology on The Estate of Francis Bacon website.