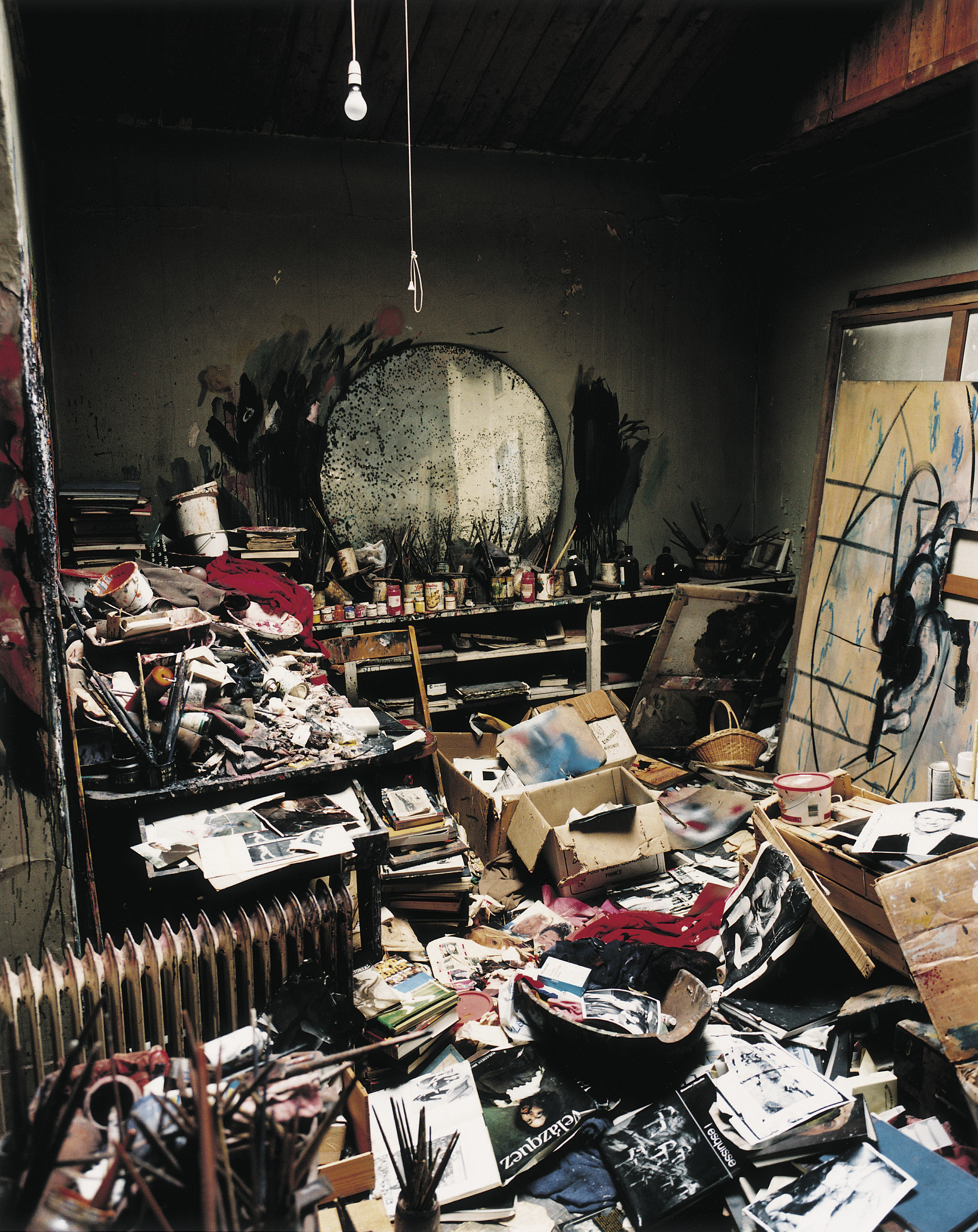 In 1998 Francis Bacon's Reece Mews studio was donated to The Hugh Lane Gallery by his sole heir, John Edwards. Overseeing the donation was director Dr Barbara Dawson, who in August of the same year orchestrated the movement of the studio and its entire contents from London to Dublin. 
Transporting Bacon's studio to Hugh Lane in Dublin was no easy feat. The process was led by conservator Mary McGrath, who employed a team of archaeologists to make elevation drawings mapping the locations of 7,000 objects before curators tagged and packed each individually. The studio was then reconstructed in archaeological detail in a new space in the gallery.
One hundred of Bacon's infamous slashed canvases were found in the studio. The works, although destroyed, showed what a Bacon canvas looked like while in process and their raw state reveals some of his unorthodox painting techniques. Bacon often destroyed the small works himself and John Edwards destroyed the larger ones at his request. The slashed canvases span five decades of his career, with the earliest in the collection dating from around 1946.
Bacon's studio material arrived at The Hugh Lane in September of 1998 and over the following five years each article was photographed and recorded in a database. Today, the archive of Bacon's documents is an invaluable resource for research regarding the painter's working processes, methods and materials.
Since May 2001 the reconstructed space has been open to the public; it is a rare example of a studio being completely transplanted from one city to another. The Hugh Lane Gallery has become a place of pilgrimage for those interested in the life and work of Francis Bacon, and as of 30th June the gallery will re-open its doors to public admission. For further information, please visit the museum's website.
Alongside The Hugh Lane, a number of galleries and exhibitions containing the works of Francis Bacon are beginning to re-open around the world. For a comprehensive list of institutions that house his work please visit our collections page on the Francis Bacon website.
Before planning a visit to any of the locations listed we encourage visitors to consult the galleries' respective websites for more information on opening times, admission fees and visitor policies that may be in place. 
For more information regarding the move of the studio material to Dublin, visit our website.
To explore the full oeuvre of Francis Bacon's works, Francis Bacon: Catalogue Raisonné can be purchased through our distributor's website.