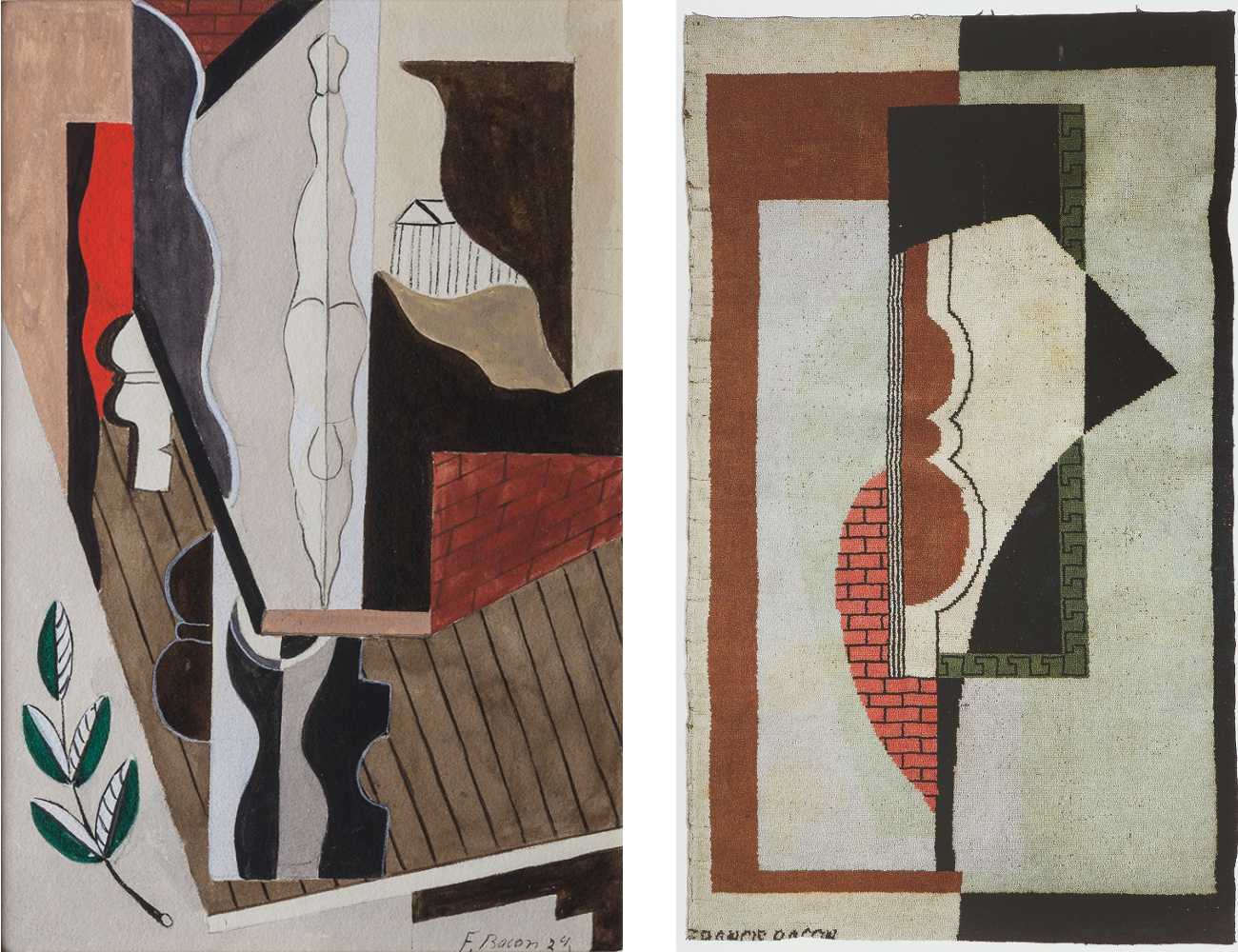 Loans from our friends at the Francis Bacon MB Art Foundation see Bacon's first completed painting and a rare piece from his interior and furniture design work, displayed together in France. 'Watercolour', 1929 and Rug, Composition c.1929 are on view until 17 September 2018 at Musée national Fernand Léger.
Bacon's works are appearing in the exhibition, 'Face to Face. Fernand Léger and His Friends', an exploration of Leger's personal and artistic relationships with other artists at the time. Leger's influence on Bacon can be seen at the bottom of 'Watercolour', 1929 in the leaves and the late-cubist forms. At the time the painting was created, the artist was aligning himself with European modernism, though the stylised diver depicted in the centre of the piece is typical of Parisian art déco.
1930 saw Bacon exploring a career as an interior and furniture designer. The pieces he devised were variations on the modernist language of chrome-plated steel and glass pioneered by designers such as Marcel Breuer, Le Corbusier and Eileen Gray. How Bacon acquired the technical knowledge is a mystery, but his rugs were made at the Royal Wilton Carpet factory.
By August 1930, Bacon had caught the attention of The Studio magazine, which presented his designs as examples of the '1930 Look in British Decoration'. Despite selling a few pieces, largely to Australian Post-Cubist painter, Roy de Maistre, Bacon struggled to make a living from his furniture and paintings. However, de Maistre did guide Bacon in his first steps in oil painting and by November 1930 Bacon was ready to mount a modest exhibition of paintings and rugs at his home in Queenbury Mews, London.
Alongside 'Watercolour', 1929 and a rare rug from Bacon's time as a furniture designer, are pieces from Jean Art, Henri Matisse, Alberto Magnelli and Roy Lichtenstein. The exhibition is supported by the Musée National d'Art moderne in Paris, the Villa Arson in Nice, the Fondation Maeght in Saint-Paul de Vence and the Fondation Louis Vuitton in Paris.
'Face to Face. Fernand Léger and His Friends'
Until 17 September 2018
Musée national Fernand Léger, France
*Please note all details including names, dates and featured works, opening days/hours are subject to change. Ahead of a visiting, we recommend contacting musée national Fernand Léger for all confirmation regarding displays.
Word ref: Francis Bacon MB Art Foundation and The Estate of Francis Bacon website.