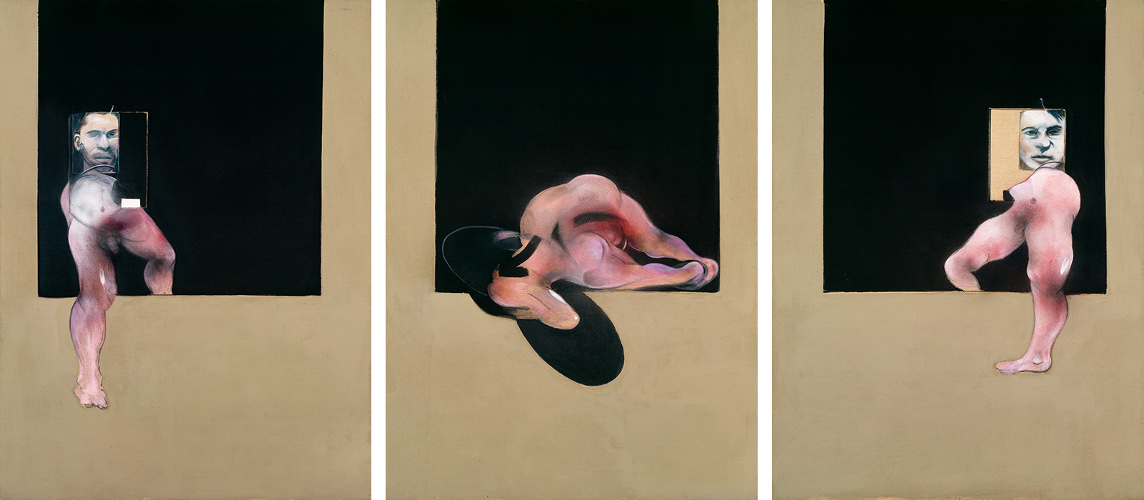 'If one manages to achieve something in one's life which gives it a meaning, the way in which you achieve it and the area in which you express yourself have no importance at all. As it is, it's so rare to manage to give any meaning to your life, and it's so good if you do succeed.'
For this month's Catalogue Raisonné Focus we will be looking at Triptych, 1991. April is the month which marks the anniversary of Francis Bacon's passing and this piece, the last triptych he painted, is often interpreted as autobiographical. Owned by the Museum of Modern Art, New York, the painting was first exhibited at the Scottish National Gallery of Modern Art, Edinburgh in July - November 1991 and is created with oil and aerosol paint on canvas.
Triptych, 1991 depicts Spanish banker and friend, Jośe Capelo - merged with the likeness of racing-car driver Ayrton Senna borrowed from a magazine cover - on the left panel and Bacon on the right. The figures in the centre panel are reminiscent of the Muybridge wrestlers which appeared in a number of Bacon's works from 1953 onwards.
In Volume IV of the Francis Bacon: Catalogué Raisonné 2016, Martin Harrison, FSA says of the painting:
'The black rectangles resemble tomb slabs, or entrances, from which Capelo appears to advance and Bacon recede. Since, however, uncertainty remains concerning the direction the figures are taking, Bacon may again have been thinking of the Queen's Chamberlain in the doorway at the rear of Velázquez's Las Meninas, in which case his substitution of a black void for Velázquez's flood of light is all the more poignant.'
In April 1992, against the advice of doctors and friends, the artist travelled to Madrid to see Capelo. He became unwell soon after, sadly passing away at the age of eight-two on 28 April. Click here to view our interactive chronology on Bacon's life and works.
Excerpts: Michel Archimbaud, Francis Bacon In Conversation with Michel Archimbaud, (London/New York: Phaidon Press, 2010), p. 106. Martin Harrison, FSA. 91-01 Triptych, 1991, Catalogue Raisonné Volume VI pages 1386-1389.
If you'd like to order a copy of the 'Francis Bacon: Catalogue Raisonné' please visit Heni Publishing's website.