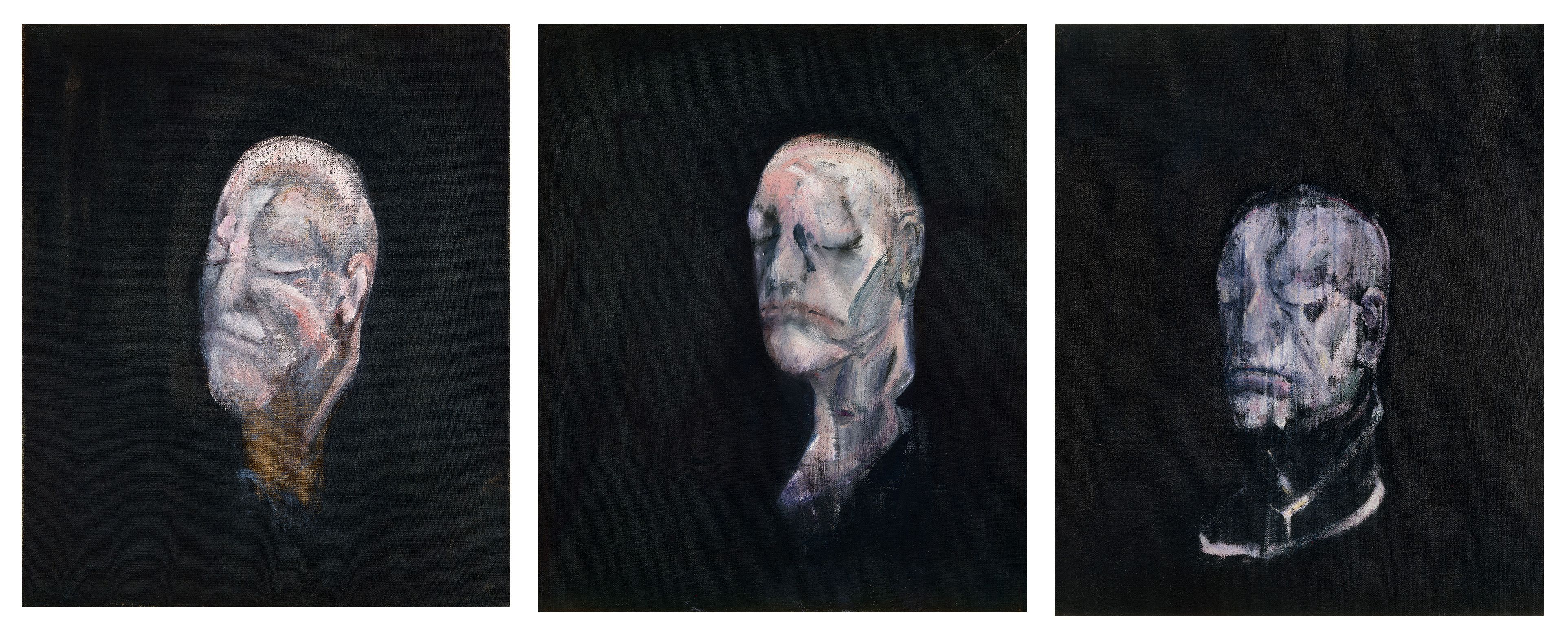 For this month's Catalogue Raisonné Focus we're taking a look at Study for a Portrait (after the Life Mask of William Blake) I, II and III. These three separate works are the earliest of five surviving paintings that Francis Bacon based on a life mask of the English poet and artist William Blake (1757–1827).
"The first three 'Blake heads' were painted in the Imperial Hotel, Henley-on-Thames, in January 1955. One of Bacon's friends in Henley, the composer Gerard Schürmann, had set some of Blake's poems to music and asked Bacon to create an image for the score of his song cycle Nine Poems of William Blake."
Excerpt Martin Harrison, FSA. Study for Portrait I (after the Life Mask of William Blake), Francis Bacon: Catalogue Raisonné, 2016, Pages 420-421.
Within all three iterations of the portrait Bacon draws focus on Blake's closed eyes, wide mouth and pursed lips. However, in 'Study for Portrait II' he exaggerated the mouth to intensify the expression of forlorn resignation. Having recently parted ways from his lover, Peter Lacy, this may have been an impression that Bacon identified with at the time.
When compared with its immediate predecessors, the expression on 'Study for Portrait III' is hardly recognisable. In the Catalogue Raisonné of Francis Bacon, editor Martin Harrison expressed that "it is the most rigorously grisaille of the whole series <…> the head is transmuted into a metaphor for existential despair".
There has been a lot of speculation on the degree of self-portraiture within these works. In many ways William Blake's head seems like an unexpected vehicle for Bacon to adopt as, although appreciative of his poems, he was notably scornful of Blake's paintings.
Following the 'Blake heads' series Bacon continued to develop his interest in small portrait heads as a category. This is made visible in works like Sketch for a Portrait of Lisa, 1955 and then by 1963 it had become a central aspect of his output.
Francis Bacon: Catalogue Raisonné can be purchased through our distributor's website.