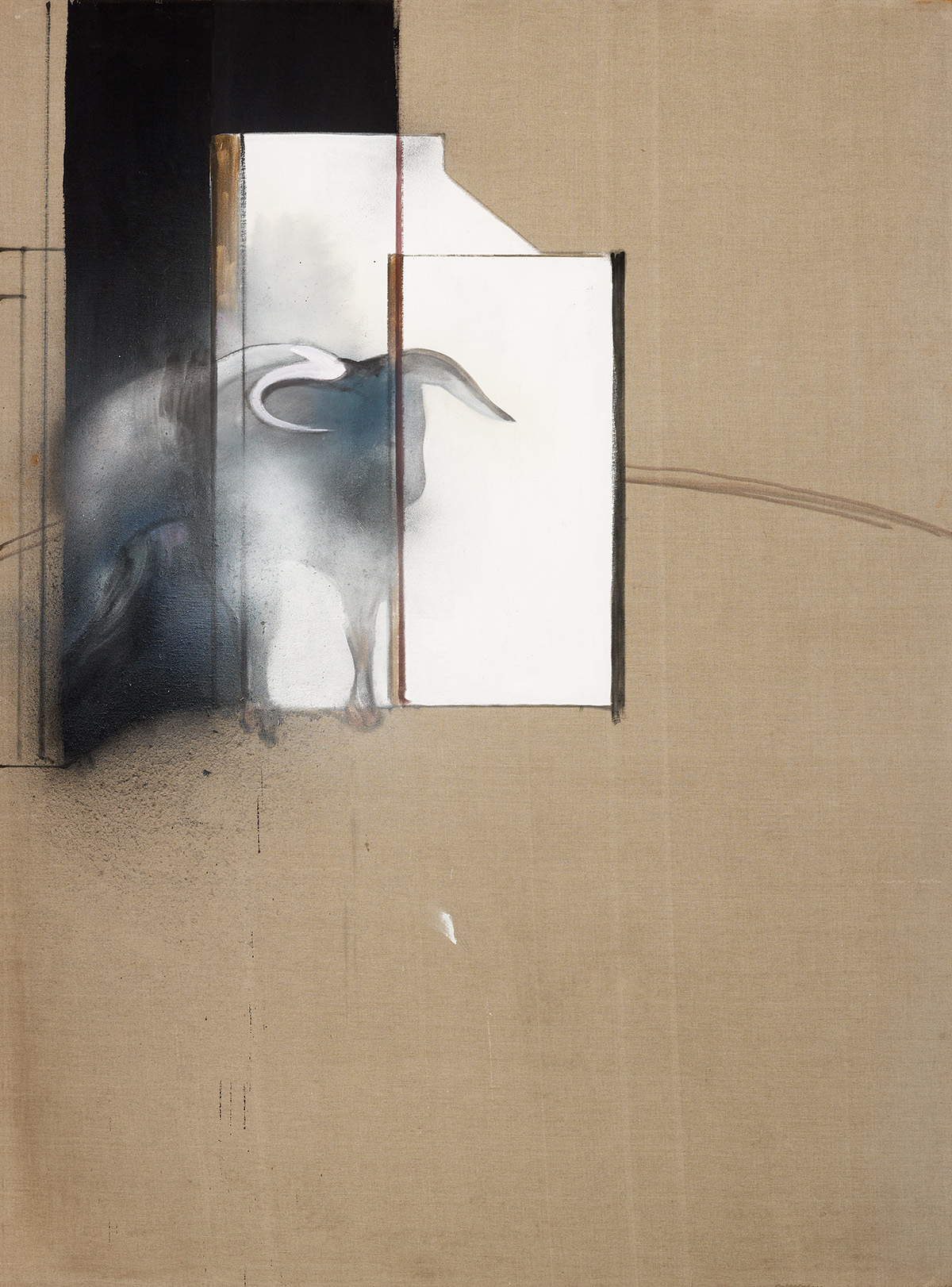 For this instalment in our Catalogue Raisonné Focus series we're taking a look at Study of a Bull, 1991. Although Francis Bacon began another full-scaled work in 1992 it remained unfinished, leaving Study of a Bull as the last painting Bacon completed.
The work shows the faded figure of a bull which seems to be emerging from a burning black void, or perhaps escaping it, exiting from the darkness and stepping into the bright light. There are compelling reasons to interpret it for its subjectivity. The amount of dust that Bacon used as a medium takes on a profound significance in this context, as he expressed it:
"Well, dust seems to be eternal – seems to be the one thing that lasts forever".
Martin Harrison, Editor of the Catalogue Raisonné and Art Historian, who is responsible for tracking down this work, saw the "absolutely magnificent" painting as a goodbye from Bacon. "He is ready to sign off, he was so ill,". The vague placement and the transitive position of the animal indicate the artist's realisation that he was soon to be experiencing a similar experience: not knowing exactly where he would be going.
The bull is monumental, magisterial, standing motionless and implacable at the top of the picture. It is not a Minotaur, as in Picasso's iconography of the 1930s that Bacon publicly admired, but rather a metaphorical bull-man, the noble but threatened beast with which Bacon is identifying.
Study of a Bull, 1991, will be exhibited in the UK for the first time at the Royal Academy of Arts Francis Bacon: Man and Beast exhibition in January 2021. To read the painting's full exhibition history and selected bibliography you can visit the work's dedicated website page.
Francis Bacon: Catalogue Raisonné can be purchased through our distributor's website.