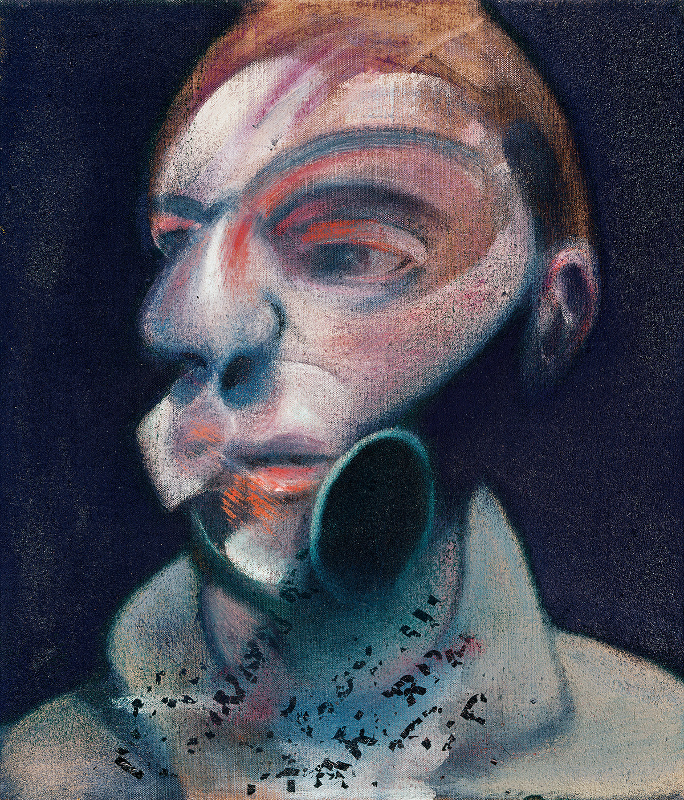 On the 28th April 1992, Francis Bacon died in Madrid. He left behind an incredible art legacy, and with it the monumental task of cataloguing an oeuvre that started back in the 1920s. The responsibility of documenting an artist's life and work certainly has its challenges, especially when your subject is as well-travelled, chaotic, destructive, and verbally ambiguous as Francis Bacon.
This month's Catalogue Raisonné Focus provides an example of the challenge in documenting Bacon's legacy. Here author Martin Harrison, FSA, is considering the meaning or meanings behind the scrambled letters Bacon bestowed upon Self-Portrait, 1975:
"Self-Portrait, 1975, was the sole painting in this small format on which Bacon applied dry transfer lettering – the scrambled letters fixed to his neck and collar. As such it is the bearer of a complex web of meanings. At one level it invokes, only to reverse, Horace's ut pictura poesis. The random letters may also be a metaphor for Bacon's implacable refusal to explain his paintings in words, his insistence that he was not trying to express anything. They are a denial of ekphrasis. The 'words' spill out from his mouth yet communicate nothing. Bacon appears to be acknowledging Plato's character Phaedrus, who observed that if one asks anything of paintings, 'they remain most solemnly silent.'"
Read about the life and times of Francis Bacon via our biography and interactive chronology. If you'd like to find out about ordering a copy of the Francis Bacon: Catalogue Raisonné please visit Heni Publishing's website.
Excerpts and word ref: Martin Harrison, FSA. Self-Portrait, 1975, Francis Bacon: Catalogue Raisonné, 2016, Volume IV, pages 1070–1071.