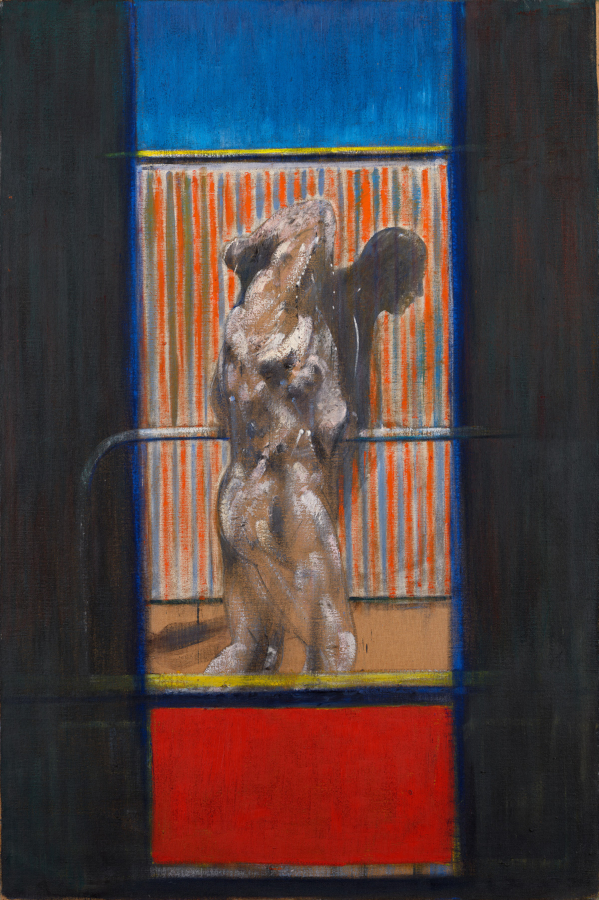 This month's Catalogue Raisonné Focus is inspired by Leeds Art Gallery's repositioning of Painting, 1950, which now finds itself at the top of the gallery's staircase. Leeds Art Gallery acquired the oil painting in January 1951 from the Hanover Gallery, London.
In the Francis Bacon: Catalogue Raisonné Martin Harrison, FSA, considered the deviations in Painting, 1950 from Bacon's contemporary manner, its vivid palette and planar spatial organisation. He goes on to consider whether Bacon may have been inspired by the works of Mark Rothko:
'The upper and lower rectangles of blue and red in Painting, 1950, do not shimmer exactly, but nevertheless recall the coruscating planes of Mark Rothko. Rothko's paintings had not been exhibited in Britain at that time, but he was staying in London in August 1950, the month before Bacon completed Painting, 1950: was Bacon acquainted with Rothko's mature style, about which he was later so dismissive?'
Since September 1950, Painting 1950 has exhibited at several locations in the UK and beyond: Hanover Gallery, Hayward Gallery, Royal Academy of Arts (all London), Millennium Galleries & Mappin Art Gallery (both Sheffield) Birmingham City Museum and Art Gallery, Greater Manchester Arts Centre, Ashmolean Museum (Oxford), Leeds Museums and Galleries: City Art Gallery, Glasgow Print Studio, Municipal Gallery of Modern Art (Dublin), Solomon R. Guggenheim Museum (New York), Art Institute of Chicago, Kunstverein & Hamburger Kunsthalle (both Hamburg), Moderna Museet (Stockholm), Galeries nationales du Grand Palais & Centre national d'art et de culture Georges Pompidou (both Paris), Kunsthalle & K20 Kunstsammlung, Nordrhein-Westfalen (both Düsseldorf), Haus der Kunst (Munich), Künstlerhaus Palais Thurn und Taxis (Bregenz), Staatsgalerie (Stuttgart), Galleria Borghese (Rome). Read the painting's exhibition history and a selected bibliography here.
If you'd like to find out about ordering a copy of the Francis Bacon: Catalogue Raisonné please visit Heni Publishing's website.
Excerpt and word ref: Martin Harrison, FSA. Painting, 1950, Francis Bacon: Catalogue Raisonné, 2016, Volume II, pages 228–231, and The Estate of Francis Bacon website.