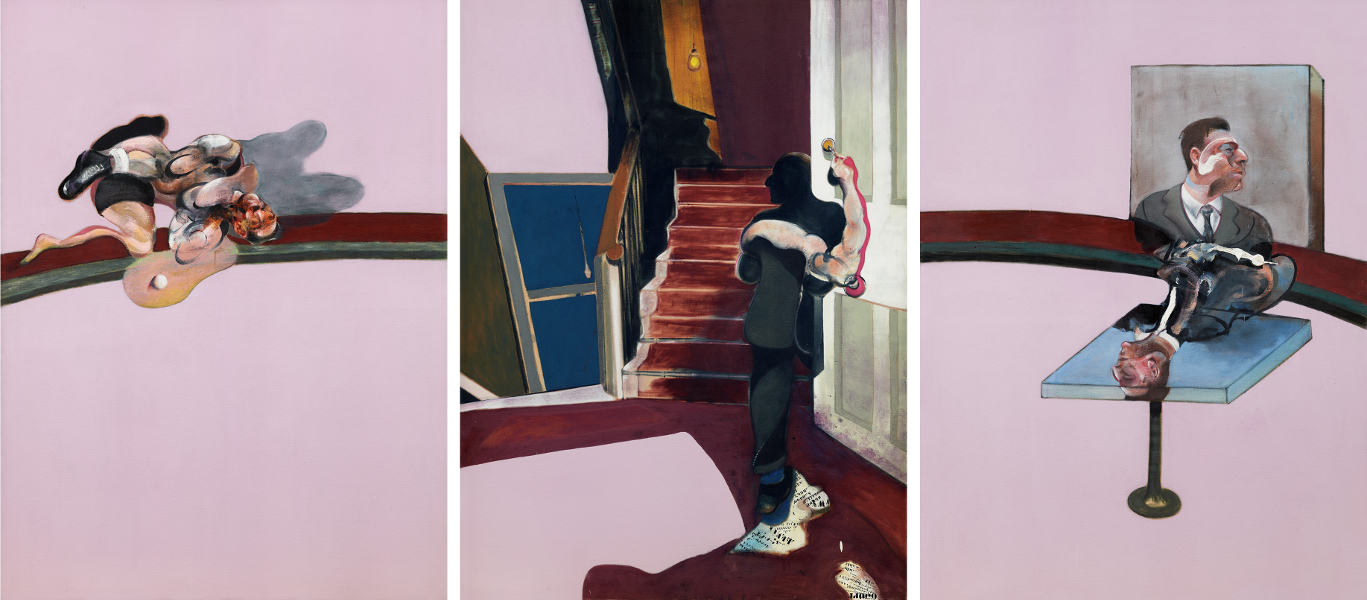 As we move swiftly into February, towards Valentine's Day, it seems apt to take a closer look at one of Francis Bacon's romantic relationships. So, for this month's Catalogue Raisonné Focus, we will take a closer look at In Memory of George Dyer, 1971. This triptych was painted using oil and dry transfer lettering on canvas and first displayed during the solo exhibition Francis Bacon at Marborough Galerie, Zürich in 1975.
Bacon met Dyer in 1963. Their relationship was tumultuous and ultimately tragic, with Dyer passing away in 1971, two nights before the opening of Bacon's retrospective at the Grand Palais, Paris. Bacon painted portraits of Dyer obsessively, both during their relationship and after Dyer's death. This piece marks the start of Bacon's 'black triptych' phase. Bacon's grief inspired some of his most emotive works during this time including Triptych August 1972, 1972 and Triptych May-June, 1973 which confronted the moment of Dyer's death. And, even though he was not always named, Dyer continued to appear in numerous paintings throughout Bacon's career.
In the Francis Bacon: Catalogue Raisonné, 2016, Volume IV, author Martin Harrison FSA shares his thoughts on Bacon's frame of mind during the time this painting was created:
'It might be supposed that his reaction to the circumstances of Dyer's death was one of horror and dejection, but Bacon managed to suspend his feelings in Paris and apparently coped well with the official celebrations and public engagements. Presumably he painted this work as the gravity of the situation, his loss and probably his guilt, weighed upon him.'
This triptych shares similarities with Triptych – Studies of the Human Body, 1970, in the use of the lilac pink ground and arrangement of figures. It can be assumed that the earlier painting served as a general guide for the arrangement of In Memory of George Dyer, 1971, however, the centre panel showing the figure in front of a stairway is based on a stairway in the Paris hotel in which Dyer died. To find out more about the lives, loves, and losses that inspired many of Francis Bacon's works, visit our family, friends and sitters page.
If you'd like to order a copy of the 'Francis Bacon: Catalogue Raisonné' please visit Heni Publishing's website.
Excerpts: Martin Harrison, FSA. 71-09 In Memory of George Dyer, 1971, Catalogue Raisonné Volume IV, pages p984-988.
Word ref: The Estate of Francis Bacon website.