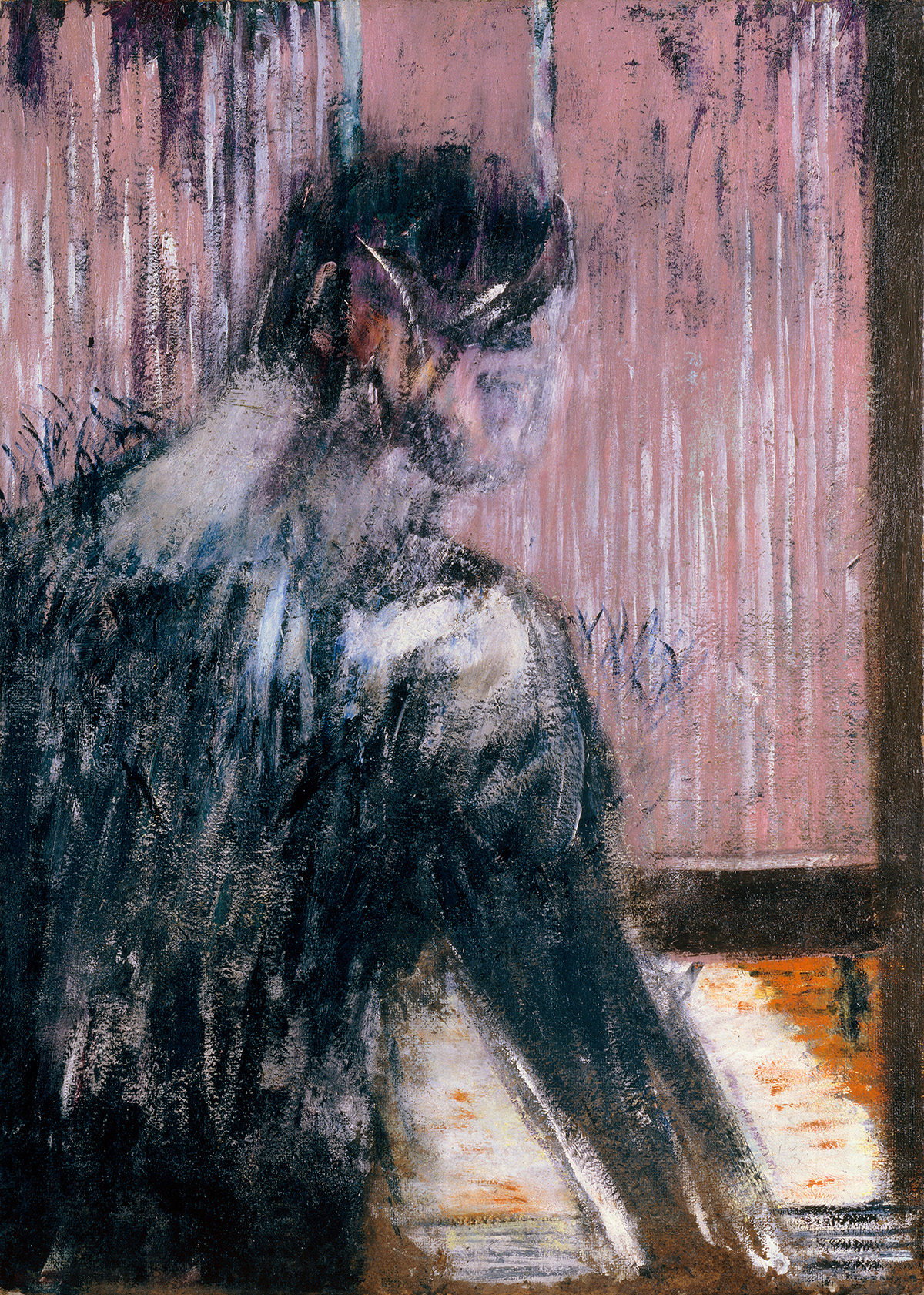 For this month's Catalogue Raisonné Focus we're taking a look at Man Standing, c.1945.
'Man Standing was based on a photograph of Adolf Hitler looking out from an upper window at Hradčany Castle, Prague, on 15th March 1939.
The photograph was taken by Hitler's official cameraman, Heinrich Hoffman, and was published initially on the cover of Nazi propaganda magazine Illustrierter Beobachter on 23rd March 1939. Whilst the image was widely distributed, the specific version which Bacon referred to is probably the reproduction visible in a photograph by Sam Hunter, taken in the summer of 1950.
The striated pink ground echoes pinks of Marie Laurencin and Amedeo Modigliani, whose paintings Bacon would have been familiar with from Paris in the late 1920s. Bacon also added pink to some of his early furniture, but only sporadically used the colour in his oil paintings. The colour can be seen in A Performing Dog, 1954 and Study of Chimpanzee, 1957.
It's difficult to recognise any of the man's facial features, although a roughly drawn ear and mouth are visible in X-rays of the painting. It wasn't until 1949 that Bacon began to paint heads that bear any resemblance to 'normal' human physiognomy. There is also the possibility that Bacon intended for the head to be facing in more than one direction at the same time, or in blurred motion.
Bacon deviated in another way from Hoffman's photograph, in which Hitler peers down from an open window. In the painting there is the introduction of a window frame, which functions as an important compositional feature. X-rays also shed light on the fact that before adding the pink ground, Bacon painted two vertical divisions at the upper left of the canvas, which are present in the 1939 source image.'
Martin Harrison, Francis Bacon: Catalogue Raisonné (London: The Estate of Francis Bacon Publishing, 2016) p. 154.
To read the painting's full exhibition history and selected bibliography you can visit the work's dedicated website page.
Francis Bacon: Catalogue Raisonné can be purchased through our distributor's website.